What's happening in the College of Social Sciences
The Centre for Sustainable Solutions is bringing together what's happening across campus around environmental sustainability, climate change, and the UN Strategic Development Goals.
Ultimately the full results of this audit will be made available to search and browse, so you can find potential collaborators, supervisors, courses, or activities to join in with.
For now, scroll down for a taster of some of the exciting research happening in the College of Social Sciences. If you would like to let us know about your own work, please drop an email to sustainable-solutions@glasgow.ac.uk.
The Urban Big Data Centre - Active Travel
The ESRC / UofG funded Urban Big Data Centre is based in Urban Studies, within the School for Social and Political Sciences, and in partnership with the Schools of Education and Engineering. The Centre brings together urban social scientists, data scientists, and statisticians to promote innovative research methods and the use of big data to improve well-being in cities.
They have a strong research strand on active travel and transport planning, while also touching on air quality, green spaces, lifelong learning, and health and well-being in urban settings. They provide access to a wide-ranging collection of datasets for use in urban analytics.
Some relevant travel and transport links from their website:
UBDC Blog - Active Travel Updates
UBDC Transport and Mobility Data
UBDC Open Data Collection - Transport Data
Prof Deirdre Shaw and the Ethics of Consumption
Prof Deirdre Shaw, based in the Adam Smith Business School, specialises in the ethics of consumption. Two of her core themes are sustainability and clothing, and sustainable food. Deirdre co-edited 'The Ethical Consumer' (Sage) and 'Ethics and Morality in Consumption: Interdisciplinary Perspectives' (Routledge).
Sustainability and Clothing: Deirdre's work with Dr Kat Duffy on the Save Your Wardrobe: Digitalising Ethical Clothing Consumption project is examining the role of digitalisation in more sustainable approaches to clothing, including the Save Your Wardrobe app. This project is a finalist in the 2020 Green Gown Awards UK & Ireland!
Sustainability and Food: Two food sustainability projects Deirdre has been involved in are The Caring City: Sustainable Communities of Care in Glasgow and Baltic Street Adventure Playground Establishing a Community Food Hub. She is also a member of the Glasgow Food Policy Partnership, which is developing a Glasgow City Food Plan. There's a consultation currently open on the plan until 31 December 2020!
Publications of interest:
Shaw, D. and Duffy, K. (2019) Save Your Wardrobe: Digitalising Sustainable Clothing Consumption. Project Report. University of Glasgow, Glasgow.
Traill, H., Shaw, D., Anderson, S., Cumbers, A., McMaster, R. and Marr, N. (2020) Baltic Street Adventure Playground Establishing a Community Food Hub. Project Report. University of Glasgow.
Dr Javier Solana and the Law of Climate Finance
Dr Javier Solana is a lecturer in the Law School with a research focus on the role of law in supporting climate finance and promoting sustainable development.
Javier supports the Finance and Social Justice Project (the "FSJ Project"), an extracurricular activity that gives LLM students the opportunity to work on current, real-world problems at the intersection of finance and social justice. In 2019/20, Javier led a team of ten graduate students in exploring the extent to which the Eurosystem was taking into account climate change when designing and implementing its Corporate Sector Purchase Programme (CSPP). He was also instrumental in the 2020 Glasgow Open Justice (GO Justice) Challenge for students.
Some relevant recent publications by Javier:
Solana, J. (2020) Climate change litigation as financial risk. Green Finance, 2(4), pp. 344-372. (doi: 10.3934/GF.2020019)
Solana, J. (2020) Climate breakdown litigation in financial systems: a typology. Transnational Environmental Law, 9(1), pp. 103-135. (doi: 10.1017/S2047102519000244)
Solana, J. (2019) The power of the Eurosystem to promote environmental protection. European Business Law Review, 30(4), pp. 547-575.
Photo from UofG Finance and Social Justice webpage.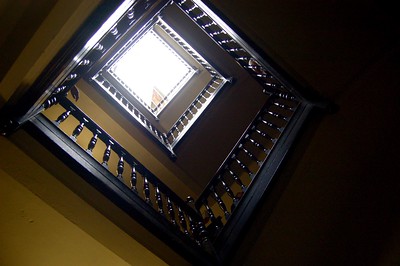 Sustainable Tenements for Scotland
Scotland's beautiful, characterful tenement buildings carry with them maintenance challenges. Ensuring historic flats can become more environmentally sustainable is a concern as Scotland moves toward Net Zero. On 5 March 2020, the UK Collaborative Centre for Housing Evidence (CaCHE) announced a demonstration project, in collaboration with Southside Housing Association, Glasgow City Council, and Strathclyde University, and funded by the Scottish Funding Council (SFC) as part of its Climate Emergency Collaboration Challenge. The project will evaluate how carbon reduction may be achieved by a high-quality EnerPHit retrofit of a Glasgow tenement block, and assess the scalability and replicability of the lessons learned for Glasgow's wider pre-1919 tenement stock.
As Prof Ken Gibb says in his introductory blog post: "The research project is an ambitious and multi-dimensional, multi-disciplinary one. It is an exciting opportunity to work on something that can make a genuine difference."
As well as the brief video intro below, there's an hour-long webinar with Q&A on the project here.
Photograph courtesy of John Tweedie (jtweedie1976), under Creative Commons CC-BY.