What's happening in the College of Medical, Veterinary and Life Sciences
The Centre for Sustainable Solutions is bringing together what's happening across campus around environmental sustainability, climate change, and the UN Strategic Development Goals.
Ultimately the full results of this audit will be made available to search and browse, so you can find potential collaborators, supervisors, courses, or activities to join in with.
For now, scroll down for a taster of some of the exciting research happening in the College of Medical, Veterinary and Life Sciences (MVLS). If you would like to let us know about your own work, please drop an email to sustainable-solutions@glasgow.ac.uk.
See also, at the Institute of Biodiversity, Animal Health & Comparative Medicine:
Dr Ewan Wakefield - Seabirds and Wind
Dr Ewan Wakefield's NERC Fellowship Seabirds and wind - the consequences of extreme prey taxis in a changing climate aims to predict how climate change affects shearwaters and petrels.
"Like the sailing ships of old, they need to avoid headwinds and areas of calm. Global wind patterns are forecast to change markedly as the world warms. For example, wind speeds in the 'horse latitudes', a belt of already light winds in the sub-tropics, are predicted to decline, while those at temperate latitudes will increase. At the same time, as the oceans warm, the distribution of the fish, squid and crustaceans that petrels feed on is predicted to shift towards the poles. While these changes could benefit some petrels, they may harm others. For example, during migration, great shearwaters could become becalmed in mid-ocean, where food is scarce and the chances of starvation high."
There's also a podcast, blog, and article on Ewan's 2017 Royal Research Ship Discovery cruise:
"This October, we plan to submit a proposal to the OSPAR Convention (for the Protection of the Marine Environment of the North-East Atlantic) that the site be safeguarded with the internationally recognised designation of Marine Protected Area (MPA). Our expedition, this month, is the first research trip to this area and our work – sampling seabirds and their environment directly at sea – will play a pivotal role in better understanding the science of this incredible site." -- Marguerite Tarzia.
Impact: The area investigated is a Marine Important Bird Area now.
Recent paper: Cleasby, I, Owen, E, Wilson, L, Wakefield, E.D., O'Connell, P, Bolton, M (2020). Identifying important at-sea areas for seabirds using species distribution models and hotspot mapping. In Biological Conservation, Vol 241.
Photo used with permission: View from the RRS Discovery © Marguerite Tarzia.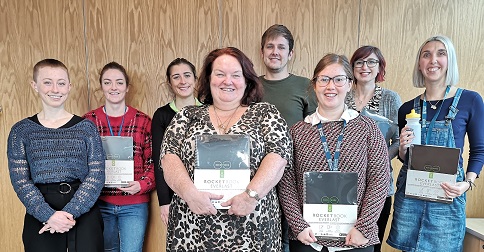 III Eco Group - Pioneering Sustainable Labs
Modern laboratories have huge carbon footprints compared to other workplaces of a similar size. It is essential that steps are taken to improve efficiency and reduce waste and energy use to minimise the environmental impact of laboratory work.
The Institute of Infection, Immunity and Inflammation (III) eco-group was founded in MVLS in 2016, and includes PhD students, research staff and technicians. Since its inception, the group has introduced several initiatives aimed at reducing their environmental impact including the introduction of laboratory recycling, electricity usage audits, shared chemical lists, and electronic laboratory notebooks. Through this work they have reduced their carbon footprint by 86.7 tonnes CO2 annually on one floor of their building alone and as a result received a Silver Award from the LEAF Lab Sustainability Award Programme. This success was supported by a GUEST student intern specialising in S-labs.
To engage with the wider academic community, they have set up a Twitter account (@ECOgroup_III), and have presented posters and talks at various away days and scientific conferences.
Photo of III Eco Group receiving their Silver LEAF Award, courtesy of the news item on their win.