Public Engagements & Workshops
May 2019 - Sex, Bodies and Rights: New Frontiers in Reproductive Justice
Friday 31 May 2019, 9-5pm
in the Glasgow Club, Kelvin Hall
The workshop is intended to create a forum for exchange and debate among academics, practitioners and policy-makers working at the intersections of social medicine, political campaigning and policy, and reflecting on the local and global contexts within which (legal/political) discourses and (political/medical) practices of reproductive rights and reproductive justice have emerged and been shaped in past decades, and what kinds of present and future challenges exist in terms of ensuring access to reproductive justice for all.
May 2019: Gender & History annual public lecture
Religion and Masculine Expectations in Medieval Europe
A talk by Professor Ruth Karras
Friday 3 May 2019 at 4pm in the Yudowitz Room, Wolfson Building, University of Glasgow
The lecture will discuss the contradictions of a society in which warfare and reproduction were key determinants of masculine status, but in which an important elite segment excluded itself from those activities.
Ruth Mazo Karras is the Lecky Professor of History at Trinity College Dublin. Previously she was Professor of History at the University of Minnesota. She is the author of books including Unmarriages: Women, Men, and Sexual Unions in the Middle Ages, Sexuality in Medieval Europe: Doing Unto Others, and From Boys to Men: Formations of Masculinity in Later Medieval Europe. Her co-edited volumes include The Oxford Handbook of Women and Gender in Medieval Europe, with Judith Bennett. She is currently President of the Medieval Academy of America, and is a former North American Co-Editor of Gender and History.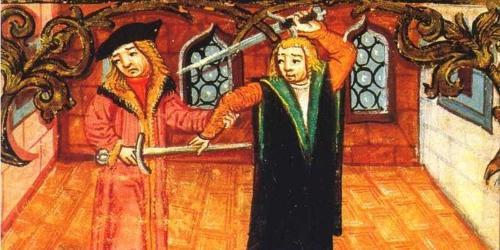 Gender History annual Lecture - Poster 2019
May 2018: Gender & History annual public lecture
Prof Merry Wiesner-Hanks
Department of History
University of Wisconsin
'"Nevertheless She Persisted": Plucky Women and Patriarchy in the Early Modern Economy
Friday 18 May 2018 at 4pm in the Kelvin Hall Lecture Theatre.
As part of the 'Invisible Hands: Reassessing the History of Work' conference hosted by the Centre for Gender History, Prof. Wiesner-Hanks will examine the new scholarship on women's economic role that has emerged over the last decade, which tends to argue that although patriarchal expectations and institutions were powerful forces, women successfully resisted, and were important players in economies of consumption, credit, and production.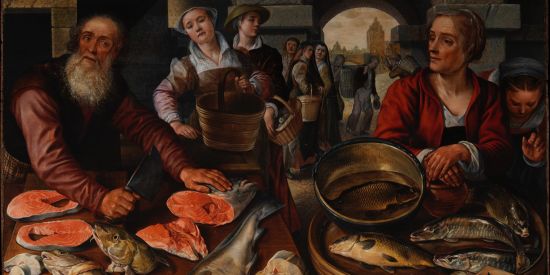 June 2017: visit to Oxford for one-day workshop on 'Gender and Inequalities'
CGH visit to Oxford for one-day workshop on 'Gender and Inequalities' with members of the Centre for Gender, Identity and Subjectivity, University of Oxford, June 2017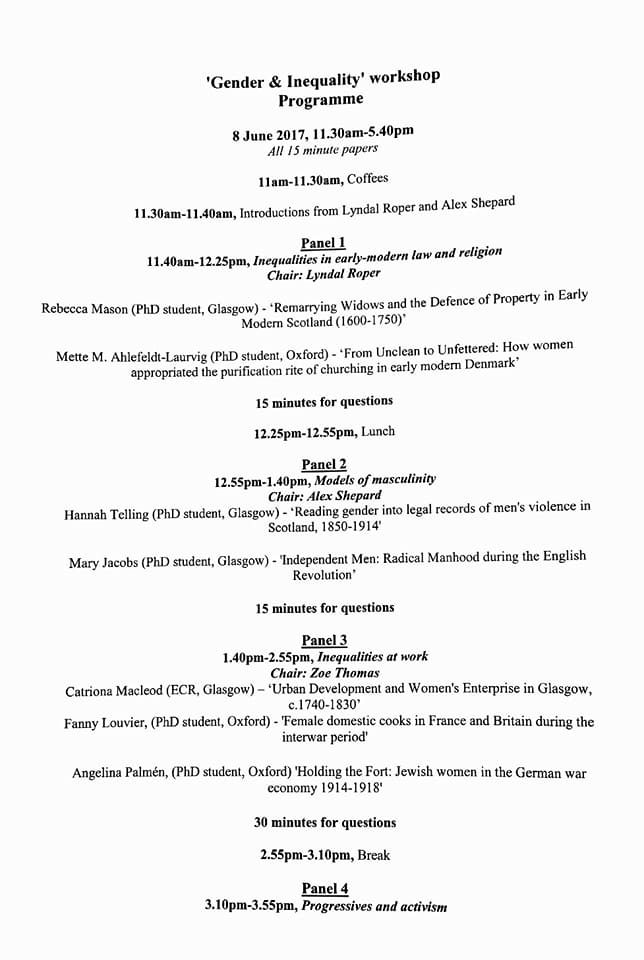 May 2017: media contributions
Media contributions to newspaper, radio and television reports on a range of topics, including the following selection:
Historical Adviser to the Channel 4/Testimony Films production examining the 50 years since the decriminalisation of homosexual offences in England and Wales in 1967 [Meek]
Production of a mini documentary for BBC Radio Scotland on William Paton and the Whitehats in 1920s Glasgow [Meek]
On-air contribution to Paisley: The Town that Thread Built, BBC Scotland, May 2017 [Wright]
May 2017: Gender & History annual public lecture
Centre for Gender History Annual Public Lecture
Friday 12 May 2017, 4pm, Yudowitz Room, Wolfson Building
'The Political in Question: Slavery Abolitionism in India's Twentieth Century', Professor Sinha, University of Michigan, USA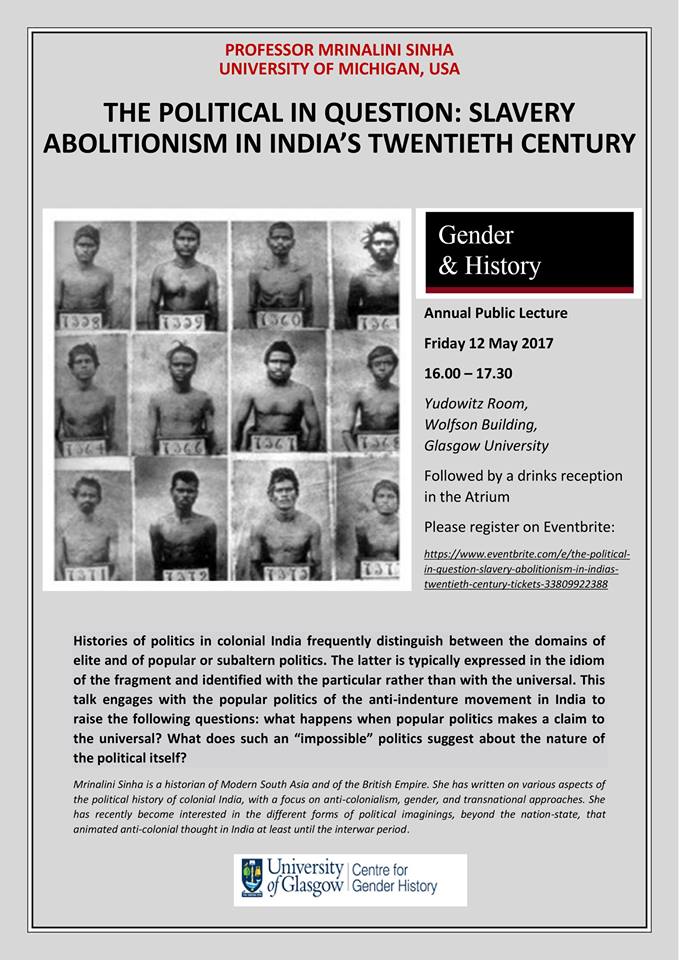 ‌
May 2017: Annual Public Engagement Workshop on 'Parenting and the Law'
Annual Public Engagement Workshop on 'Parenting and the Law', Glasgow Women's Library
Nov 2016: International Workshop 'Translating Feminism: Beyond the Canon
Sept 2016: Explorathon
Screening of 'The Divide' and panel discussion with Alex Shepard (CGH), Angela O'Hagan (WiSE), Nicole Busby (University of Strathclyde Law School), and Ann Henderson (STUC).
June 2015: Do we need feminism workshop
Centre for Gender History annual public engagement workshop, 1 June 2015 at Glasgow Women's Library. Organized by Dr Andrea Hajek.
In the early 1990s, Susan Faludi - in her prize winning Backlash: The Undeclared War Against American Women (1991) - argued for the existence of a media driven, antifeminist backlash against the 1970s women's liberation movement. A similar backlash seems to be living a revival, as the recent online social campaign #Women against feminism demonstrates. At the same time, a renewed engagement with feminism has manifested itself in recent years, due in part to the 2008 economic crisis. What does feminism mean in the present day, and to what extent is the current attitude towards feminism different from the way feminism has been seen in the past? What are the legacies of second-wave feminism and what can we still learn from it today? Are younger generations of women aware of the persistence of sexism, sexual violence and gender inequality, and can feminism be useful in tackling these issues?
This workshop brings together academics, activists and professionals engaged in battles for women's rights and against gender discrimination, sexism and sexual violence, as well as women from the local community. It aims to explore current attitudes towards feminism and its legacy in the present, and promote discussions about the role feminism can play in the struggle for a more equal and less sexist society.
Organized by Dr Andrea Hajek
Sponsored by the University of Glasgow's Knowledge Exchange Fund, New Initiatives Fund and the Equality and Diversity Unit
Podcasts:
Panel 1 (keynote lecture by Prof Fiona Mackay followed by response)
Panel 2 (paper by Dr Rosemary Elliot followed by response)
Panel 3 (papers by Dr Akwugo Emejulu and Dr Sarah Browne, followed by response)
To find out how some of the delegates answered the question, Do we still need feminism today?, see below for five brief interviews Dr Valerie Wright conducted during the workshop.
Click here for photographs and reports
Programme
10-10.30 Welcome and Introduction
Sue John, Glasgow Women's Library
Dr Rosemary Elliot, Director of the Centre for Gender History
Dr Andrea Hajek, University of Glasgow
10.30-12.30 Do we need feminism today?
Keynote lecture: Prof Fiona Mackay (University of Edinburgh), Transforming the face of politics? Women politicians and the feminist campaigns that got them there
Respondent: Dr Victoria Browne (Oxford Brookes)
Followed by roundtable discussion with:
Louise MacKenzie and Judith Hunter, Glasgow City Council Equality Network
Kate Reid
Louise Sheridan
Valerie Wright
12.30-13.30 Lunch break
13.30-14.45 Fighting sexual violence
Respondent: Dr Andrea Thomson (University of Glasgow)
Dr Rosemary Elliot & Dr Annmarie Hughes (University of Glasgow), Language, the law and the question of consent: Historical perspectives on sexual violence in 20thcentury Scotland
Followed by roundtable discussion with:
Elaine McLaughlin, Hemat Gryffe Women's Aid
Kirsti Hay, Glasgow Violence Against Women Partnership
14.45-15.15 Tea & coffee
15.15-17 Learning from feminism
Respondent: Dr Vikki Turbine (University of Glasgow)
Dr Akwugo Emejulu (University of Edinburgh), Whose feminism? Whose solidarity? Taking black feminism and women of colour seriously in feminist movements
Dr Sarah Browne (Independent Researcher), Looking back, moving forward: Legacies and lessons from the Women's Liberation Movement in Scotland
Followed by roundtable discussion with:
Sophie Kromholz and Halina Rifai, TYCI Glasgow
Hannah Brown, Rape Crisis Lanarkshire and STAMP (Stamp out Media Patriarchy) project leader
Hannah Houston, STAMP
Niamh McGeechan, STAMP
17-18 Wine reception
May 2015: Gender & History annual public lecture
Dr Garthine Walker (University of Cardiff)
March 2015: Gender and the Second World War 2015
Workshop: Gender and the Second World War, part of a day long symposium on gender and war.
Speaker: Karen Adler, University of Nottingham
May 2014: Beyond tradition workshop
Non-traditional marriages, partnerships and families in Scotland: Past and Present
Marriage is seldom out of the news, whether in relation to child well-being, same sex marriage, or anxieties around divorce rates and single parenthood. The reality of modern day marriage, cohabitation and separation exercise the minds of policy makers, people working in social welfare roles, and the general public. There is often a tendency to see multiple family forms as a recent development, attributable to the increase in divorce, remarriage, co-habitation and single parenthood since the late 1970s. This contrasts with more traditional understandings of the nuclear family prevalent in the earlier period.
This one day workshop will explore the changing meaning and experiences of marriage and family form from the 19th century onwards in Scotland to provide a historical context for current social developments in Scotland. The workshop will provide a forum for exploring synergies and difference in past and present experience. It will also provoke a useful dialogue between academics, policy-makers and practitioners in terms of the understanding we have about marriage and the family, and the ways in which those understandings shape our daily lives.
The plenary will be given by Professor Lynn Jamieson, Co-Director of Centre for Research on Families and Relationships, University of Edinburgh. Sessions will focus on non-traditional partnerships, including same-sex unions and cohabitation, and the experiences of children growing up in non-traditional families, including with same sex parents and lone parents and in step-families.
For enquiries and information please contact Meagan Butler or check out the project website.
May 2014: Gender & History annual public lecture
Prof Lynda Coon (University of Arkansas), 'Gendering Dark Age Jesus'
May 2013: Women and the Value of Work - Past and Present
‌Following on from the success of last year's event celebrating the 35th anniversary of Scottish Women's Aid 'Learning from the past, looking to the future', the Centre for Gender History is pleased to announce its second workshop taking place at the University of Glasgow on Wednesday 08 May 2013. This year the theme will be Women and the Value of Work: Past and Present.

The value of women's work is an historical problem that persists today. Despite legislation, women in Scotland still earn 14% less than men, prompting questions about the wider ways in which value is measured and recognised (Dec 2011 Annual Survey of Hours and Earning). Value can be assigned to work in several, overlapping ways. One of these is through monetary or material goods exchanged for labour. Another is in terms of its perceived importance and usefulness to the wider economy, culture and society. Sometimes it is ascribed value through the extent of training and skills required to fulfill a role. It also has a personal and emotional value, reckoned by individuals based on their wants and needs. Understanding how value has been appraised, and paying attention to the gendered ways in which work has been valued in Scotland historically will be the core focus of this event.

Spanning several centuries from the early modern period to the present day, the workshop will include themed sessions concentrating on women and enforced labour in Scotland, Scottish women in enterprise, and aspects of financial inequality. The event will also include a showcase of current postgraduate research, from a variety of disciplines, providing a platform for students to present their own research. The full programme will be made available shortly.


As with previous workshops, there will be an emphasis on public engagement, with the specific object of bringing together academic research and the work of campaign groups, and other non-academic organisations, that deal with issues of gender equality and work. We are pleased to be able to welcome Women's Enterprise Scotland, the STUC and Close the Gap to the Centre for Gender History for this workshop.

The day will finish with an open panel discussion with the intention of stimulating dialogue on the ways in which academic research might help to inform practical campaigning and policy, and, inversely, how the latter can help to inform research agendas and methodological approaches. This will also be an opportunity to make links across disciplines, as well as promoting closer understandings between academic researchers and public organisations.

Tea and coffee will be served at morning and afternoon breaks and a light lunch will be provided courtesy of Athena SWAN.

Contacts: Catriona MacLeod, Jonathan Moss or Roslyn Chapman