The internationally leading journal Gender & History is edited from Glasgow, involving liaison with an editorial collective (comprised of members from universities across the globe) and collaboration with, and oversight of, the US editorial office (currently based at the University of Minnesota). The journal generates an annual income of around £30,000, two-thirds of which supports the employment of an assistant editor at GU. Gender & History additionally funds an annual public lecture, enabling the Centre to sponsor a high-profile event featuring a scholar of international renown. Recent speakers have included Prof Antoinette Burton (University of Illinois) and Prof Laura Lee Downs (European University Institute, Florence). These events also directly benefit our postgraduate students, since guest lecturers are requested to devote part of their visit to a PGR master class and to meetings with doctoral candidates pursuing gender history.
May 2019: Gender & History annual public lecture
Religion and Masculine Expectations in Medieval Europe
A talk by Professor Ruth Karras
Friday 3 May 2019 at 4pm in the Yudowitz Room, Wolfson Building, University of Glasgow
The lecture will discuss the contradictions of a society in which warfare and reproduction were key determinants of masculine status, but in which an important elite segment excluded itself from those activities.
Ruth Mazo Karras is the Lecky Professor of History at Trinity College Dublin. Previously she was Professor of History at the University of Minnesota. She is the author of books including Unmarriages: Women, Men, and Sexual Unions in the Middle Ages, Sexuality in Medieval Europe: Doing Unto Others, and From Boys to Men: Formations of Masculinity in Later Medieval Europe. Her co-edited volumes include The Oxford Handbook of Women and Gender in Medieval Europe, with Judith Bennett. She is currently President of the Medieval Academy of America, and is a former North American Co-Editor of Gender and History.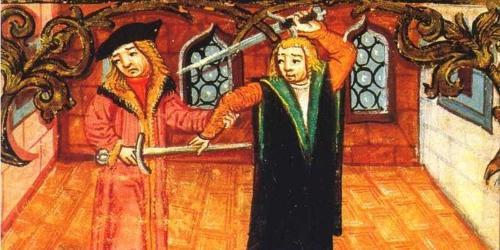 Gender History annual Lecture - Poster 2019
May 2018: Gender & History annual public lecture
Prof Merry Wiesner-Hanks
Department of History
University of Wisconsin
'"Nevertheless She Persisted": Plucky Women and Patriarchy in the Early Modern Economy
Friday 18 May 2018 at 4pm in the Kelvin Hall Lecture Theatre.
As part of the 'Invisible Hands: Reassessing the History of Work' conference hosted by the Centre for Gender History, Prof. Wiesner-Hanks will examine the new scholarship on women's economic role that has emerged over the last decade, which tends to argue that although patriarchal expectations and institutions were powerful forces, women successfully resisted, and were important players in economies of consumption, credit, and production.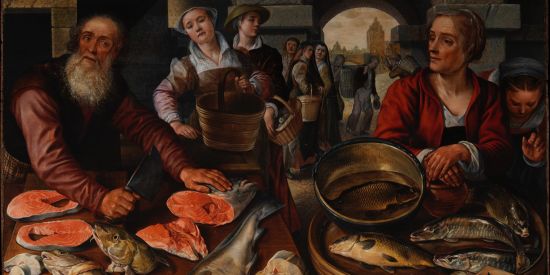 May 2017: Gender & History annual public lecture
Centre for Gender History Annual Public Lecture
Friday 12 May 2017, 4pm, Yudowitz Room, Wolfson Building
'The Political in Question: Slavery Abolitionism in India's Twentieth Century', Professor Sinha, University of Michigan, USA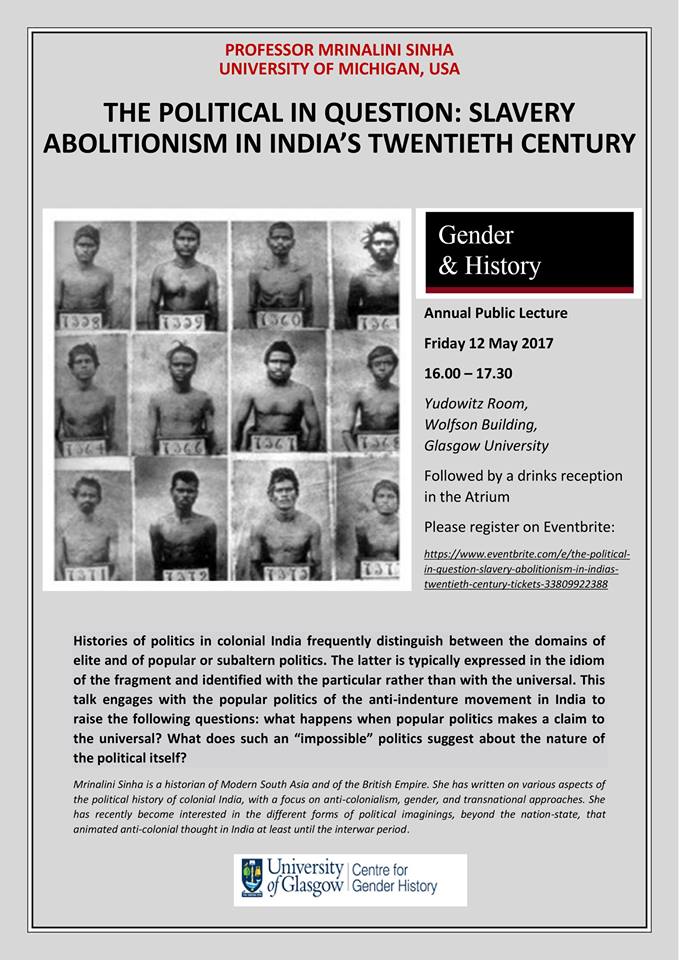 ‌
May 2015: Gender & History annual public lecture
Dr Garthine Walker (University of Cardiff)
May 2014: Gender & History annual public lecture
Prof Lynda Coon (University of Arkansas), 'Gendering Dark Age Jesus'