Issue 7: Politics and Aesthetics
Edited by Susan Bell and Emma Gascoigne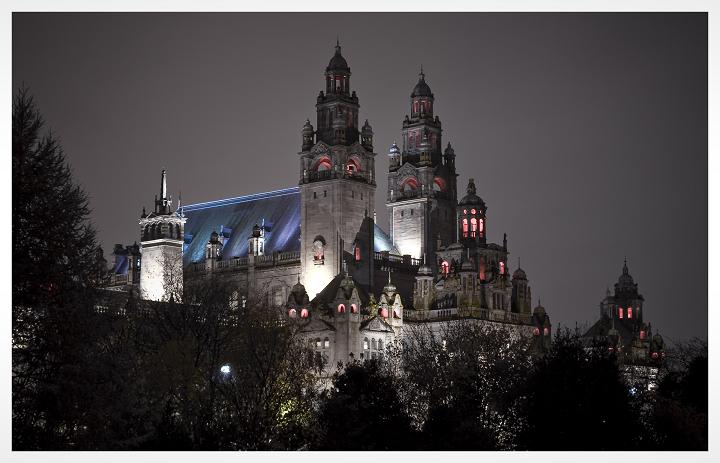 Kelvingrove at Night, by Robert B. Kent (see below for artist's statement)
Welcome to our seventh issue of The Kelvingrove Review. The texts under review in this issue cover a wide range of disciplines that intersect in their consideration of how aesthetics can become political and how politics can be viewed aesthetically. TKR is pleased to present these postgraduate reviewers, who have demonstrated in their writing an ability to critically evaluate the writings of other scholars and communicate this to a broad, interdisciplinary audience. Their success in this demonstrates TKR's importance in providing a platform for emerging scholars to publish.

This issue displays two creative pieces: one visual and one text-based. They both add a dark edge to the consideration of politics, reflecting the current tensions, both on the global stage and at the campus level, impacting our lives. We are grateful to both Robert Kent and Gerard McKeever for their contributions.
Articles are in PDF format. If you do not already have Adobe Reader on your computer, you can download it for free from www.adobe.com
The Sneer
by Gerard McKeever
The minds of man are groaning underneath
The load. From the first sliver of sunrise
Till at night, worn-out our God puts its faith
In the horizon's care, and embraced, sighs.
All this time, no Mother's undying love
Or the fleeting, fast-paced chaos around
Can quite distract us from the feeling of
Something intangible, broken, unsound.
Perhaps in all ages man has stared out
And felt the world perverted, soured, burnt, fouled.
Yet day by day the inclination's out
Growing the world that would neglect this child.
With a sneer and a shrug, we beat it back
And twist the sign, throw leaves on the right track.
Gerard McKeever is currently studying for an MPhil (Research) in English Literature at the University of Glasgow.
Kelvingrove at Night
by Robert B. Kent
This photo of the Kelvingrove Museum was taken on a rainy evening last November. The exterior lighting of the museum at night is so dramatic it seems like the secret lair where all of the world's top villains should meet to discuss their plans to bring down civilization. I like to imagine Julian Assange standing on one of the building's towers, surveying the cityscape as he plans his next move. Of course the irony of this vision is that only a highly structured and orderly society could have created such a magnificent building, and yet, to me, it seems like the appropriate meeting place for those who would overthrow it.
Robert Kent is an American student at the University of Glasgow, where he is studying economic development. When not working on his dissertation, he can be found out and about with his camera documenting life in Glasgow. His work can be found online at http://www.robertbkent.com
Contents
Themed Reviews.
Politics and Morality Written by Susan Mendus
Reviewed by Cila Warncke TKR7-1
J. M. Coetzee in Context and Theory Edited by Elleke Boehmer, Robert Eagleston and Katy Iddiols
Reviewed by Sam Wiseman TKR7-2
Ill Fares the Land: A Treatise on our Present Discontents Written by Tony Judt
Reviewed by James Kearney TKR7-3
In Search of the Black Fantastic: Politics and Popular Culture in the Post-Civil Rights Era Written by Richard Iton
Reviewed by Catriona McAra TKR7-4
French Orientalism: Culture, Politics and the Imagined Other Edited by Desmond Hosford and Chong J. Wojtkowski
Reviewed by Stephen Collins TKR7-5
Utopia or Auschwitz Written by Hans Kundnani
Reviewed by Matthias Dapprich TKR7-6
Emblems of Adversity: Essays on the Aesthetics of Politics in W. B. Yeats and Others Written by Rached Khalifa
Reviewed by Joe Heap TKR7-7
Politics as Usual: What Lies Behind the Pro-Poor Rhetoric Written by Thomas Pogge
Reviewed by Ruth Jack TKR7-8
The Beautiful, the Sublime, and the Grotesque: The Subjective Turn in Aesthetics from the Enlightenment to the Present Edited by Michael J. Matthis
Reviewed by Janet Chen
Romantic Antiquity: Rome in the British Imagination, 1789-1832 Written by Jonathan Sachs
Reviewed by Laura Eastlake TKR7-10
Non-themed Reviews.
Justice: What's the Right Thing to Do? Written by Michael J. Sandel
Reviewed by Alan Wilson TKR7-11
The French Atlantic: Travels in Culture and History Written by Bill Marshall
Reviewed by Harriet Kennedy TKR7-12
Anti-Tales: The Uses of Disenchantment Edited by David Calvin and Catriona McAra
Reviewed by Defne Cizakca TKR7-13
Darwin's Bards: British and American Poetry in the Age of Evolution Written by John Holmes
Reviewed by Philip Martin TKR7-14