Issue 6: Uniting Nations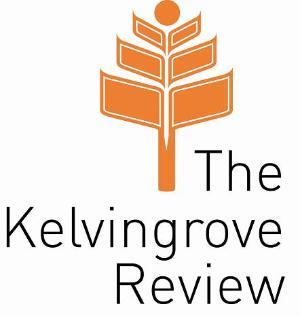 Edited By V. Woolner, L. Whitaker and S. Wylie.
Welcome to our sixth issue of The Kelvingrove Review. We have a packed issue for you and our theme is 'Uniting Nations'. As this is the first issue under the college restructuring it is extremely heartening to see that we have maintained the disciplinary breadth of arts and social sciences and, whether themed or not, all our reviews (and their contributors) demonstrate the potential of education and intellectual research as a uniting force that can transcend national or cultural boundaries. We hope you enjoy this edition.
D Sang u d Sailin Meyn

The Song of the Sailing Men

D myoosic u dir voysis
faaldit itae a laang-kerried kyist,
t be kerried awaa boot d
world eence ageyn.

Dir wirds dir cergo:
sailin awaa an fram
t ungkin plaesis - Japan,
Singapore, San Fran-
Cisco - t seek common cadence we
d wirds o iddir meyn
awaa fae hame,
choost d sam.

Nae faurin tungs -
d sangs u d sailin meyn windin
tgidder, lik d straands o a
twist a taerry raup, we d
wirds u dir saat-waatir kin.
The music of their voices
folded into a well-travelled sea chest,
to be carried away around the
world once again.

Their words were their cargo:
Sailing away out to sea
to foreign places - Japan,
Singapore, San Fran-
Cisco - to seek common cadence with
the words of other men
away from home,
just the same.

No foreign tongues -
the songs of the sailing men winding
together, like the strands of a
twist of tarry rope, with the
words of their salt-water kin.
This poem, and its translation, was written by Mark Ryan Smith who is a PhD candidate in the Department of Scottish Literature at the University of Glasgow.
Articles are in PDF format. If you do not already have Adobe Reader on your computer, you can download it for free from www.adobe.com.
Contents
Themed Reviews.
The Shock of The News: Media Coverage and the Making of 911 Written by Brian A. Monahan
Brute Reality: Power, Discourse and the Mediation of War Written by Stuart Price
Reviewed By Chris Buckle TKR6-1

Global Ethics: An Introduction Written by Kimberly Hutchings
Reviewed By Michael O'Brien. TKR6-2

When Out World Became Christian, 312-394 Written by Paul Veyne
Reviewed By Emanuela Ponti TKR6-3

Atlantic Families: Lives and Letters in the Later Eighteenth Century Written by Sarah M.S.Pearsall
Reviewed By Andrew David Struan TKR6-4
Non-Themed Reviews.
Intending Scotland: Explorations in Scottish Culture since the Enlightenment Written by Cairns Craig
Reviewed By Susan Bell TKR6-5

Warriors of the Word: The World of the Scottish Highlanders Written by Michael Newton
Reviewed By Kevin Grant TKR6-6

Sells Like Teen Spirit: Music, Youth Culture and Social Crisis Written by Ryan Moore
Reviewed By Lucy Weir TKR6-7