Social Engagement, Empowerment and Change
Social Engagement, Empowerment and Change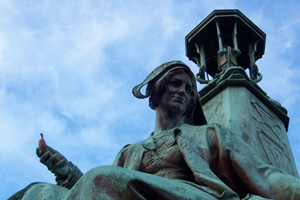 Editor: Miriam Ross
The Kelvingrove Review 's 2nd issue draws upon the theme developed in eSharp 's 11th issue: Social Engagement, Empowerment and Change. The 11th issue of eSharp produced a wide range of original and significant research, proving that the topic continues to provoke pertinent discussion today. Continuing with this subject matter, the TKR team looked for and found a diverse selection of recently published text books that also observe this theme.
This issue of TKR is proud to present a range of reviews which examine recent books dealing with subject matter from social engagement in historical time periods through to empowerment and change in the twenty-first century. We are also pleased to include an original piece of artwork from Adrian Maldonado that was created as the cover for this issue.
Articles are in PDF format. If you do not already have Adobe Reader on your computer, you can download it for free from www.adobe.com.
Contents
The Anthropology of Development and Globalization: From Classical Political Economy to Contemporary Neoliberalism Edited by Marc Edelman and Angelique Haugerud
Review by Meghan Ferriter TKR2 - 1

Circuits of Culture: Media, Politics and Indigenous Identity in the Andes By Jeffrey D. Himpele
Review by Miriam Ross TKR2 - 2

Citizenship: Discourse, Theory, and Transnational Prospects By Peter Kivisto and Thomas Faist
Review by Carin Runciman TKR2 - 3

Cooperation: The Political Psychology of Effective Human Interaction Edited by Brandon A. Sullivan, Mark Snyder and John Sullivan.
Review by Kate Rowley TKR2 - 4‌
Julius Caesar: The People's Dictator By Luciano Canfora Translated by Marian Hill and Kevin Windle
Review by Fraser Dallachy TKR2 - 5

Palestinian Cinema: Landscape, Trauma and Memory By Nurith Gertz and George Khleifi
Review by Alana Vincent TKR2 - 6

Red Scotland!: The Rise and Fall of the Radical Left, c. 1872 to 1932 By William Kenefick
Review by Matthew L. McDowell TKR2 - 7

The Social Archaeology of Funerary Remains Edited by Rebecca Gowland and Christopher Knüsel
Review by Erin-Lee Halstad McGuire TKR2 - 8

Stalinist Cinema and the Production of History By Evgeny Dobrenko Translated by Sarah Young
Review by María Antonia Vélez-Serna TKR2 - 10

Understanding Youth: Adolescent Development For Educators By Michael J. Nakkula and Eric Toshalis
Review by Catriona Aitken TKR2 - 10‌