Issue 17: (Re)Creation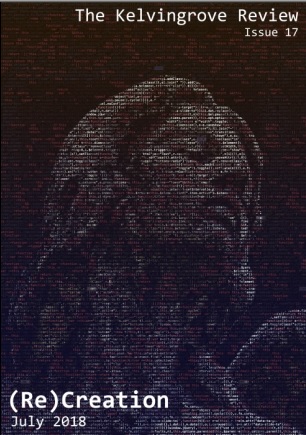 The seventeenth issue of The Kelvingrove Review decided to break the mould. Following our theme of (Re)Creation, we proposed reviews of work that, by nature of their inclusion in this issue, interrogate and, we hope, redefine traditional academic review journal conventions. As an Arts and Humanities journal, we wanted our reviews to reflect the vast fields of research and work in our area of study. This issue includes reviews of television programmes, films, fiction novels, and scholarly texts. Ranging from political upheaval, to alien invasion, to human memory, this collection of reviews presents you with ideas and questions that we hope encourage your own paths of re(creation).
The journal can be downloaded in PDF format below.
Lead editor: Hanna Greenblott
Assistant lead editor: William Burns
Editorial team: Ellie Brown, Jenna Cecchini, Laura Scott, Mary-Kate Wagamon
Click here to download the full issue: The Kelvingrove Review Issue 17 (Re)Creation
List of Contents
Somebody I Used to Know Wendy Mitchell with Anna Wharton
Reviewed by Joseph Wood
Women and Power: A Manifesto Mary Beard
Reviewed by Pip Osmond-Williams
Queer Eye David Collins
Reviewed by Hope Fulton
The Amateur: The Pleasures of Doing What You Love Andy Merrifield
Reviewed by Eirini Katstikea
Norse Mythology Neil Gaiman
Reviewed by Hannah Everett
Annihilation Dir. Alex Garland
Reviewed by Toby Neilson
Arthur and Sherlock: Conan Doyle and the Creation of Holmes Michael Sims
Reviewed by Charlotte Orr
Druck / Skam Dir. Julie Andem / Pola Beck
Reviewed by Maike Niermeyer
Stay With Me Ayòbámi Adébáyò
Reviewed by Maria Arvaniti
Utopia for Realists: And How We Can Get There Rutger Bregman
Reviewed by Simon James Holton
No Is Not Enough: Defeating the New Shock Politics Naomi Klein
Reviewed by Jack Anderson