Issue 14: Myth and Nation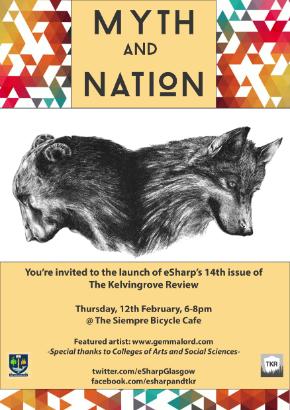 Lead Editors: Anne Rogers Fertig, Stephen Hall, Eret Talviste
Welcome to the 14th issue of The Kelvingrove Review, with the special theme of 'Myth and Nation'. We feel this collection of reviews demonstrates an eclectic selection of books ranging from specific individuals who resonate the themes with their body of work, to the interpretation of myth and how it affects and reflects current culture of the respective nations.
Our issue this year features a wide range of disciplines and cultures. Marina Warner's Once Upon a Time: A Short History of Fairy Tale, reviewed by Jade Scott,examined both ancient and modern fairy tales within western culture. Reviewed by Stuart Taylor, Heroes and happy endings: Class, gender, and nation in popular film and fiction in interwar Britain by Christine Grandy examines the post-World War I conceptions and anxieties of the British nation as represented in popular media. Taking us to the other side of the world, Voices of Fire: Reweaving the Literary Lei of Pele and Hi'iaka, by ku'ualoha ho'omanawanui and reviewed by Megan Kim Fortuné, divorces Hawaiian oral tradition from western conceptualizations and provides a glimpse into women's spiritual, intellectual, and physical power in native Hawaiian culture.
In a very relevant monograph, Islamic Myths and Memories: Mediators of Globalization, edited by Itzchack Weismann, Mark Sedgwick, and Ulrika Mårtensson, provides a number of essays tackling the preconceptions of Islamic cultures within a globalized economy and was reviewed by Bianca Scoti. In 832 pages, The Oxford Handbook of the History of Nationalism, edited by John Breuilly and reviewed by Patrick Murray,sought to encompass the developments of nationalism without reducing it to a simplistic phenomenon.
Many of books examined established traditions and figures within their respective nations. Matthew Schultz's Haunted Historiographies: The Rhetoric of Ideology in Postcolonial Irish Fiction, reviewed by Zoe Bartliff, examines the construction of Irish history as it was codified within early twentieth-century literature. Steven Usitalo's The Invention of Mikhail Lomonosov: A Russian National Myth, reviewed by Roberto Castelar Lizardo, takes a complicated figure from Russian history to demonstrate how he became incorporated in the Russian imagination. Reading Robert Burns: Texts, Contexts, Transformations, written by Carol McGuirk and reviewed by Arun Sood, offers a fresh study of the beloved Scottish poet and national hero.
We thank all reviewers, both those published here and to the many others that were submitted, for their time and effort in writing the reviews. We hope you find these reviews helpful and enjoyable.
Contents
Themed Reviews
Reading Robert Burns: Texts, Contexts, Transformations
Written by Carol McGuirk
Reviewed by Arun Sood TKR14 - 1
Heroes and Happy Endings: Class, Gender, and Nation in Popular Film and Fiction in Interwar Britain
Written by Christine Grandy
Reviewed by Stuart Taylor TKR14 - 2
The Oxford Handbook of the History of Nationalism
Edited by John Breuilly
Reviewed by Patrick Murray TKR14 - 3
Once Upon a Time: A Short History of Fairy Tale
Written by Marina Warner
Reviewed by Jade Scott TKR14 - 4
Haunted Historiographies: the Rhetoric of Ideology in Postcolonial Irish Fiction
Written by Matthew Schultz
Reviewed by Zoe Bartliff TKR14 - 5
Islamic Myths and Memories: Mediators of Globalization
Edited by Itzchack Weismann, Mark Sedgwick, Ulrika Mårtensson
Reviewed by Bianca Scoti TKR14 - 6
The Antiquity of the Italian Nation: The Cultural Origins of a Political Myth in Modern Italy, 1796-1943
Written by Antonino De Francesco
Reviewed by Matthias Widmer TKR14 - 7
Voices of Fire: Reweaving the Literary Lei of Pele and Hi'iaka
Written by ku'ualoha ho'omanawanui
Reviewed by Megan Fortuné TKR14 - 8
The Invention of Mikhail Lomonosov: A Russian National Myth
Written by Stephen Usitalo
Reviewed by Roberto Castelar Lizardo TKR14 - 9