25 November 2019 - Will Kaufman CANCELLED
Published: 19 September 2019
'Woody Guthrie and "Old Man Trump"'- A Live Documentary Performance
**This seminar has been cancelled due to strike action**
~~~~~~~~~~~~~~~~~~~~~~~~~~~~~~~~~~~~~~~
Monday 25 November at 5.15 (Refreshments available from 5). Venue: Room 205, 4 The Square, University of Glasgow
'Woody Guthrie and "Old Man Trump"'- A Live Documentary Performance
Will Kaufman (University of Central Lancashire)
In December 1950, Woody Guthrie moved his family into a new apartment in Brooklyn's Beach Haven. His landlord, it turned out, was none other than Fred Trump, father of the US president.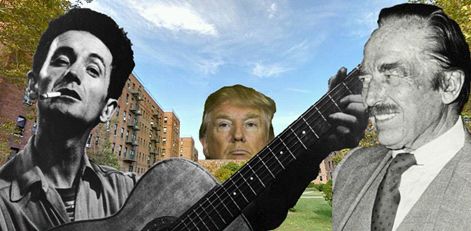 This show tells the story of his battles against the racist practices of his new landlord. In 2014, Will discovered, buried in the archives, Guthrie's previously unpublished song lyrics and other writings condemning Fred Trump's racism. He has now turned these discoveries into a new music and spoken-word presentation, following on from his celebrated shows, Woody Guthrie: Hard Times and Hard Travelin' and Woody Guthrie: The Long Road to Peekskill.
Woody Guthrie and "Old Man Trump" brings to life all the anger and contempt that Guthrie felt for those in power who will deny justice to their fellow human beings on account of the color of their skin. Against the backdrop of Guthrie's racial awakening and emergent activism, Will introduces such previously unheard songs as "Trump Made a Tramp Out of Me" and "Beach Haven Ain't My Home," along with a host of other Guthrie songs about racial injustice and struggle. All in all, we hear Woody Guthrie speaking and singing from beyond the grave, warning us about the dangers of ignoring and repeating history.
Will Kaufman – singer, multi-instrumentalist, and Professor of American Studies – is recognised as the world's leading authority on Woody Guthrie. He is the author of Woody Guthrie, American Radical (2011), Woody Guthrie's Modern World Blues (2017), and Mapping Woody Guthrie (2019).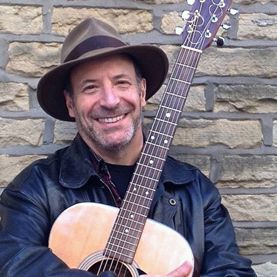 Free. All welcome!
---
First published: 19 September 2019