12 November 2019 - J. Michelle Coghlan & Katie McGettigan
Published: 19 September 2019
"The Art of the Recipe: American Food Writing Avant-la-lettre" "The Transatlantic Materials of US Authorship in The Whale, or Moby Dick"
On Tuesday 12 November 2019 we will be joined by two speakers, giving short talks.
at 5.15. Venue: Room 202, 4 University Gardens, University of Glasgow.
Speakers:
Michelle Coghlan (University of Manchester): "The Art of the Recipe: American Food Writing Avant-la-lettre"
Katie McGettigan (Royal Holloway, University of London): "The Transatlantic Materials of US Authorship in The Whale, or Moby Dick"
"The Art of the Recipe: American Food Writing Avant-la-lettre"
Artful recipes—or, recipes artfully merged into books we wouldn't immediately describe as cookbooks—have long been regarded as a modern literary creation, originating in the twentieth century with the exquisite gastronomical essays of M.F.K. Fisher in Serve It Forth (1937), Consider the Oyster (1941), and How to Cook a Wolf (1942), and the publication of experimental cookbook-cum-memoirs like The Alice B. Toklas Cookbook (1954). Yet far less attention has been paid to the nineteenth-century American food writing that anticipates and enriches our understanding of the aesthetic pleasures at the heart of Fisher's essays and the modern recipistolary canon of which they are part. This talk takes up the matter of American food writing "avant la lettre" by turning to the exuberant—and now largely forgotten—food essays of expat American writer Elizabeth Robins Pennell, originally penned for the Pall Mall Gazette and re-circulated, on both sides of the Atlantic, in her 1896 collection The Feasts of Autolycus: Or, the Diary of a Greedy Woman. Although Pennell made her name as both a New Art Critic and a celebrated food columnist in fin-de-siècle London, her contributions to American food writing have so far gone largely unexamined. In taking seriously the hybrid, proto-modern form of her recipistolary essays, I aim to recover the formal innovation of Pennell's radical celebration of women's right to unbridled gastronomical pleasure, or as Pennell herself puts it, "the virtue of gluttony" (16), as well as rethink at once the art of writing and reading recipes.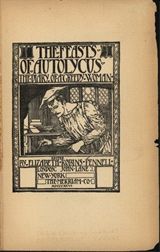 Dr. J. Michelle Coghlan is Lecturer in American Literature and Programme Director for American Studies at the University of Manchester. Her first book, Sensational Internationalism: the Paris Commune and the Remapping of American Memory in the Long Nineteenth Century, was awarded the 2017 Arthur Miller Centre First Book Prize in American Studies. She is the editor of the forthcoming Cambridge Companion to Literature and Food (CUP: March, 2020) and is currently working on a book about the rise of food writing and the making of American taste in the nineteenth century. Her essays and review articles have appeared in Arizona Quarterly, The Henry James Review, Resilience: A Journal of the Environmental Humanities, Poe Studies, and the Journal of American Studies, among others.
"The Transatlantic Materials of US Authorship in The Whale, or Moby Dick"
This talk begins by seeking to explain why Herman Melville's London publisher Richard Bentley commissioned such an ornate binding for The Whale, or Moby Dick (1851), when he had lost money on Melville's previous books and did not expect this one to be a bestseller. I resituate The Whale as an intervention in transatlantic debates over international copyright that echoed Melville's reflections on copyright and authorship in the novel itself. Furthermore, I suggest that The Whale participates in the transatlantic fashioning of American authorship as a material and aesthetic practice – fashioning that took place in dialogues between American texts and their material publication in Britain, and in which British publishers played a central, but as yet unrecognised, part.
Dr Katie McGettigan is Senior Lecturer in America Literature at Royal Holloway, University of London. Her first book, Herman Melville: Modernity and the Material Text was published in 2017, and her work has also appeared in Journal of American Studies, American Literature and Symbiosis: A Journal of Transatlantic Literary Relations. She is currently finishing her second monograph, tentatively titled, The Transatlantic Materials of American Literature, 1830-1860, from which her talk is taken.
Free. All welcome!
This series is generously funded by the British Association for American Studies / United States Embassy Small Grants Programme.
---
First published: 19 September 2019