Using Google Analytics
Google Analytics can help you analyse your content to help make informed decisions about your audience, user journeys, site structure and much more.
If you need set up with GA access for your area: please create a new gmail account with your @glasgow email address, in the format GU*your area*Analytics@gmail.com, then email webteam@glasgow.ac.uk with a note of the new gmail address and what section of the website you require access to.
To build a report and view stats for your website please do the following:
Select www.gla.ac.uk from the top left then 'no filter'
Scroll down the left side menu under reports and select > Behaviour > Site Content > All Pages
You can then filter by adding, for example - about/avenue in the search bar (mid-right of page)
You can also select internal IP and external IP for checking stats on an internal/external audience, otherwise use "no filter" to view all.
This process is shown in detail on the slideshow below:
Login to Analytics at www.google.com/analytics/ to see the default view shown in the home tab below: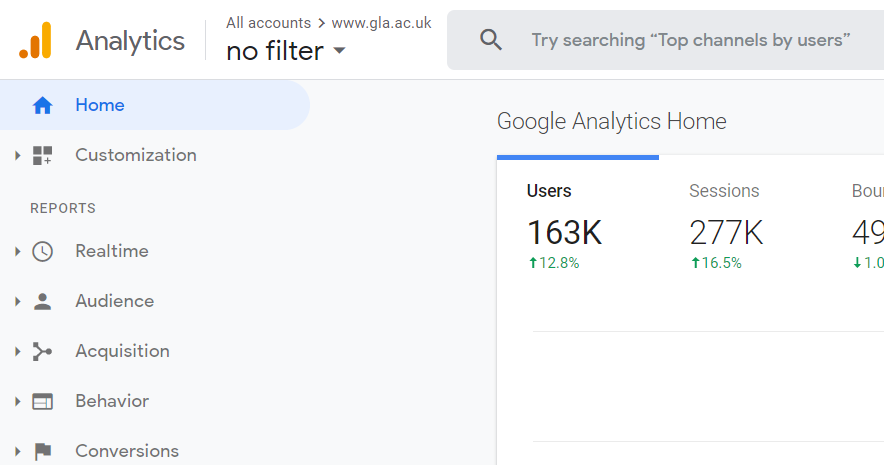 The three options available for querying are external ip (only external traffic), internal ip (only internal traffic) and no filter (internal/external combined):
Select no filter then navigate to Behaviour and select > Site Content > All Pages:
At the top right of the screen you can select the dates to change the date range of your analytics report:
Choose your required date range then apply. Now add in the location of the section you wish to filter to, in this example it is /schools/law. Always add the url after www.glasgow.ac.uk in this format ( / + college/school/service + Org Unit):
Pressing enter or the magnifying glass icon will filter to the location you added and you can select how many results to show using the dropdown list below:
Once you have results for your school/service etc. you can then add a secondary dimension to further filter the results and show, for example, the demographics or country of the users viewing the site:
Your results will display and you can "drill down" or select any page that shows in your results:
When you "drill down" it will only display results for this page:
You can view other stats above the pageviews graph on the page, including Navigation Summary to show the previous and next page path:
When you have finished querying the data and wish to save your results you can export your analytics results as a PDF report, CSV, spreadsheet etc.:
Advanced analytics
Adding your page filter as a segment
You can set a page filter to appear as as a new segment as follows:
select the down arrow under Pages and above the tab that says explorer
select create new segment
name the segment
select 'Conditions' > 'Filter Visits = Page' > contains > "school/yourschool"
save the new segment
This segment will remain and apply the filter to any analytics data you are viewing.
Once the segment is saved you can then view all the reports using the menu on the left and add the filter/segment each time to get that info for the "school/yourschool" pages.


Media
To track a media item you need the media ID (the number in the generated filename). Once you have this you can view 'media' events in analytics and filter to that ID.

Google has some good info on URL tracking here which should assist users with campaign helper:
Videos
To access information on video views for the videos embedded throughout our pages:
go to Behaviour > events > pages
filter to your page
click your page
you should see 'JW Player Video' - select this
This will give you plays, buffers, completes and a few other items.


Event/email/media tracking
To track your email link hits, add the tracking code below to your email link:
onclick="ga('send', 'event', 'email_address', 'clicked');"
Or, if for tracking a t4 media item, add the code below to your HTML:
onclick="ga('send', 'event', 'media', 'clicked', 'MEDIA ID');"
Example of HTML to track t4 media item (COLLEGE OF MVLS NEWSLETTER):
<li><span id="media-419721-0.8254295104059058" class="mceNonEditable"><a href="/terminalfour/SiteManager?ctfn=download&amp;fnno=60&amp;ceid=1602675411" target="_blank" onclick="ga('send', 'event', 'media', 'clicked', '419721');">Issue 15 | Spring 2015</a></span></li>
Then you can track the event as a media item in google analytics. To track a media item you need the media ID (the number in the generated filename). Once you have this you can view 'media' events in analytics and filter to that ID. Google has some good info on URL tracking at https://support.google.com/analytics/answer/1033867?hl=en-GB


Campaign URL builder
The following tool allows you to easily add campaigns to URLs so you can track Custom Campaigns in Google Analytics:
Analytics guides and links