WORLD CHANGING GLASGOW
Our core brand message
The University of Glasgow has set out its strategic vision to be a world-class, world-changing university. Never before has communicating the right message to the right people at the right time and using the right channels been so important. That's why we have refreshed our brand message.
Our brand essence - where people inspire people to change the world - captures who we are and what we do at the University of Glasgow. Our core brand message, World Changing Glasgow, is directly aligned to our brand essence.
Internally our brand message is a benchmark to remind ourselves of who we are and what we want to communicate. Externally, it communicates our world-class ambition and creates synergy between the University of Glasgow and the city of Glasgow.
Our brand message will be used to communicate with all of our audiences with the exception of core student recruitment campaigns. Core student recruitment campaigns will continue to use World Changers Welcome.
If you have any questions about our World Changing Glasgow brand message, please contact brand@glasgow.ac.uk.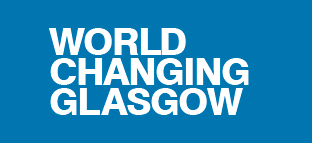 Building our brand message
The core message of World Changing Glasgow can be used across all communication channels either on its own or as a tab which is the capitalised stacked message contained in a cobalt box. The message should always be stacked horizontally.
The message communicates confidence with one word occupying each line. World Changing Glasgow is typeset in capitals using Swiss Heavy with tacking set to -50. There are no surrounding words.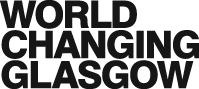 Positioning our brand message
When applying World Changing Glasgow as a tab or on its own, the tab and stacked message should always be positioned on the bottom left.
It follows similar guidelines to our marque in that the World Changing Glasgow component sits 7mm from the bottom of a page.