UofG students set up Scotland's first student FinTech society
UofG students set up Scotland's first student FinTech society
Issued: Thu, 22 Feb 2018 11:37:00 GMT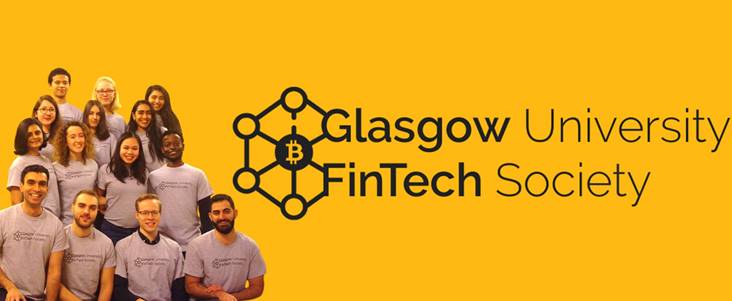 ‌
Bitcoin, blockchain, cytocurriences and big data are all terms being used more and more in finanical markets around the world.
These all form part of Financial Technology or FinTech which is the new technology and innovation that aims to compete with traditional methods in the delivery of financial services.
Now a group of students from the University of Glasgow have set up the first student FinTech Society in Scotland to learn more about Financial Technology (FinTech) and develop knowledge in this area.
The FinTech Society, whose president is Jan Jindra, a Masters student in the Adam Smith School of Business, says it is vital for new graduates to learn about FinTech and be able to compete in the world of Finance and IT.
The society has developed close links with industry leaders and is hosting a number of workshops on FinTech.
But don't worry if you can't get along, as the society has made all the presentations and reports on the events available on their website in the resources section.
He said: "What makes the society unique is that for each of our workshop, a team of society members works in advance to research the specific FinTech-related topic on their own first, write a group report and eventually deliver the presentation at the event to other students.
"In doing so, students develop strong teamwork, research, problem structuring and presentation skills. Furthermore, we invite guest speakers and companies to our events to bring industry perspective on the topic. This fresh approach creates students who are future-ready, aware of the latest market developments in Finance and IT, able to explain complex issues in easy terms and students which possess strong employability skills which they might not be able to develop in lectures."
Among the industry guests who have taken part in FinTech Society tlaks include Dug Campbell of MaidSafe; Jordan Stodart of Ocra Money, and Greig Paul, a Cybersecurity & Blockchain specialist.
The society has also made good connections with a number of organisations like FinTech Scotland and Barclays to discuss future collaborations.
The next event by the FinTech Society is called "Ethics and Regulations of FinTech" and will be led by Burness Paull, a top Scottish commercial law firm. It is being held on Wednesday 28 February and registration details can be found on the society's Facebook pages.
---