UofG team win Impact Award for conference community engagement
A team from the University of Glasgow, led by Dr Lorraine M. Work, has won an Incredible Impact Award for impactful community engagement during the BRAIN & BRAIN PET 2022 conference in Glasgow.
Formed from a joint initiative by the International Congress & Convention Association (ICCA) and BestCities Global Alliance, the Incredible Impacts Programme is committed to legacy building, with the winners chosen for their dedication to "delivering change from the very heart of their geographical and cultural communities."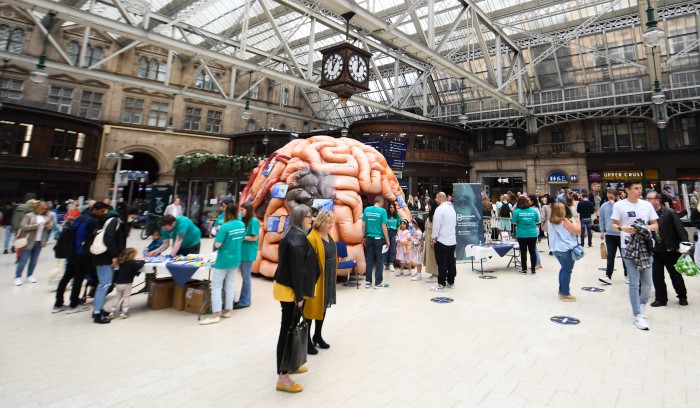 A community engagement event at Glasgow Central Staton
Dr Work, on behalf of the International Society for Cerebral Blood Flow and Metabolism, led a team who planned a series of interactive Glasgow city-wide events bringing together experts, artists, students, and the general public.
Glasgow went 'brain mad' across May and June when schools and the public discovered what makes the grey matter tick. Kids were encouraged to build brains – "ït's like a marshmallow"- delegates were encouraged to explore brain installations, and Glaswegians empowered to become advocates for brain health and lead healthier, smarter lives.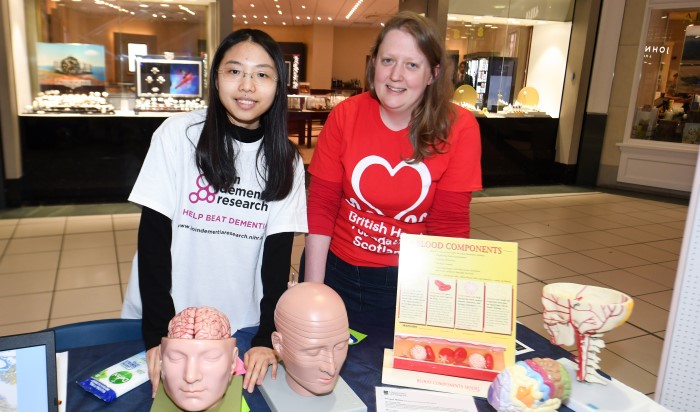 Dr Lorraine M. Work at a Community Engagement event in Glasgow
Dr. Lorraine M. Work, Reader at the School of Cardiovascular & Metabolic Health, College of Medical, Veterinary and Life Sciences, said: "In bidding for the BRAIN & BRAIN PET 2022 conference we wanted to leave an impact from the meeting for the people of the host city, Glasgow. Through support from the ISCBFM, charity (Brain Health Scotland, Alzheimer's Research UK, British Heart Foundation) and an army of volunteers from the Universities of Glasgow, Manchester, Edinburgh, and Strathclyde we were delighted that we were able to achieve this legacy.
"The school 'build-a-brain' workshops, in collaboration with Professor Stuart Allan & Dr Lizzie Burns, reached 600 primary school pupils, and our Brain Health Awareness Day allowed around 1500 people to learn more about their brain and how to keep it healthy. Feedback on the events was overwhelmingly positive and recognition of our achievements through an ICCA/BestCities Incredible Impacts Awards allows us to look forward to future meetings to ensure a strong public engagement focus while also enabling us to build on the successes of our school workshops more widely."
---
First published: 26 September 2022