MVLS signs MoU with Charles Perkins Centre, Sydney
A new MoU between the Charles Perkins Centre and College of Medical, Veterinary and Life Sciences (MVLS) was signed on the 26 October 2021. This celebration also included renewal of the institutional MoU with University of Sydney.
Professor Iain McInnes, Vice Principal and Head of College of MVLS, commented: "The College of MVLS is delighted to establish this exciting new partnership with the Charles Perkins Centre - an internationally renowned, multidisciplinary, research and education hub that uses a complex-systems approach to tackling chronic diseases.
"We share values, curiosity, and a complementary focus so are very much looking forward to collaborating with our colleagues in Sydney. Together, we can create a superb platform to make critical inroads into the understanding and management of chronic diseases that afflict society to improve global health. "
Professor Stephen Simpson, Academic Director of Charles Perkins Centre, said: "I am thrilled that the Charles Perkins Centre is embarking with our renowned colleagues in the College of MVLS at the University of Glasgow to tackle the epidemics of obesity, cardiometabolic and autoimmune diseases that are threatening the sustainability of health systems worldwide. Meeting this challenge requires tackling root causes which lie in the modern industrialised food system, in our built and work environments, and deep in social disadvantage and inequity.
"We need new models of disease prevention and treatment that build upon the emerging science indicating the shared biology of many chronic disease, ageing - and susceptibility to infectious diseases. Pulling this off requires partners who have deep expertise, disciplinary breadth and who understand how to work across disciplines. The CPC and the College of MVLS are such partners and I look forward to an exciting future together. "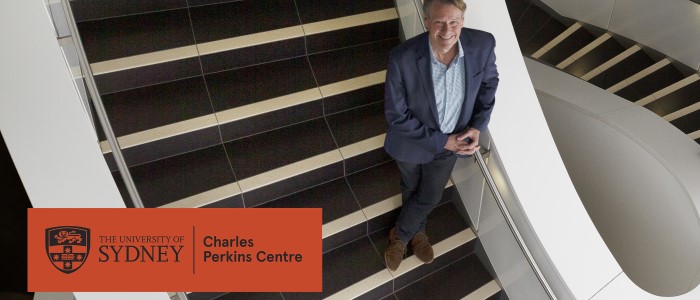 Professor Iain McInnes and Professor Mark Scott signed the new MoU with the Charles Perkins Centre together with the Director of the Charles Perkins Centre (Professor Stephen Simpson). This collaboration will build on three symposiums already held as part of this new partnership covering:
Sex differences in cardiovascular diseases
Inflammation and
Beyond traditional risk factors.
Future plans are to establish new collaborations between staff at both partners in complimentary research areas (such as, obesity, diabetes and cardiovascular disease), joint PhD research projects and when possible, staff and student exchanges.
The institutional MoU was signed by Professor Sir Anton Muscatelli and Rachel Sandison (for the UofG), and Prof Mark Scott and Professor Kathy Belov (for the University of Sydney). The collaboration continues to address current challenges, for example two jointly organised webinars were held on 'The future of education in a Covid-recovery world' in November 2020 and May 2021.
UofG staff who attended included: Dr Carol Clugston, Professor William Cushley, Professor Christian Delles, Professor Tomasz Guzik, Professor Christopher Loughrey, Professor Clare McManus and Professor Matthew Walters. They were accompanied by the following University of Sydney staff: Professor Gemma Figtree, Susan McColl, Amanda Sayan and Professor Stephen Simpson.
---
First published: 15 November 2021