Tribute to former GUSRC President Breffni O'Connor
Issued: Tue, 26 Nov 2019 09:50:37 GMT
The SRC and the University are deeply saddened by the news that Breffni O'Connor, a UofG graduate and past-President of the SRC, passed away suddenly this weekend. Breffni was a popular and active member of the University community throughout her time as a student; serving on the Board of Management of the Glasgow University Union before becoming Vice President Student Activities and subsequently President of the SRC in 2014-15. Breffni was the SRC's first VP Student Activities (VPSA).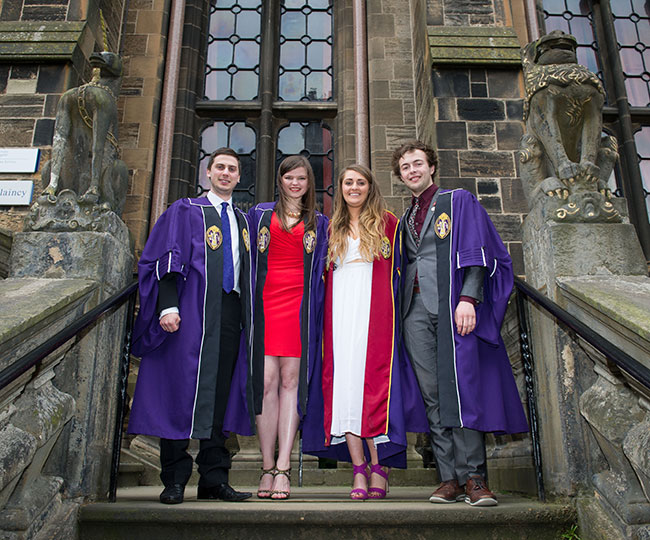 GUSRC Executive 2014-15 (l-r): Liam King, Gintare Masiulyte, Breffni O'Connor, Caelum Davies
Her energy and love of life was reflected in her work as VP where she devoted considerable time to developing and promoting opportunities for our students to participate in activities beyond their formal learning. As the inaugural post holder she will be remembered for her significant contribution to shaping the VPSA role and setting the bar high for subsequent occupants of the position.
Breffni's Presidency was marked by many achievements, and her keen sense of fun and her natural irreverence brought a new dimension to the SRC. Breffni was always professional in her approach but, as the head of an organisation that's often accused of being beige, she turned that round by bringing some colour and a positive, outward looking approach to engagement with our students.
Breffni played a key role in the establishment of what has become the Let's Talk, Gender-Based Violence initiative. Under her leadership a successful lobbying campaign led to UofG becoming the first UK university to commit to divestment from fossil fuels. It would be impossible, in this short piece, to list all Breffni's achievements, most importantly, however, Breffni will be remembered by those who worked alongside her for her genuine commitment to student life here at the University, for her big smile and the joy and fun she brought to every situation, it was simply impossible not to enjoy yourself in Breffni's company.
We are all still processing this devastating news, and our thoughts go out to everyone who knew and loved her. We will arrange an event in due course to remember Breffni's life and her contribution to our UofG community.
---