Prof Sheila Rowan awarded honorary degree
Prof Sheila Rowan awarded honorary degree
Issued: Tue, 13 Mar 2018 06:00:00 GMT
Professor of Physics and Astronomy at the University of Glasgow Sheila Rowan was awarded an honorary degree from Robert Gordon University (RGU) at a special graduation ceremony held to celebrate International Women's Day (8 March).
Sheila received the award alongside Edel Harris, Chief Executive of Cornerstone and Alice Brown, Emeritus Professor of Politics and formerly Vice Principal at the University of Edinburgh.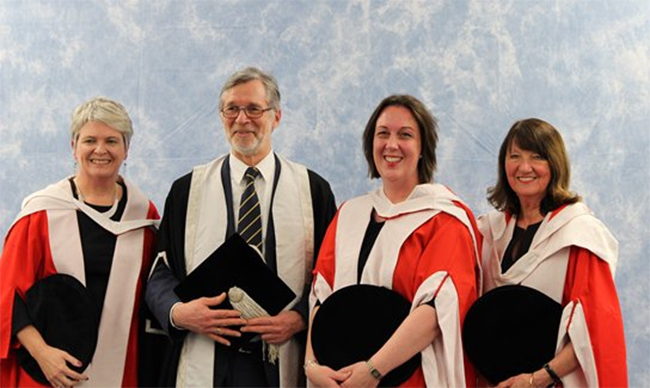 RGU Principal Professor Ferdinand von Prondzynski said: "I am extremely pleased to have these inspiring women at RGU – they have all achieved so much in their chosen careers and we are thrilled to celebrate their achievements and inspire other women."
Professor Sheila Rowan is also the Chief Scientific Adviser (CSA) for Scotland and provides expert scientific advice to the Scottish Government to help inform its work. Her research interests are directed at gravitational wave detection on the ground and in space.
---