Praise for #Snowmageddon response
Praise for #Snowmageddon response
Issued: Mon, 05 Mar 2018 12:04:00 GMT
Tributes have been paid to Estates and Commercial Services staff - and many others - who worked so hard to help the UofG recover from the 'Beast from the East'.
The heavy snow and drifting that arrived overnight Tuesday/Wednesday last week caused severe disruption for students and staff working at all the University of Glasgow's campuses and centres.
Ground staff from Estates and Commercial Services faced major problems as they battled to keep roadsways and footpaths open and safe to use. Teams battled over the weekend to clear access to the campuses at Gilmorehill and Garscube. They got support from staff at the University's Cochno Farm. The Dumfires campus also faced severe difficulties at times. Staff from IT Services worked through the worst of the weather to maintain systems: the student and staff IT Helpdesks in the Library were fully operational during the period. Huge efforts were made by IT specialists to increase capacity on the remote connection services for people working from home. This was largely successful but IT Services apologised to anyone who had difficulty accessing any of their services over the last few days.
Tribute
The Principal, Professor Sir Anton Muscatelli, praised the work of all those who got the University ready for business on Monday morning. He said: "With the rest of my senior management group, I want to pay tribute to everyone at the University of Glasgow who played a role in coping with the terrible weather conditions over the past seven days. Our thanks has to start with the staff from Estates and Commercial Services who worked long hours, in atrocious conditions, to try to keep access open to all our sites: at Gilmorehill and Garscube and also to colleagues in Dumfries who were also badly affected.

"All through the weekend our Estates and Commercial Services staff were battling against the snow and ice, particularly at the extensive Garscube campus, to clear roadways and to make conditions safe for staff and students returning on Monday morning. There were many more members of staff from University Services, and academic colleagues from the Colleges, Schools and Research Institutes, who went to incredible lengths to try to keep our learning and teaching activities running. We have heard of colleagues who walked up to ten miles to get to work when the weather conditions were at their most severe. Many students too battled against the odds to attend the University and to try to hand in assignments.

"To everyone involved, be they learning and teaching staff or University Services, and to our hard-working students, I want to extend my thanks and gratitude for your efforts and for putting up with very trying weather conditions."
Many thanks to all the students and staff who shared their snow photos on social media!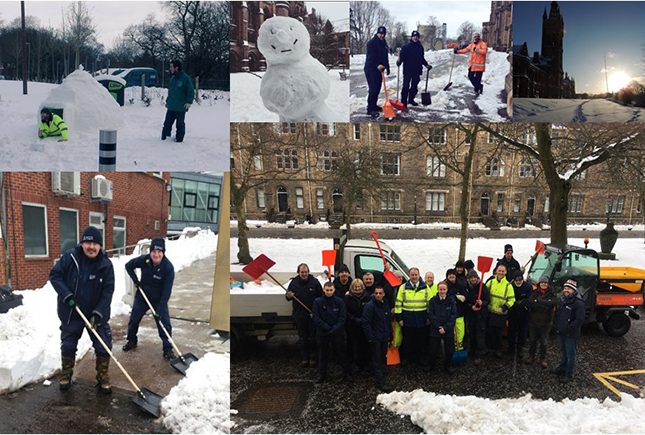 ---