News round up - 13 February
News round up - 13 February
Issued: Tue, 13 Feb 2018 08:00:00 GMT
Students can gain two degrees with new international programme
A unique dual-degree programme will enable business students to gain a Euro-Asian MBA/MSc.
The new two year programme is offered by University of Glasgow Adam Smith Business School and Universiti Sains Malaysia (USM) Graduate School of Business (GSB).
The students will study for a year at the USM Graduate School of Business and spend a further year studying at the University of Glasgow. Upon completion of their studies they will receive two degrees. The MBA qualification will be awarded by USM, and UofG will award students the MSc.
The programme will train the next generation of business leaders to be responsible and effective leaders who understand the challenges of working in a global environment and recognise the importance of the sustainability of that environment.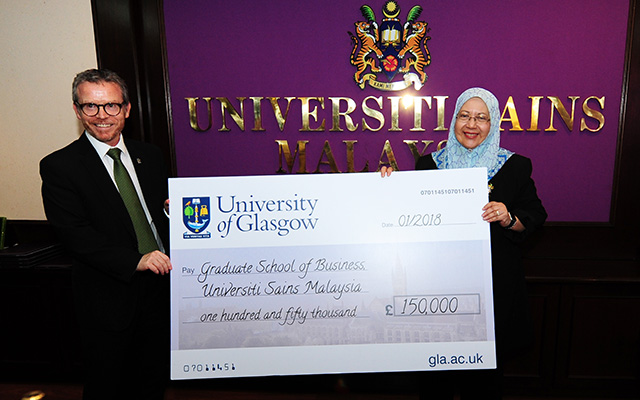 - Professor Frank Coton, Vice Principal (Academic & Educational Innovation) launches the dual degree programme with Vice-Chancellor Datuk Professor Dr. Asma Ismail -
The College of Social Sciences is awarding £150,000 of scholarships to Association of Southeast Asian Nations (ASEAN) students to study this programme. The programme, which will start in September 2018, already has six students who will receive a £10,000 UofG scholarship, and more places are available.
A formal agreement was signed between the two Universities in late January. It builds on a strong relationship between the two universities and continues the long-standing engagement the University of Glasgow has with Malaysia.
USM and University of Glasgow are both global universities and uniquely placed to work together to deliver an educational programme of this type.
FGUL Newsletter - out now
The Winter 2017/18 Friends of the Glasgow University Library newsletter is now available. Contents include: Scandal, gossip and crime reporting in Victorian times, will the real Duncan Macrae stand up? And a profile of Assistant Director for Collections Strategy, Siobhan Convery. Plus AGM report.
Print copies can be found in the University Library and the digital edition will be available shortly on the FGUL website.
Find out more: Friends of Glasgow University Library
Local MPs and MSPs visit prestigious UofG research centre
Alison Thewliss MP, Bill Kidd MSP, Sandra White MSP and Carol Monaghan MP all visited the Arthritis Research UK Rheumatoid Arthritis Pathogenesis Centre of Excellence (RACE), at the University of Glasgow last week to learn about the impact of arthritis on their local constituents and the current investment in arthritis research across Scotland.
The centre, which is funded by charity Arthritis Research UK, investigates the causes of and potential treatments for rheumatoid arthritis, a painful autoimmune disease which affects over 400,000 people in the UK. Data analysed by the charity reveals that nearly 37,000 people in Scotland have rheumatoid arthritis, with 8,000 of those living in Glasgow and Clyde.
The impact of rheumatoid arthritis and other types arthritis, such as osteoarthritis, on society and the economy is considerable. Together, these conditions are the largest single cause of workplace absence in the UK, resulting in 30.8 million working days lost each year. Arthritis Research UK are working with politicians across the spectrum to help them shape the research and policy agendas, so that people with arthritis can live fulfilling lives.
Global leader
Rheumatoid arthritis causes inflammation in the joints, leading to chronic pain and fatigue. Although drug treatments have improved considerably over the years, many people with the condition still have difficulty doing things most of us take for granted, like getting to work, climbing the stairs or getting dressed independently.
The research centre brings together expertise from universities in Glasgow, Birmingham and Newcastle, to investigate clinical advances for people with rheumatoid arthritis. For example, Glasgow scientists are currently investigating whether the most effective drug for a patient can be identified by examining their joint tissue. The researchers hope that this will ensure that patients are not prescribed drugs on a trial-and-error basis.
The four politicians, whose constituencies are all in Glasgow, were given a tour of the research labs and met researchers and staff from Arthritis Research UK and Arthritis Care Scotland, who have recently merged to do more to help people with arthritis to live full and active lives.
Alison Thewliss, Glasgow Central MP, said: "I greatly enjoyed my visit to Arthritis Research UK's RACE centre, here in Glasgow. It was very interesting to hear about the important work being carried out to help make everyday life better for people living with arthritis in Scotland. I'm keen to raise the profile of the issues affecting people with arthritis at Westminster, and to help protect our position as a global leader in science, sustaining the benefits the life-science sector brings to the economy.
"Together we can fight this painful condition that has a devastating impact on the lives of people in Scotland."
Psychological support for cancer patients
Student Gintare Vaiciulyte is campaigning to get support for psychological support for cancer patients in Scotland. She writes "1 in 2 people will be diagnosed with cancer during their lifetime. A lot of patients will experience anxiety and depression which can be as challenging as the physical symptoms. Psychological support can improve patient's quality of life and help cope with diagnosis and treatment. Unfortunately, only the minority of them are diagnosed and offered appropriate help. Psychological support should be available to everyone affected by cancer.
Please sign the petition to help us make the change at:
www.change.org/p/scottish-government-help-cancer-patients-we-need-to-improve-the-availability-of-psychological-support-now
If anyone wants to contribute to the project in any way, please contact via email: Gintare Vaiciulyte
---