Lesley Richmond honoured
Lesley Richmond honoured
Issued: Mon, 09 Oct 2017 11:49:00 BST
The former University Archivist and Deputy Director of the Library, Lesley Richmond, has been presented with a Distinguished Service award. It was presented at an event in the University Chapel by the Archives and Records Association.
The award was made to Lesley by ARA UK Vice-Chair, and University of Stirling Archivist, Karl Magee. Karl said: "I'm delighted to present Lesley with this award which recognises the great respect and admiration in which she is held by the archival community."
During the evening, there were many plaudits for Lesley's work, especially her tireless efforts to secure and preserve a great deal of the commercial and engineering heritage of Glasgow and wider Clydeside.
Major achievement
Edwin Green of the Business Archives Council said: "In the long history of the BAC the recruitment of Lesley was one of our greatest pieces of good fortune."
Her early years surveying collections in shipbuilding and engineering works were fondly remembered by Alan Morrison, a former BACS Surveying Officer, with Dr Alison Rosie, Registrar of the National Register of Archives for Scotland noting that: "Lesley's major achievement has been in building on the work of the NRAS Surveys in securing the preservation of business records which might otherwise have been lost."
The award ceremony was also treated to a short video celebrating Lesley's career, produced by Communications and Public Affairs' Natasha Quinn.
As University Archivist and Director of Archive Services at the University of Glasgow, Lesley was responsible for the management of the University Archives, dating back to the 15th century along with one of the largest collections of business archives in Europe. Her work at Glasgow opened up access to archives through a series of pioneering projects such as the Gateway to the Archives of Scottish Higher Education project and innovative Wellcome Trust-funded explorations of the university's medical collections.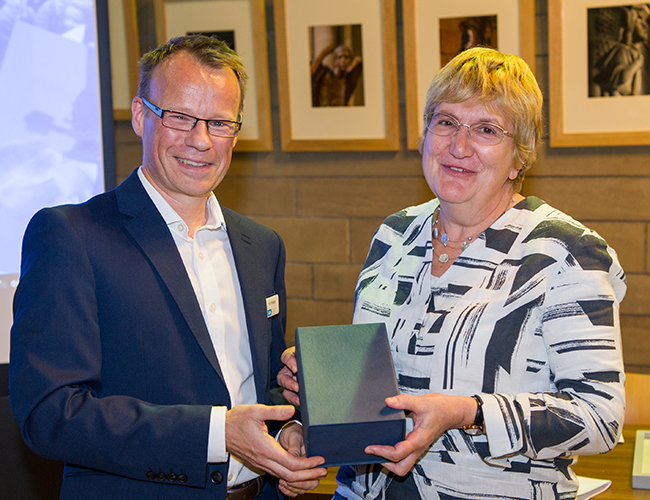 ---