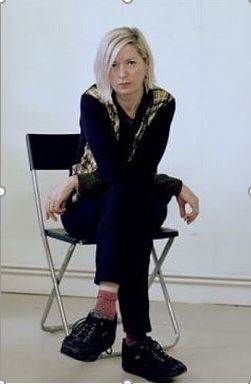 Elizabeth Price
Research Fellow 2020 supported by University of Glasgow Library
Elizabeth Price was born in Bradford, Yorkshire in 1966. She grew up in Luton and studied at the Royal College of Art, London and the University of Leeds. Price creates short videos which explore the social and political histories of artefacts, architectures and documents. The subject matter may sometimes be historic artworks of great cultural significance, it is more frequently marginal or derogated things, and often pop-cultural or mass-produced objects. The video narrations draw upon and satirise the administrative vernaculars of relevant public and academic institutions as well as advertising copy and other texts of private and commercial organisations.
In 2012, she was awarded the Turner Prize for her video installation THE WOOLWORTHS CHOIR OF 1979. In 2013, she won the Contemporary Art Society Annual Award with the Ashmolean and Pitt Rivers Museums, Oxford. She has exhibited in group exhibitions internationally, and has had solo exhibitions at Tate Britain, UK; Chicago Institute of Art, USA; Julia Stoschek Foundation, Dusseldorf and The Baltic, Newcastle Upon Tyne, UK. Price also works in academia, and is presently Professor of Film and Photography in the School of Art, Kingston University, UK.
The starting point for my research at the University of Glasgow will be the archive of the carpet designers and manufacturers, Stoddard-Templeton of Glasgow, including photographs and pattern books. I'm hoping to explore the social and technical history of carpet production, uncovering the technologies involved, with a view to creating a carpet as an artwork.