James Ireland Memorial Library
The James Ireland Memorial Library serves the University of Glasgow's Dental School, but is open to all University of Glasgow Library members. It is named in tribute to James Ireland, Professor of Conservative Dentistry and later Dean of Dental Education, who was instrumental in transforming the existing Students Memorial Library into a modern and comprehensive resource.
The library is situated on the fourth floor of the Glasgow Dental Hospital and School, 378 Sauchiehall Street, (rear entrance at 211 Renfrew Street), Glasgow G2 3JZ. View google map for location and directions.
Current access arrangements
The James Ireland Memorial Library is unable to fully re-open at the moment due to NHS restrictions. However, we are able to provide access to the collection for students and staff in the Dental School via our Reserve and Collect service.
To place a request, use the Library Search service to find eligible items, and select the "Request it" button at the top of the screen. Collection is available 11:00-15:00 on Wednesdays, and we will do our best to have your books ready on the Wednesday following your request. Please do not go to the James Ireland Memorial Library until you receive an email.
When collecting, please bring your NHS ID card (BDS1 students without a card can arrange collection with staff), wear a face covering, and use the hand cleaning station at the entrance.
Support is available via james-ireland-library@glasgow.ac.uk or the UofG Helpdesk.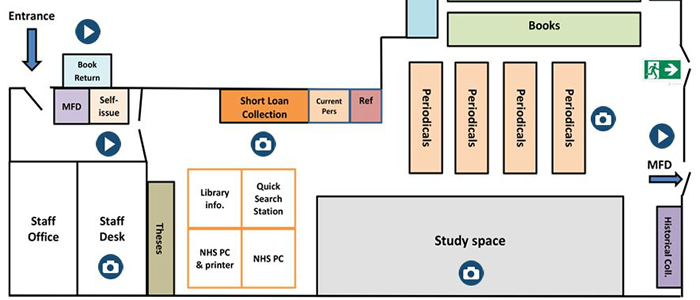 Viewing the floorplan on a phone or tablet? You'll get the best viewing experience by downloading the app for your device: Apple | Android
Contact us
If you have any questions, please ask at our enquiry desk, or contact us:
Quick facts
Over 4,000 books and 120 journals
Extensive collection of online resources
54 study spaces
24 PCs and fully Wi-Fi enabled
Colour printing and copying
Scan and send to your email address
Book return box
Membership and borrowing
Membership
Open to members of any University of Glasgow department. Others are welcome to consult material in the library.
Registered students have automatic membership of the University Library and James Ireland Memorial Library.
Glasgow Dental Hospital staff and staff of the Oral & Maxillofacial Dept. of the Queen Elizabeth University Hospital should apply for library cards from the Library Desk at JIML. These may take up to 2 weeks to process. Others should apply at Library Services, Level 3, University Library (Hillhead Street). NHS staff are also entitled to use the library services of the NHS Greater Glasgow and Clyde.
Searching for books and journals
Use Library search on the home page to find books and journals. You can access this online from anywhere - home or on campus. If the item you need is on loan, you can recall it. Just click on 'Request it' and follow the instructions.
Our electronic and print journals are listed separately so you may get two hits in the results list for the same title. Please note that we don't always have the same coverage in print/electronic and some journals are only available in one format.
Borrowing
Take the books you would like, and your card, to the self-issue machine and follow the on-screen instructions. You will be offered a printed or email receipt with details of return date. Standard loan books can be borrowed for up to 4 weeks (12 weeks for staff and postgraduates). Alternatively, please take the items to be borrowed to the JIML Desk, where a member of staff will assist you.
You can renew the loan period of items up to 5 times unless another reader needs them. This can be done online from your Library Account if they are not overdue. Renewals may also be made in person or by telephone (0141-211-9705). If a book has been recalled by another user, you will be contacted via your student email address and asked to return it by a specific date. The Short Loan Collection has different loan periods.
Returns
Books may be returned either directly to the JIML or via the University Library, except for short loan items which must be returned to the JIML only. Outwith library hours books may be posted in the book return box beside the JIML entrance. A fine is charged on late returns. More information on fines can be found on our Fines and Charges page.
Collections
JIML Short Loan Collection
Heavily used textbooks on reading lists have labels on the front cover to indicate their loan periods, which are:
4-hour: For use in the library and overnight from 16:00-10:00 Mon-Thurs, and over the weekend from 13:00 Fri-10:00 Mon
24-hour: Overnight from any time until the same time the following day, and over the weekend from Thursday after 17:00-10:00 Mon. 24-hour loan copies of many highly recommended dental books are also available in the University Library's Short Loan Collection, Level 3.
1-week: If 2 or more people place holds on these the loan period reduces to 3 days.
4-week: If 2 or more people place holds on these the loan period reduces to 1 week.
Reference Material
A collection of reference works, including medical and dental dictionaries, is located next to the Short Loan collection.
Other material
Theses and the Historical Collection are kept in locked cabinets and must be retrieved by library staff. Theses are for consultation only in the library.
PCs, copying and printing
PCs
There are 24 PCs for student use only in JIML and 18 additional machines in Room K28, Level 8 of the Dental School. Print credits may be purchased from library staff in JIML or from the self-service machines in the University Library. NHS staff may use the 2 NHS-dedicated terminals. Printing is free for NHS staff.
Photocopying
You can now scan, print and photocopy using the Multi-Functional Device (or MFD) in the James Ireland Memorial Library.
This is done by simply swiping a student or staff card over the 'Pull Print' logo on the printers, then selecting either Print, Scan or Copy. A photocopy, or a print of a scan, will cost the same as normal printing and credit will be taken from your print credit balance.
Print Credits
You can buy credits at the JIML Issue Desk, or online using a credit/debit card through your MyPrinting print credit account - see the IT Services advice on ePayment for printing on CSCE cluster machines.