Using Your Library Account
Logging in
The simplest way to access your library account is through MyGlasgow: once you have logged in using your GUID username and password, simply click on 'Library Account' under Services.
Alternatively, go to the Library homepage and select "Library Account" under Top Links.
Enter your name and barcode (the 14 digit number on your University ID card).
Check your due dates/fines
Once you've logged in, you can see what you have checked out by clicking on the link under 'Status and Options', e.g. '4 items currently checked out':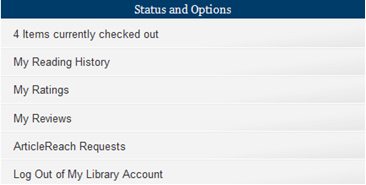 A list of all checked out items will be displayed, along with the date they are due for return at the Library. Any overdue items will appear in red. You will also be able to see details of any books you have requested.
All fines on your account are automatically displayed when you log in.
The order in which these options are displayed depends on whether you currently have any Library items checked out, if you have fines, if you have any outstanding requests, so your Library account may not look exactly like the example here.
Renew your items
Items are renewed individually by checking the box to the left of each title, then choosing the "Renew Selected Items" button at the top of the listings.
Alternatively, all items can be renewed at once by choosing "Renew All".

Items can only be renewed if:
They have not been requested by another Library user
They are not overdue
They have been renewed fewer than five times
They are from the main collection (4 and 24 hour loan items are non-renewable)
You do not have excessive fines or charges on your Library account
If you have any problems with renewing your items online you can contact library@glasgow.ac.uk or call 0141 330 6704.
Requesting items that the library doesn't have
If you need something that the Library doesn't have, you can request it from another library.
Choose an option under "Request items not held by this Library" and place your request.

Opting in to your reading history
This tool allows you to keep track of everything you have borrowed from us.
It is not automatically set up so you need to opt into the service. Choose 'My Reading History', under 'Status and Options' to opt-in.

Choose the opt-in button to switch on your reading history.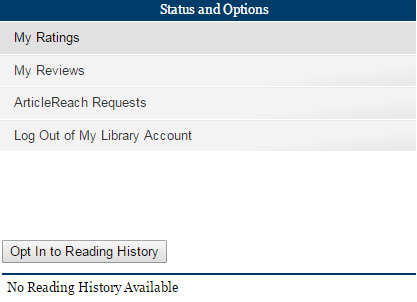 Search for
The options under 'Search for' (top right) will take you to our most popular search pages, including article searching and past exam papers.
If you need further information on how to find information within the Library, you can visit your subject pages to find out more, or speak to a member of staff at the Welcome Desk who will be happy to help!