Wednesday 25 September, 1100 - 1600, Kelvin Hall
Make a good start to the academic year and check out what graduate jobs, internships, part-time work and voluntary roles are available at the Careers & Internship Marketplace.
Wednesday 2 October, 1100 - 1500, Hilton Grosvenor
Are you looking for a career in the legal profession? The Law Fair will host 35 recruiters keen to meet you and provide information on their graduate and summer work opportunities
Wednesday 9 October 2019, 1200 - 1600, GU Union
Come to the GoAbroad Fair to find out how you can use your degree to see the world. Find out about the different countries where you can go on exchange; meet and hear from students who have studied or worked abroad and listen to presentations from the GoAbroad team about all programmes, opportunities and general application information
Wednesday 23 October 2019, 1200-1500, GU Union
Do you want to work in the Engineering & Technology sector?
Up to 60 employers will be at the GU Union looking forward to meeting you and offering advice and information.
Wednesday 6 November 2019, 1100 - 1400, Wolfson Medical Building, Atrium
Do you want to work for a charitable organisation?
Up to 20 organisations will be here on campus, to meet students from all disciplines to discuss job opportunities, voluntary roles and give you an insight into this sector.
The Big Brave offers you the opportunity to hear career stories from some of the most ambitious and accomplished people who have achieved success due to their bravery, passion and determination to make an impact.
Thursday 31 October, 1500 - 1600, Room 312 Kelvin Building
Amanda McKay is an Out Trans Woman who came out to the world at the age of 49, working for Balfour Beatty,the International Construction and Infrastructure contractor. As the most senior LGBT+ employee within Balfour Beatty, Amanda actively supports the LGBT+ community and works to demonstrate that Balfour Beatty is a diverse, inclusive and accepting employer.
Wednesday 21 November 2019, 1230 - 1330, Main Building, 413 Kelvin Gallery
David Wilson is Emeritus Professor of Criminology at Birmingham City University and one of the country's leading Criminologists. His current TV series is David Wilson's Crime Files which he presents on BBC Scotland.
Thursday 28 November 2019, 1300 - 1400, Thomson Building, Room 236
Francesca Osowska is CEO of Scottish Natural Heritage. Previously she was Director for the Commonwealth Games and Sport to oversee the delivery of the Commonwealth Games in Glasgow in 2014.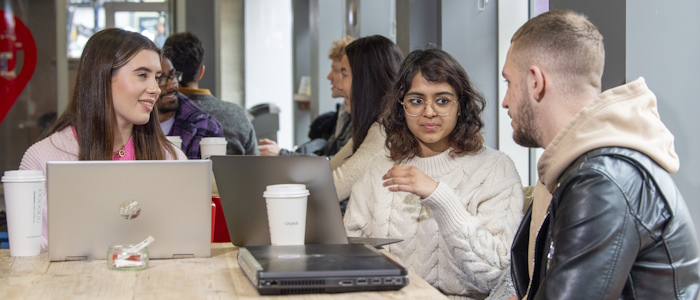 Delivered weekly during term time, these one-hour sessions can help you to get started with careers planning and applications.