Unbuilt Mackintosh
8 March – 3 June 2018
Hunterian Art Gallery
Admission free
Unbuilt Mackintosh showcases stunning architectural models based on the unbuilt designs of Scottish architect, designer and artist Charles Rennie Mackintosh (1868-1928). Demonstrating Mackintosh's architectural vision, the models have been crafted by current Scottish model makers, with their precise dimensions meticulously drawn from Mackintosh's drawings and documentation.

The display combines models on loan from Glasgow Mackintosh with items from The Hunterian collection.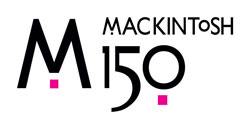 Part of Mackintosh 150 - a year-long programme of events to mark the 150th anniversary of the birth of Charles Rennie Mackintosh.
Unbuilt Mackintosh
Unbuilt Mackintosh is a 3D tribute to unbuilt designs by the widely celebrated Scottish architect, designer and artist Charles Rennie Mackintosh (1868-1928). The twelve models exhibited, commissioned by The Hunterian and the Glasgow Mackintosh group, were crafted by current Scottish model makers to bring Mackintosh's unbuilt projects to life.
Highly influential and internationally recognised, Mackintosh made great contributions to the architectural heritage of his native city with notable structures such as The Glasgow School of Art, Queen's Cross Church and Scotland Street School.
Yet his thirty years of practice saw the completion of only fourteen buildings.
Concentrating on projects that never went past the drawing board, Unbuilt Mackintosh aims to visually represent his wider contributions to architecture.
Image: Charles Rennie Mackintosh, Design for 1901 Glasgow International Exhibition Buildings Competition: sections and plans for a concert hall, bar, dining room and bridge, 1898.
Hunterian Models
The seven models from The Hunterian collection were made by specialist modelmaker Brian Gallagher. They bring to life Mackintosh's unbuilt designs for an Artist's house in the town, an Artist's house in the country, three proposals for a gate lodge, a house for Scotland Street, and an unidentified house in Kilmacolm.
Brian Gallagher is based in Biggar, Lanarkshire and architectural models are his speciality. He has produced major models of the Glasgow School of Art, the Willow Tea Rooms, Scotland Street School, The Hill House, and House for an Art Lover. His models have been exhibited at prestigious venues in the UK and US.
‌
Auchenbothie Gate Lodge
Port Glasgow Road, Kilmacolm
1901–2
The Hunterian
Mackintosh prepared a number of drawings illustrating three options for a gate lodge at Auchenbothie House. These are now in The Hunterian collections. Auchenbothie is a Franco-Scottish Baronial mansion, with roughcast walls and decorative red sandstone dressings, designed in 1898 by William Leiper for the engineer Hugh Collins. The harled, vernacular manner of Mackintosh's proposed lodge stands in complete contrast to the main house. All three options were rejected in favour of a far less ambitious fourth design consisting of a plain single-storey cube.
Villa at Kilmacolm
1902
The Hunterian
Although just four villas were built to Mackintosh's design, a number of drawings for 'dwelling houses', which appear to be in Mackintosh's hand, were in his possession at his death. The clients have not been identified and they were apparently not built.
Four of these drawings are inscribed 'House at Kilmacolm' and dated 1902. The model based on these drawings appears highly conventional compared to Mackintosh's contemporary domestic designs. Perhaps its crow-stepped gables, conical-roofed stair turret and gabled dormer with thistle finial, all deriving from Scottish architecture of the 17th century, reflect the taste of a specific client.
Lighthouse Models
The five models on loan from The Lighthouse were made by Cemal Ozturk of Glasgow-based Ozturk Modelmakers. They are based on plans submitted by Mackintosh early in his career for public architecture competitions, run by the Royal Institute of British Architects and the Glasgow International Exhibition 1901 Building Committee.
Although none of these designs were competition winners, they received notable media attention and are exemplary of the innovative and elegantly refined style for which Mackintosh remains one of the most influential and celebrated architects of the 20th century.
Mackintosh approached his architectural drawings like an artist would a canvas, using watercolour to suggest colour-ways and pen and ink to note dimensions, plans and elevations of buildings. While we cannot know with absolute certainty what these imprecise designs were supposed to show, the many existing Mackintosh buildings in Glasgow provide a good indication.
The drawings and documentations were therefore able to provide a starting point for Ozturk to respond to, with many of the decisions surrounding materials, proportions and finish open to modern interpretation. The materials used were chosen for their precision and ability to highlight the detail and style of the designs, rather than their ability to realistically depict them. In these ways Ozturk offers us a novel way of appreciating Mackintosh's prolific and iconic work.
Competition Entry: Railway Terminus
1902
On loan from Glasgow Mackintosh
The Soane Medallion was a student prize offered annually by the Royal Institute of British Architects, the winner of which received £100 for six months foreign travel. All the entries for the Medallion were submitted and judged anonymously, identified only by mottoes or aliases. Mackintosh's was marked with a 'green device', which according to The Builder resembled 'a conventional representation of three tadpoles'.
Only one unfinished drawing remains of the railway terminus design which is unlikely to have formed part of Mackintosh's submission. His design is known chiefly through reproductions of his drawings published in the British Architect. The British Architect gave a mixed verdict of the station: 'If the design marked with a green device is not practical or exhilarating, it is at all events very clever.'
The same journal went on to publish Mackintosh's drawings over the next two months, with a more generous assessment: 'This design, whether traditionally satisfying for a railway station or not, has at all events much more conspicuous architectural merit than that which was selected for the first place in the competition. The great roof is frankly and agreeably expressed, and there is a homogeneity and quality of proportion about the whole design which certainly did not distinguish the permeated design.'
The most favourable review appeared in Building News, where Mackintosh's design was described as a 'clever and spirited set of drawings' in 'a freely-treated Late Gothic style'.
Glasgow International Exhibition 1901 Competition: Designs for a Concert Hall
1902
On loan from Glasgow Mackintosh
Designs for a Concert Hall formed part of Mackintosh's submission to the Glasgow International Exhibition Competition in 1901. While the first one was rather conventional, the second one, known as the Alternative Concert Hall, was such a ground-breaking design that it would be hard to compare the two buildings. This is possibly why Mackintosh chose to submit both entries to the competition.
Perhaps of most interest to us today is the domed roof of the alternative concert hall. Thomas Howarth, in his book Charles Rennie Mackintosh and the Modern Movement (Routledge; 2nd edition 1977) suggested that the architect may have intended there to be twelve large cast-iron roof trusses resting on the corresponding buttresses on the external wall, but the drawings seem to indicate a clear roof span of about fifty-five metres. It is difficult to imagine how this could have been possible at the time.
Acknowledgements
Thanks are due to Glasgow Mackintosh for its generous loan and to The Lighthouse for its assistance in preparing the exhibition.
The contribution of University of Glasgow postgraduate work placement students Kristin Dovishak and Sarah McLaughlin (MSc Museum Studies) to the organisation of the exhibition and writing of text panels, labels, and web texts is gratefully acknowledged.