ROSENGARTEN
28 June 2018 – 1 October 2019
Hunterian Art Gallery
Admission free
From research in the "special collections" of medical history and the modern labour suite, Anne Bevan and Janice Galloway have put together the words and sculptures of Rosengarten, taking the tools of obstetrics and pairing them with water, light, human hands and garden plants.

Away from the heat and trauma of birth, seen in isolation or reflection, the implements themselves appear as open, allusive, organic, and most of all, visible.
Image © Michael Wolchover/ Anne Bevan 2003
Rosengarten
‌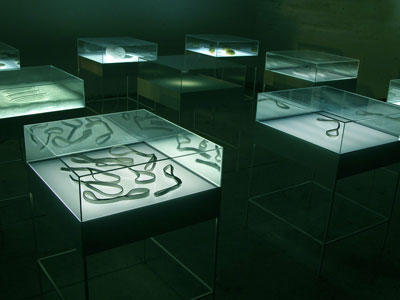 Anne Bevan's work frequently looks at things that are otherwise invisible, out of sight or hard to see, or else things in everyday life which, through over-familiarity we tend not to examine too closely. Rosengarten was initially conceived by Bevan, who is based in Scotland, as a series of nine individual but related works that would accompany the launch of an exhibition of the same title, created in collaboration with the writer, Janice Galloway.
Bevan and Galloway, who have worked together on a number of occasions, researched the work with a number of important medical historic collections and leading contemporary obstetricians and their teams. The nine specially made perspex-topped light boxes contain beautifully shaped and crafted forms. The very precision and fragility of these forms, in glass, plastic and a number of natural substances including mother-of-pearl and sponge, transforms them from being clinically functional (and, because of their origins, frequently somewhat frightful) into objects of beauty. Fully acknowledging the metallic and cold forms of the man-made instruments from which they take their inspiration, these emerge, through the creative collaboration between Bevan and Galloway, to take on a richer, more poetic and metaphorical countenance. Rosengarten reflects powerfully the human and tender emotions of mother and baby that run parallel to the hard and frequently interventive experiences associated with modern childbirth.
The Hunterian holds the medical collections gathered by its founder, William Hunter (1718 – 1783), one of the leading obstetricians of the 18th century. This display of Rosengarten is one of a series of exhibitions marking the tercentenary of Hunter's birth. William Hunter and the Anatomy of the Modern Museum, a major research and exhibition collaboration with the Yale Center for British Art in New Haven Ct., will open at The Hunterian in September 2018 and transfer to the Center in February 2019: Strange Foreign Bodies, in Gallery Two of the Hunterian Art Gallery, also from September 2018, will explore further contemporary responses to these themes.
Purchased with funds from the National Collecting Scheme for Scotland and a grant from the Art Fund.
Images
© Michael Wolchover/ Anne Bevan 2003.