Erskine 100
In War and Peace: The Erskine Story
23 September 2016 – 26 March 2017
Hunterian Museum
Admission free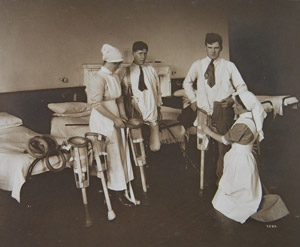 This new exhibition commemorates the centenary of Erskine Hospital, 100 years after its foundation in 1916.
In War and Peace: The Erskine Story examines the involvement of pioneering surgeon Sir William Macewen, in the foundation of the hospital and his contribution to the development of prosthetics, most famously the 'Erskine Limb'.
The exhibition also emphasises the vocational rehabilitation that early patients received alongside their physical rehabilitation, considering their reintegration into society as well as their medical treatment.
Image © The Erskine Collection at University of Glasgow Archives.