Night at the Museum: Erskine 100
‌‌Friday 25 November 2016
7.00pm - 10.00pm
Hunterian Museum
Sold out
‌‌‌This exciting Night at the Museum event celebrates St Andrew's Day and focuses on Erskine 100 - a special exhibition at The Hunterian commemorating the centenary of the famous Erskine Hospital.
‌‌‌‌‌Erskine Hospital was founded in 1916 to provide specialised medical facilities for limbless sailors and soldiers injured in the First World War. Its creation was driven by Sir William Macewen, one of the University of Glasgow's notable alumni and one of Scotland's pre-eminent surgeons, who created some of the first artificial limbs designed and made at Erskine Hospital.
‌‌‌He also formed a highly unique partnership with the shipyards on the Clyde, persuading them to free up some of their craftsmen whose services were not needed as much in wartime. With the help of the engineers and workers of the nearby Yarrow Shipbuilders, the innovative Erskine artificial limb was designed, and will be on show at The Hunterian as part of this event.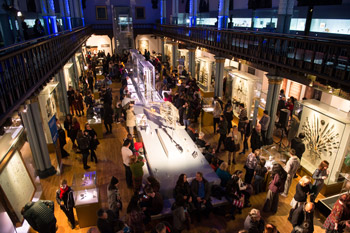 Come along and see The Hunterian's world class displays at night, set against a backdrop of film and image projections and live music performances. Visitors will also enjoy heritage items not normally on show, refreshments and a pop-up shop. ‌‌A licenced bar will also be available. ‌
Share on social media @AboutScotland @Hunterian using #OurStAndrewsDay
The University of Glasgow has received support from Museums Galleries Scotland and Scotland's Winter Festivals during the 2016 Year of Innovation, Architecture and Design to showcase this spectacular event at The Hunterian.