New exhibition at Hunterian is Hand Drawn and Action Packed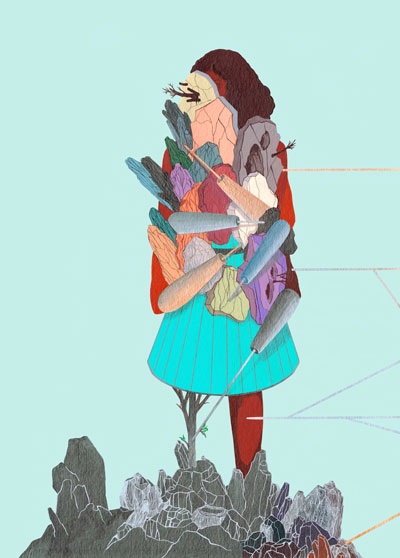 Hand Drawn Action Packed
16 March – 2 June 2019
Hunterian Art Gallery
Admission free
For the next few months, the Hunterian Art Gallery will be home to Hand Drawn Action Packed, a major exhibition curated by Hayward Gallery Touring.
Hand Drawn Action Packed features ten international artists whose practice springs from drawing and reveals the medium's infinite possibilities for narrative invention: Marcel Dzama, Marcel van Eeden, Inci Eviner, Yun-Fei Ji, William Kentridge, Nalini Malani, Otobong Nkanga, Raymond Pettibon, Amy Sillman and Rinus Van de Velde.
The exhibition explores narrative in drawing and its many forms: from stories unfolding through a sequence, to single images combined with words, and animation. The artists in Hand Drawn Action Packed make imaginative use of their tools - from a smartphone, a stick of charcoal to pen and ink - for story-telling, social critique and political allegory.
Three artists have created new works especially for the exhibition. Marcel van Eeden (b. 1965, Netherlands) who mixes fact and fiction in a series of 28 film noir style drawings, inspired by a 1936 newspaper report of a body found in a ditch on the outskirts of St Albans.
Otobong Nkanga (b. 1974, Nigeria) visualises humanity's relationship with the earth's resources in a suite of pictographic acrylics, illustrating the politics and poetics of geography. Rinus Van de Velde (b. 1983, Belgium) has made two large scale charcoal drawings on canvas that depict an imaginary artist, a self-mythologising painter who is preparing his own story for posterity.
Like van Eeden and Van de Velde, Raymond Pettibon (b. 1957, USA) mixes image and text in his drawings, in ways that open up the meaning of both. Language generates imagery in the animated drawings of Amy Sillman (b. 1955, USA). The work included here was created by using smartphone technology and in collaboration with poet Lisa Robertson.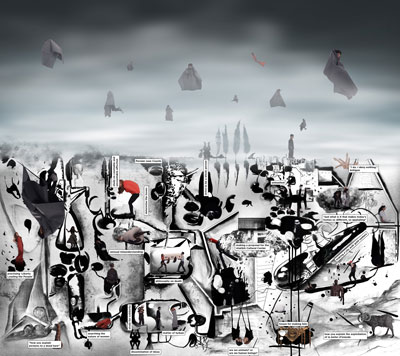 In the video animation by Inci Eviner (b. 1956, Turkey) human figures interact robotically with a hand-drawn underground scene - an allegory of artistic resistance and tyranny. Political realities are subtly communicated in Yun-Fei Ji's (b. 1963, China) brush and ink scroll drawings depicting dispossession, forced migration and dictatorial power.
Hindu cosmologies and fantasmatic creatures are present in Indian artist Nalini Malani's (b. 1946, Karachi) painterly drawings on Mylar, whist her animated film - which references Greek mythology – is a quiet meditation on transience. William Kentridge's (b. 1955, South Africa) sequence of intimate charcoal drawings of a woman getting into the bath are like stills in one of his renowned stop-frame animations. Marcel Dzama's (b. 1974, Canada) portrays a theatrical world of masked and costumed performers in delicately drawn illustrations.
The exhibition is accompanied by an illustrated zine-style publication, designed by Stinsensqueeze, which maintains the spirit of the exhibition and features texts by exhibition curator Roger Malbert.
On Friday 29 March, The Hunterian will present Making your Mark: a drawing symposium - a sequence of events including a workshop, film screenings and talks, aimed at exploring drawing as a language and a way of engaging with the world. Organised by students of the Curatorial Practice (Contemporary Art) MLitt programme at the University of Glasgow and The Glasgow School of Art, this event has been intentionally timed to coincide with this significant date in the calendar for the UK and Europe.
Images: Otobong Nkanga, Scaffolding - Loss (detail), from Scaffolding Series, 2018. © the artist, 2018. Courtesy the artist and Lumen Travo Gallery, Amsterdam. Inci Eviner, Beuys Underground (still), 2017. © the artist, 2018. Courtesy the artist and Galeri Nev Istanbul.
---
For further information contact:
Dr Dominic Paterson, Curator (Contemporary Art), The Hunterian
Clare Callaghan, Press Officer, Southbank Centre
For images contact:
Harriet Gaston, Communications Manager, The Hunterian
Notes to Editors
About Hayward Gallery Touring
Hayward Gallery Touring organises contemporary art exhibitions that tour to galleries, museums and other publicly funded venues throughout Britain. In collaboration with artists, independent curators, writers and partner institutions, Hayward Gallery Touring develops imaginative exhibitions that are seen by up to half a million people in over 45 cities and towns each year.
About Southbank Centre
Southbank Centre is the UK's largest arts centre, occupying a 17 acre site that sits in the midst of London's most vibrant cultural quarter on the South Bank of the Thames. The site has an extraordinary creative and architectural history stretching back to the 1951 Festival of Britain. Southbank Centre is home to the Royal Festival Hall, Queen Elizabeth Hall, Purcell Room and Hayward Gallery as well as The National Poetry Library and the Arts Council Collection. For further information please visit www.southbankcentre.co.uk.
The Hunterian
The Hunterian is one of the world's leading University museums and one of Scotland's greatest cultural assets. Built on Dr William Hunter's founding bequest, The Hunterian collections include scientific instruments used by James Watt, Joseph Lister and Lord Kelvin; outstanding Roman artefacts from the Antonine Wall; major natural and life sciences holdings; Hunter's own extensive anatomical teaching collection; one of the world's greatest numismatic collections and impressive ethnographic objects from Captain Cook's Pacific voyages.
The Hunterian is home to one of the most distinguished public art collections in Scotland and features the world's largest permanent display of the work of James McNeill Whistler, the largest single holding of the work of Scottish artist, architect and designer Charles Rennie Mackintosh (1868–1928) and The Mackintosh House, the reassembled interiors from his Glasgow home.
The Hunterian has also developed an important collection of works by leading contemporary artists including Lucy Skaer, Ilana Halperin, Mat Collishaw, Mark Dion and Christine Borland.
www.glasgow.ac.uk/hunterian
First published: 13 February 2019