Prestigious award for former Hunterian curator of Entomology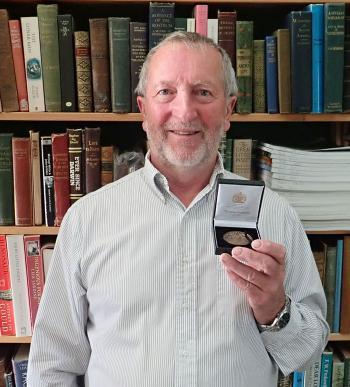 Hunterian Research Associate and former curator of Entomology, Geoff Hancock, has been awarded the prestigious Founders' Medal by the Society for the History of Natural History (SHNH).
The Founders' Medal is awarded to persons who have made a substantial contribution to the study of the history or bibliography of natural history. This important international award marks Geoff's substantial contribution to the history of natural history.
Geoff has devoted over 50 years to the tireless care, research and promotion of natural history collections. He has published over 220 papers, mostly on insects but extending to insights into obscure horsehair worms, the oldest stuffed tuna in the world and the history of pins! Described as a 'compleat naturalist', his work on the history of entomology is particularly significant and has inspired many current practitioners in the field.
Current Hunterian curator of Entomology Jeanne Robinson said:
"I can't think of a more deserving recipient of this important award and we are delighted that Geoff has joined the esteemed ranks of Founders' Medal winners."
The Hunterian has benefited greatly from Geoff's wide-ranging skills, particularly his research into the importance of William Hunter's 18th century entomology collection and his enormous contribution to the preservation, integrity and accessibility of The Hunterian historic collections.
---
First published: 5 July 2021