Hunterian lights up for Night at the Museum
Hunterian lights up for Night at the Museum
Issued: Mon, 28 Nov 2016 09:00:00 GMT
‌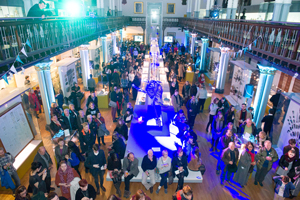 On Friday 25 November 2016 The Hunterian lit up to celebrate St Andrew's Day at the special event Night at the Museum: Erskine 100.
The night was inspired by our current exhibition The Erskine Story: In War and Peace, the centenary of Erskine Hospital and the pioneering prosthetics delivered there, led by University of Glasgow Regius Professor of Surgery, Sir William Macewen.
‌Piper Calum Watson greeted guests in the Cloisters, leading them into a Hunterian bathed in blue light.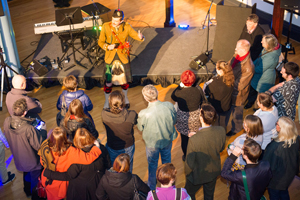 ‌Representatives from Erskine joined us, bringing an additional prosthesis modelled on those of the era and sharing their knowledge with visitors about the hospital's role in patient rehabilitation.
‌‌Wartime memorabilia was shared by a troupe of WW1 re-enactors in a display of medical supplies, rations and replica weapons. Guests were given a taste of the times, as an Officer called everyone to attention with a rousing speech.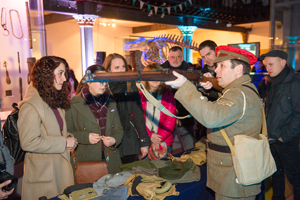 Our enthusiastic Hunterian volunteers were on hand to welcome guests, entertaining younger visitors with a treasure hunt, and taking over the University Snapchat account, providing comprehensive support that contributed to the night's success. ‌

‌‌Talks were delivered on Burns and his connections to WW1 from Dr Craig Ronald Lamont and Moira Hansen, alongside music from Bill Adair, Brianna Robertson-Kirkland and cellists Feargus Egan and Elias Rooney, ‌who closed the evening with their moving rendition of 'From a Fallow Field', by University of Glasgow resident composer Drew Mulholland.‌
‌The University of Glasgow received support from Museums Galleries Scotland and Scotland's Winter Festivals during the 2016 Year of Innovation, Architecture and Design to showcase this spectacular event at The Hunterian.
Night at the Museum returns on Friday 27 January 2017.
---