Hunterian nominated for Scottish Event Award
Hunterian nominated for Scottish Event Award
Issued: Wed, 13 Jul 2016 16:00:00 BST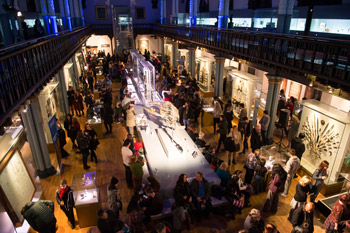 The Hunterian has been nominated for a Scottish Event Award in the category of Educational Event of the Year for its lively offering, Night at the Museum: Exploration and Inspiring Scots.
Taking place on 27 November 2015 in honour of the Scottish holiday of St Andrew's Day, the occasion saw spectacular blue light cast up to the rafters, and the museum filled with poetry and song.

Inspired by The Hunterian collections, the evening focused on a trio of themes: 'Antarctic Exploration', with a recreation of the famous piper and penguin image from the Scottish National Antarctic Expedition, 'Exploring our Past' showcasing the work of inspiring Scots, including political reformer Thomas Muir and medical pioneer David Livingstone, and 'Exploring Art and Music' which included live music from piper Emma Buchan and duo Fiona Cuthill and Stevie Lawrence.
This event was followed by a celebration of Burns at The Hunterian on January 22nd, together forming part of Scotland's Winter Festivals programme.
The Hunterian is nominated in the category alongside The Glasgow Science Festival and The University of Edinburgh.

The Scottish Event Awards, in association with Events Scotland, are the only awards dedicated to celebrating the success and creativity of the events sector in Scotland. The awards will take place at a glitzy red carpet ceremony on 5 October. Wish us luck!
---