New Hunterian exhibition features Damien Hirst première
New Hunterian exhibition features Damien Hirst première
Issued: Mon, 21 Mar 2016 13:00:00 GMT
William Hunter to Damien Hirst: The Dead Teach the Living
25 March 2016 – 5 March 2017
Hunterian Art Gallery
Admission free
A new exhibition opening at The Hunterian this month will feature the première of Damien Hirst's Necromancer plus new works by Scott Rogers and Catherine Street.
William Hunter to Damien Hirst: The Dead Teach the Living continues The Hunterian's innovative programme of contemporary art displays and features objects and artworks that explore both the historical and contemporary connections between art and science.
Damien Hirst's Necromancer will be on public display for the first time. This challenging work is a vitrine layered with obstetric instruments and other medical specimens and incorporates many of the exhibition's themes. By utilising scientific materials, Necromancer explores the relationship between science and art, life and death.
William Hunter to Damien Hirst also features rarely seen items from the collections of Hunterian founder Dr William Hunter - a pioneering obstetrician and avid art enthusiast.
The works on display are all dependant on observation of the body, whether by eye, microscope or the latest technology. Hunter's plaster cast of the gravid uterus is one of a series made around 1770. Taken from women who died in childbirth, making the failures of the flesh evident, the casts were used to teach improved techniques to doctors and mid-wives, Santiago Ramón y Cajal's pioneering work on the neuron at the end of the 19th century is made apparent through his extraordinary sketches and today, Catherine Street's work, often using technology, strives to record and understand the relationship of the physical self to intangible qualities like emotion and sensation.
Glasgow based Scott Rogers' new work, A Call to the Old Ones, uses comparative anatomy to investigate how avian and human vision responds to a device known as a lark mirror. Initially developed in the 19th century as a hunting lure to trap songbirds, it was later used to hypnotize human patients.
William Hunter to Damien Hirst: The Dead Teach the Living is at the Hunterian Art Gallery, University of Glasgow until 5 March 2017. The exhibition is presented as part of Glasgow International 2016 and has been curated by students from the MLitt Curatorial Practice (Contemporary Art) programme, established jointly between the University of Glasgow and The Glasgow School of Art. The exhibition has been realised through access to The Hunterian collections with support from Hunterian staff. Necromancer comes from the collection of renowned art dealer, collector and philanthropist Anthony d'Offay.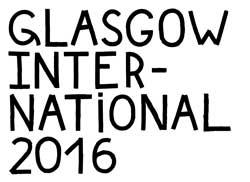 Catherine Street, based in Edinburgh, will present a specially commissioned live work on 23 April 2016, at The Two Cultures event, part of Glasgow International. The work will attempt to synthesise different approaches to writing and speaking, creating a visceral rumination on vision and physicality.
Public Programme
Private View
Saturday 9 April 2016
12 noon – 2.00pm
Hunterian Art Gallery
Admission free
A special reception to coincide with the opening weekend of Glasgow International.
Symposium
The Two Cultures
Saturday 23 April 2016
10.00am - 4.00pm
Wolfson Medical School
Free, tickets available through Eventbrite
Accompanying William Hunter to Damien Hirst: The Dead Teach the Living, this one-day symposium brings together artists, curators and other practitioners to investigate the multiple overlaps and intersections between the disciplines of art and science. Speakers will include writer and critic Brian Dillon, artists Christine Borland and Roger Hiorns, with exhibiting artist Catherine Street, presenting a new performance work. Symposium supported by Glasgow International. Venue: Yudowitz Seminar Room, Wolfson Medical School, University of Glasgow, University Avenue, Glasgow, G12 8QQ. Book your place via Eventbrite.

This event is commissioned by MLitt Curatorial Practice, Glasgow School of Art and the University of Glasgow, in association with Glasgow International.
Exhibition Tours
Saturdays 26 March, 16 April and 14 May 2016
1.00pm – 1.45pm
Hunterian Art Gallery
Free
Curator-led tours of William Hunter to Damien Hirst: The Dead Teach the Living.
Hunterian Art Gallery
University of Glasgow
82 Hillhead Street
Glasgow G12 8QQ
Open Tuesday – Saturday 10.00am – 5.00pm, Sunday 11.00am – 4.00pm
Admission free
---
The Hunterian
The Hunterian is one of the world's leading University museums and one of Scotland's greatest cultural assets. Built on Dr William Hunter's founding bequest, The Hunterian collections include scientific instruments used by James Watt, Joseph Lister and Lord Kelvin; outstanding Roman artefacts from the Antonine Wall; major natural and life sciences holdings; Hunter's own extensive anatomical teaching collection; one of the world's greatest numismatic collections and impressive ethnographic objects from Captain Cook's Pacific voyages.
The Hunterian is also home to one of the most distinguished public art collections in Scotland and features the world's largest permanent display of the work of James McNeill Whistler, the largest single holding of the work of Scottish artist, architect and designer Charles Rennie Mackintosh (1868–1928) and The Mackintosh House, the reassembled interiors from his Glasgow home.
MLitt Curatorial Practice (Contemporary Art)
MLitt Curatorial Practice (Contemporary Art) is a 12-month programme, jointly run by The Glasgow School of Art and The University of Glasgow. Embedded within the city of Glasgow, drawing on the community of artists, gallery professionals, institutions and international connections. Taught by dedicated staff and guest faculty, including curators and artists, the programme strikes a balance between discourse and practice and follows a workshop model, whereby participants engage on a range of live briefs and projects throughout the year. 2015-16 class members are: Lucie Alexander, Sean Elder, Sofie Fischer-Rasmussen, Nisa Ashila Ghaisani, Skaiste Klaniute, Emily Gray, Vanessa Larsen, John McDougall and Lindsay Mylet.
Glasgow International
Glasgow International is a world-renowned biennial festival of contemporary art. Glasgow International showcases the best of local and international art for wide-ranging audiences. The forthcoming seventh edition will happen in the city from 8th – 25th April 2016, again under the guidance of Director, Sarah McCrory.
The festival will continue to showcase Glasgow as a unique major centre for the production and display of contemporary visual art. Taking place in various venues and locations across the city, including Glasgow's major art spaces and cultural institutions, the Festival will be comprised of an ambitious programme which includes exhibitions, events, talks, performances and projects by international and Glasgow-based artists.
Artists' Biographies
Damien Hirst (b. 1965) is a British artist. He completed his MFA at Goldsmiths, graduating in 1989 and is most prominently known for his involvement in the YBAs (Young British Artists) who dominated the British art scene in the 1990s. Exploration of death, decay, medicine and the use of them to extend life dominates Hirst's work. Since 1987, over 80 solo Damien Hirst exhibitions have taken place worldwide and his work has been included in over 260 group shows. Hirst won the Turner Prize in 1995. His first major retrospective The Agony and the Ecstasy was held in the Museo Archeologico Nazionale in Naples in 2004. His contribution to British art over the last two and a half decades was recognised with a major retrospective of his work staged at Tate Modern, London in 2012.
Scott Rogers works with sculpture, video, writing, and performance. Using interdisciplinary approaches, his method of working concerns itself with hybrids between academic research, traditional techniques, and digital technologies. He lives in Glasgow and completed an MFA at the Glasgow School of Art as well as an exchange at the Staedelschule, Frankfurt, Germany.
Recent solo exhibitions include: Endling, Collective Gallery, Edinburgh; Where Is Our Twentieth Century Promised, Southern Alberta Art Gallery, Lethbridge, Canada, ALPTRUTH, YYZ Artists' Outlet, Toronto, Canada (all 2015); Negative Miracle, Glasgow Sculpture Studios, 2014; and Oasen, Artspace (with Sarah Rose), Auckland, New Zealand 2013. Group exhibitions include NurtureArt, New York, USA; The Alberta Biennial, Art Gallery of Alberta, Edmonton, Canada; Black Diamond Dust, Nanaimo Art Gallery, Canada; Seeing Things for Glasgow International 2014. Alongside Sarah Rose and Rebecca Wilcox, Rogers runs the occasional project space tenletters in Glasgow.
Catherine Street's practice explores the body with reference to the sensual, meditative and experiential. Often using her own body as a tool for sensory examination of the outside world, Street's work speaks not only of physical interaction but the bodies' place within political, sexual and spiritual structures. She is based in Edinburgh.
Recent presentations include the exhibition Muscle Theory, Reid Gallery, Glasgow School of Art, and a series of tours under the rubric Tourist in Residence for Edinburgh Art Festival, both 2015. New work was commissioned for the group exhibition Human Race – Inside the History of Sports Medicine which toured across Scotland in 2012 and 2013; she often collaborates with others, and has a long-standing partnership with poet JL Williams; she has made performance work for festivals and exhibitions in Prague, Bergen, Berlin, Wellington and New York.
Street is devising a new performance responding to William Hunter to Damien Hirst: The Dead Teach the Living. It will be presented on 23 April 2016, within the symposium, The Two Cultures.
More about Street's work can be found here.