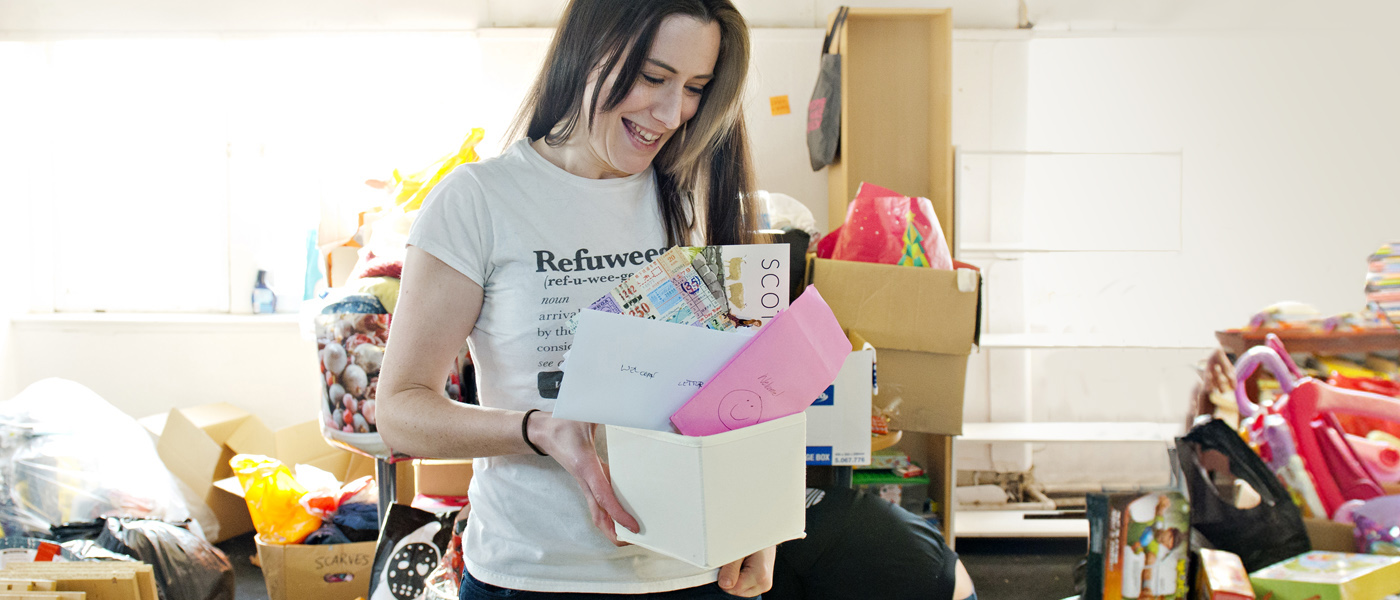 A welcome award for Selina
Selina Hales (MA 2005) is our World Changing Alumni award winner for 2020. She founded the charity Refuweegee in 2015 to welcome people who have been forcibly displaced from their homes to Glasgow. The charity provides practical help in the form of welcome packs with a unique twist. Described as the heart and soul of the packs, the "Letters fae (from) the Locals" contain a welcoming message to new arrivals to help make them feel supported.
I was working full time in an office that looked out onto a "People Make Glasgow" sign (the city's marketing message). I started to wonder, "Do people REALLY make Glasgow if you've just arrived here?" I wasn't sure. I had no knowledge of the asylum system, no idea how many people were arriving here, just a desire to make sure that when they did arrive, they felt that the community wished them well.
"Winning the World Changing Alumni award means I have the opportunity to raise awareness. I get the chance to shout about what this city is great at, but also the injustices that still exist, and to hopefully get more people involved in forcing change.
Charities so often ask people for money, and that can exclude those who don't have the capacity to give financially. Refuweegee is accessible to everybody who would like to extend a welcome, which is where the idea of the letters comes in. Our words are often the most powerful thing that we can give somebody. The shortbread, gloves and brollies that go into the packs are nice things to have, but what really gives people hope and often reduces them to tears is the idea that somebody else in this city is thinking of them and has taken the time to personally write to them.
Refuweegee has grown to a network of over 200 volunteers across the city. We've now distributed over 6,000 packs across Glasgow and Scotland and inspired similar projects in Manchester, Brighton and Wales. The packs contain food, non-perishables, toiletries and an age-based entertainment range such as books, toys and board games, a guide to Scotland, and the welcome letters. By working with existing organisations such as Oxfam, who used us as a model for an international campaign, we've increased our reach and awareness, and Refuweegee has now won several awards for our campaigning and social change.
Since 2015, when the plight of refugees trying to reach Europe reached public consciousness, Selina Hales has worked indefatigably and with great enthusiasm and intelligence to provide a welcome and aid to those arriving in Glasgow. Refuweegee has caught the mood and spirit of Glasgow and she has harnessed kindness, compassion and humour to help deepen the work of welcoming people seeking asylum. Professor Alison Phipps, UNESCO Chair in Refugee Integration through Languages and the Arts"
Over 30 of those whom we have previously welcomed to the city have come back to welcome more arrivals in their turn, and our volunteers range from five years old to over 70. We've seen a huge spike in engagement recently because of the conversation around Black Lives Matter and the coronavirus pandemic. People have had their situations so drastically changed that I think many are now more capable of empathising with people who have also had the rug pulled from under them.
The ideal is for Refuweegee not to exist in five years. It would be wonderful if we stopped forcing people to leave their homes, and it would be lovely to think of communities providing that gesture of kindness when people arrive as just being the norm. I think we will still exist in five years, but that's the ideal.
There's lots of different ways you can help Refuweegee. You can hand in letters, deliver packages or do extra shopping to pass on. Even just sharing what we do with people who might not know helps. All of that has a massive ripple effect.
"Hello, my dear friend. A very warm welcome to Scotland. I hope that you will be happy here, that you will find kindness and generosity from everyone that you meet, and that you will feel safe and at peace. I'm afraid it does rain quite a lot here, but when the weather is good, it can be a very beautiful little country. I hope that you get a chance to not only learn about Scottish culture, but to share your own culture with us." (Extract from one of the "Letters fae the Locals")
This article was first published September 2020.