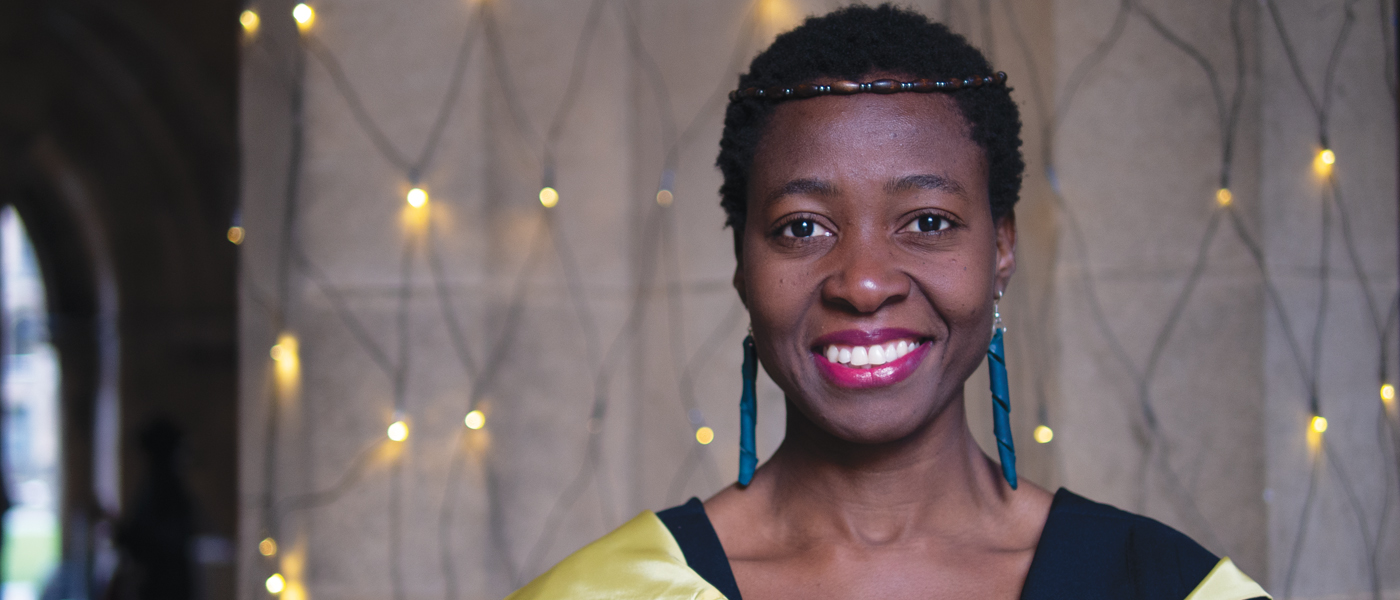 Our sunshine superwoman
Eunice Ntobedzi (MSc 2016) is the 2019 winner of our World Changing Alumni award. She is CEO of EmPowered FinTech, which aims to bring inexpensive solar power to more than 660 million Africans who are currently without access to electricity. After graduation, Eunice returned to her native Botswana to tackle the huge energy challenges faced by millions throughout the continent.
I was raised in a small village in Northern Botswana and we lacked many of the utilities we take for granted today, including electricity. We cooked with wild harvested wood and used kerosene at night to provide light. Things have changed considerably since then, but the need for further development is clear. I have travelled around the globe and seen the transformative impact that access to electricity brings.
"We were thrilled to see Eunice nominated and subsequently selected as the winner of this award for the incredible work she and her colleagues at Empowered FinTech are doing to widen access to power and improve the lives of people across Africa. She is a true world changer and we are very proud that she has won this award.
Professor John Finch, Head of Adam Smith Business School
I didn't know much about Glasgow before I arrived. When I came to the University, I had already tested my business idea for feasibility through the GIST competition (Global Innovation through Science and Technology), an initiative of former US President Barack Obama. In 2015 I was awarded a Chevening Scholarship and the University of Glasgow was my first choice. I graduated from the Adam Smith Business School with an MSc in Management (Enterprise & Business Growth) and, through my degree, I investigated how to give low-income customers access to new clean technology services and help them climb the energy ladder.
EmPowered FinTech is addressing the twin problems of dirty and costly energy that plague many parts of Africa. We tackle energy challenges such as those at the rural village of Jamataka, which is totally off-grid. Previously, they had to buy expensive, polluting fuel every two days. We replaced their noisy generator with clean solar energy, powering computers and printers in the primary school and connecting it to wireless internet.
Botswana still mirrors most African countries, with large numbers of citizens lacking access to electricity and the services it brings. Modern technologies like solar photovoltaic systems provide the opportunity to develop new ways to connect Africans to new clean, affordable energy services, many of these will raise the quality of life of the end users.
In the future, I see EmPowered Fintech servicing the energy companies working off-grid in all the countries in the region. We are building to scale, not just looking at Botswana as a single market. Energy poverty is experienced by over 660 million people living in sub-Saharan Africa – that's how wide the market is. I hope the work of me and my partners will contribute to the delivery of new clean energy services which are scalable across the continent.
This article was first published in September 2019.