Discover more
A meeting of minds
Huddled in the kitchen of their West End flat, Susanne Mitschke and Patrick Renner eat cheap noodles and discuss the next steps for their new venture – an app to help empower people living with dementia. It is 2015, the pair have not long graduated and are preparing to launch their new product, MindMate. It's a huge task, but one they're prepared to tackle head on.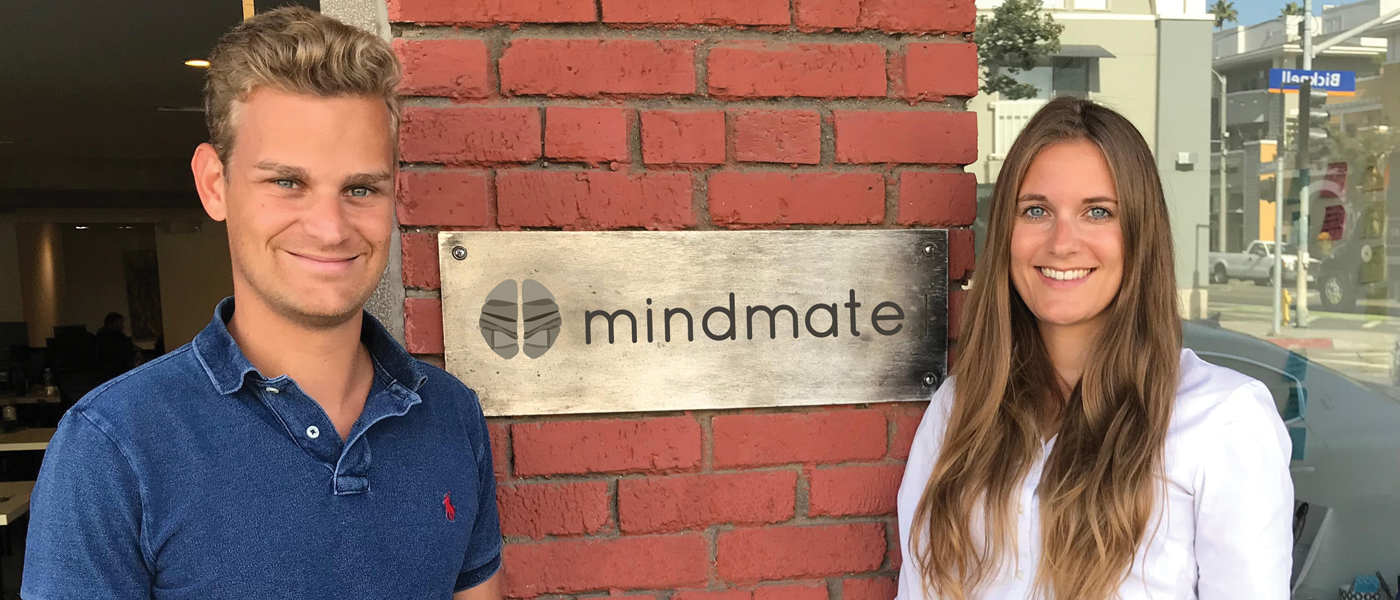 ‌Our Young Alumnus of the Year joint winners, Susanne and Patrick are the co-founders of MindMate
MindMate is the brainchild of our 2017 Young Alumnus of the Year winners, Susanne Mitschke and Patrick Renner, graduates from the Adam Smith Business School.

After avoiding the temptations of the graduate "milk round" and lucrative job offers, the duo instead opted for the road less travelled.

"What I really love about being an entrepreneur is that you have flexibility. You can push hard to realise your own goals," says Patrick. That they have. What started as an idea among three students became a chart-topping app, clinching the number one spot in the Apple health app chart in 17 countries. MindMate has over 350,000 users.

A cross between a guardian angel, a personal assistant and a personal trainer, MindMate is tailored to those over 65. It trains the body and brain to keep them healthy. Photo albums, to-do lists, quizzes, exercises and healthy recipes are some of the features.

What makes MindMate special is that it is much more than a lifestyle app for the over 65s. It has the potential to make a huge difference in the care, prevention and diagnosis of diseases that cause cognitive decline.
A meeting of minds
Dementia is a worldwide health issue affecting around 47 million people, and this number is expected to triple by 2050. There is no cure, yet.

Susanne, Patrick (both MSc 2015) and fellow co-founder Roger Arellano (a University of Strathclyde graduate) have all seen the brutal reality of cognitive decline at first hand. Roger was a carer for his grandfather for seven years. Patrick and Susanne have both volunteered in care homes.

"It was a shock to see how people could spend their whole day in front of the television without any meaningful activity or interaction," explains Patrick, who spent a year volunteering in a care home as part of his civil service in Germany. "That was the inspiration for me when I met Roger and Susanne. We could build something that could make a difference."

They had an idea, but needed the cash and space to turn it into something tangible. "We were lucky enough to be selected for the Santander summer programme at the University," says Patrick. "This helped us to bring the initial team together, spend the summer together, get a little bit of money to build a prototype. It helped us to take our first steps with MindMate as a product."
Careful collaborations
Aware of their limited medical knowledge and the complexities of dementia, the team looked to industry experts for advice. They contacted Dr Terry Quinn from the University's Institute of Cardiovascular & Medical Sciences. He shared the latest science and best practice in dementia care, and helped the team to translate this to the app.
"From my first meeting with them I was struck by their passion and enthusiasm," says Dr Quinn. "What sets MindMate apart from other apps is the time and effort that the team have spent working with people affected by dementia. Many healthcare apps are produced by commercial companies who make limited attempts to engage with clinicians or patients and carers."

MindMate's medical board includes representatives from the Universities of Stanford, Cambridge, Cornell and Glasgow. They've also grown their tech capabilities through opportunities such as the Techstars accelerator programme in New York.

The team's hard work is paying off, but there's still a long way to go. They continue to work with Dr Quinn to test the functionality of the app and develop new features. They have a grant from Scottish Enterprise to help build their backend technology. Sales and business strategy is getting attention thanks to a seed-funding investor in California.

"What's next for MindMate is to find more research partners – universities, clinical researchers, pharmaceutical companies – and to work with them to match our users to their clinical trials," explains Susanne. "This will help to bring us closer to a cure for dementia."

With challenging times ahead, one thing is clear – Susanne and Patrick have the passion and entrepreneurial spirit needed to drive their product forward.

"I have always wanted to change the world. This is why I am doing what I'm doing," says Susanne. "I hope with MindMate we can have an impact on as many people as possible."
"To receive the Young Alumnus of the Year award makes us very proud. It shows that the University really cares about entrepreneurship and that it can make a real difference." PATRICK RENNER, CO-FOUNDER OF MINDMATE
This article was first published in December 2017.
Discover more