West End to Westminster
‌Mhairi talks about her studies and the transition into politics
Mhairi Black (MA 2015) is our Young Alumnus of the Year 2015. She collected her award at the University's annual Christmas Dinner on Saturday 5 December. She tells us about her studies, getting into politics and dealing with media attention.
MA to MP
Mhairi been in the constant glare of the limelight ever since, as a final-year student, she was being tipped to unseat Labour Shadow Foreign Secretary Douglas Alexander as MP for Paisley and Renfrewshire West.
Now, as Baby of the House – the youngest MP – she is being feted by some of the 'big beasts' of the media, ranging from Channel 4 presenter Jon Snow, for whom she demonstrated her piano-playing skills, to Jeremy Paxman, who invited her for a curry at the Cinnamon Club in London for his 'Lunch with the FT' column.
Being elected at the age of 20 – making her the youngest MP since the Great Reform Act of 1832 – has thrust her into public prominence she did not seek. Barely a day passes without someone speculating on her future in politics. But for now she finds it 'humbling' to accept one accolade – the title of our Young Alumnus of the Year 2015.
Mhairi had to combine campaigning for the Westminster election with her final exams. Politics lecturer Dr Tom Lundberg, who supervised her final dissertation and taught two of her Honours classes, commends her commitment: she only missed one or two seminars at a time when she was on the campaign trail – an admirable record compared to many other students.
She was to gain a first class MA Honours degree in Politics and Public Policy. Dr Lundberg says: 'She was very passionate and enthusiastic about her politics. That was always present in seminars – it was something you saw right away.'
As a political scientist he was not surprised when Mhairi was elected in the tidal wave of SNP support that swept the country. He adds: 'It was pretty clear she would probably win – I did mention that to her, and she seemed quite concerned about it.'
A media sensation
'The biggest learning curve for me was experiencing just how much the media can twist and misrepresent things for their own agenda.' Mhairi Black (MA 2015)
Her maiden speech in the House of Commons received more than 10 million online views – so where did she learn the art of public speaking?
'The first time I ever participated in a public debate was a few months before the Referendum. One of the panellists had pulled out of the independence debate that was taking place, at very short notice, and my lecturer asked me to stand in because he knew I was planning to attend the event anyway. Even though I was debating against Ruth Davidson MSP and James Kelly MSP, I felt completely confident as I knew my facts due to the rigorous research methods university had instilled in me.'
Perhaps her rudest awakening has been press intrusion into private aspects of her own life and into the lives of friends and family.
'The biggest learning curve for me was experiencing just how much the media can twist and misrepresent things for their own agenda. Almost all of the reports on me pre- and post-election are inaccurate in their portrayal of me, and yet the information hasn't really been falsified. Watching how the meticulous and very deliberate selection of facts and words can project such a manipulating point of view was quite an eye-opener,' she adds.
Mhairi came close to dropping out after her first year but decided to give herself until Christmas in her second year to see if she could actually get 'anything above a C'.
'I worked the hardest and most intensely I have in my life (including the election campaign and my finals) and studied non-stop for a solid two months. When I opened the email to tell me my results, I was totally elated.'
Graduation day was very important for Mhairi.
'I knew that because of the resilience I had shown in my first and second year (bearing in mind that I was 16 when I started university and was always much younger than everyone else), I now had achieved a degree which no one can ever take away from me.
'That was an incredible feeling.'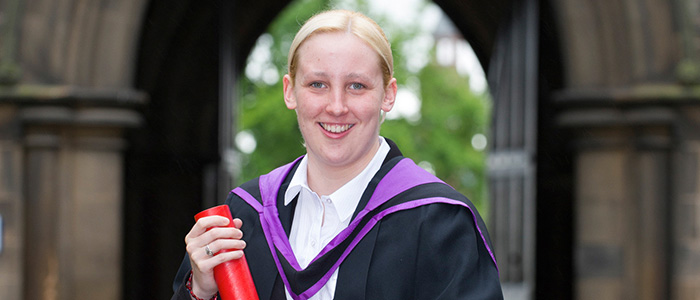 Our Young Alumnus of the Year
Principal and Vice-Chancellor, Professor Anton Muscatelli, comments: 'Mhairi has been a true ambassador for the University, demonstrating huge commitment to her final year studies at the same time as canvassing for election.
'Students and staff at the University have shown they can change the world – I am certain that Mhairi will make a difference to the lives of others as she strives to combat poverty in her role as an MP. I am also sure that she will be an inspirational role model for other young people to engage in the democratic process.'
Mhairi and music
Mhairi worked part-time in the Oxfam Music shop on Byres Road during her studies at Glasgow, and music is still an important part of her life. After she played the theme tune from Titanic on the piano to Jon Snow, we wondered about her musical influences.
What are you listening to now?
I've been working my way through all of U2's albums and I'm currently re-listening to my favourite album of all time, Achtung Baby.
What music got you through your exams?
No song or playlist got me through exams in particular, however, the six-hour videos on YouTube with scores to lots of different films always got me through intense study sessions. I would always remind myself, 'when this video is done, your study session will be done – keep going!'
The Young Alumnus of the Year Award is an annual honour to celebrate the achievements of alumni who have graduated within the last 15 years and made a major contribution to the community, arts, sciences or business.
This article was first published in December 2015.