What it takes to change the world
Issued: Wed, 27 Nov 2013 11:32:00 GMT
‌Taking action. Changing the world. Helping to make it a better place. Idealistic dreams to some, but for many graduates it's their life's work. Avenue hears about the careers of three graduates working in international development.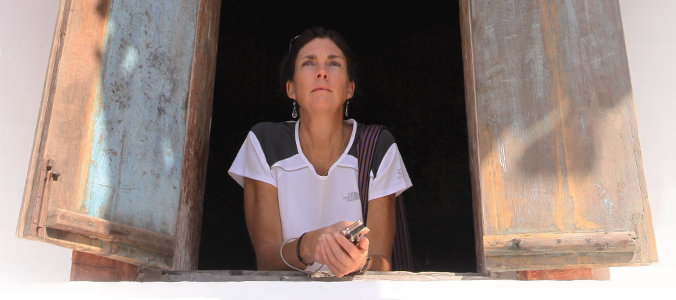 Starting out
Someone who is not afraid of throwing herself in at the deep end of development is Joanna Reid. As head of the UK Government's Department for International Development (DFID) in Somalia, a fragile state where over 40% of the population live in poverty, Joanna has her work cut out.
Joanna didn't start out with the plan to work in international development. She graduated in Veterinary Medicine from Glasgow, then worked as a large-animal vet in rural Aberdeenshire. Her career took an unexpected turn when her contract was cut short. She embraced the change and started on a new career path, completing an MBA and rising through the ranks in health service management, where she found herself managing hundreds of people in one of Scotland's largest hospitals.
'I thought: this is all a bit comfortable and maybe it's time to do something different, to do something difficult and to do something for other people.'
Although it was a tough and challenging management career that lasted nearly ten years, there was still something missing. 'I was well on the way to becoming a chief executive. I had a good income and a nice house,' says Joanna. 'But then I thought: this is all a bit comfortable and maybe it's time to do something different, to do something difficult and to do something for other people.'
Making a change
It was time for another change. She left her comfortable life behind and started working as a programme officer for Voluntary Service Overseas (VSO) in China while studying for an MSc in development management. After a few years in China, she moved to Bangladesh and worked for a charity organisation on a DFID-funded project. She continued to put her health service management experience into practice when she moved into the role of senior health adviser for DFID India. But when the time came for Joanna's next challenge, she had a big decision to make.
'I got two offers from DFID: South Africa or Sierra Leone,' says Joanna. 'And I thought South Africa sounded quite nice, probably get a nice house, pool in the garden, very civilised. So I chose Sierra Leone. I thought that sounds difficult so let's go for that.'
Joanna could see that the country would greatly benefit from support to recover from the brutal civil war. 'Sierra Leone was at peace by the time I started there. It wasn't an unsafe place to be, but there was just no infrastructure at all. We were doing things like helping to rebuild the health service,' she explains. 'It was somewhere with a lot of need and we could do a lot to help.'
From Yemen to Somalia
Unafraid of unstable countries, Joanna's next move was to become head of DFID in Yemen, and a few years later to her current role as head of DFID Somalia. Known for its piracy, poverty and volatility, Somalia is a difficult place to work. Due to the instability of the country, Joanna and her team, three of whom are Glasgow graduates, are based in neighbouring Kenya. In her time working in this role, Joanna has seen the devastating effects that famine and the activities of militant groups have had on the country.
'Somalia and the Horn of Africa had the first famine of the 21st century,' says Joanna. 'But that's only one of the country's challenges that we're helping them to overcome.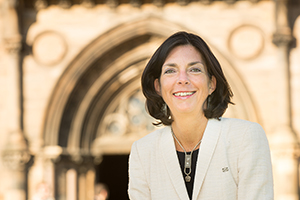 'It's a very fragile country but it's in a better place than it has been for a generation, so there is a real chance to make a difference,' explains Joanna, whose team of 35 staff are working with international organisations and the Somali government to help develop industry, improve access to healthcare and respond to humanitarian need. 'We had a £95 million programme there in 2013 and some of that money was spent literally keeping people alive with food, water, shelter and health services.
'No country is going to get back on its feet with just lots of injections of development assistance; it's just a sticking plaster. So we're supporting the Somali government in many different ways.' ‌
Tackling terrorism
Making the headlines recently is al Shabaab, the Somalia-based militant group linked to al-Qaeda who stormed a shopping centre in Nairobi and killed over 60 people. One of Joanna's staff members was stuck inside the shopping centre for five hours, and it was a tough time for them all. Although al Shabaab's power in Somalia is decreasing in some areas, they are still a big threat to the future of the country.
'You've got young men and women without opportunities, and if somebody comes along, offers them a gun and says come with us then they'll think, Why not, what else is there for me?' explains Joanna. 'So if we can help to create jobs, to create hope and to give them an education, al Shabaab will hold no attraction for them.'
Campaigning for change
‌Joanna's dedication to improving people's lives and influencing change is shared among many other alumni. Sara Cowan, who studied Politics and History at the University, is a campaigns and activism coordinator with Oxfam Scotland. Based in Glasgow, Sara works with communities to get them involved in Oxfam's fight against poverty. This involves working with community groups as well as students on campus, informing them of Oxfam's campaigns and helping them to take action. A University of Glasgow Oxfam campaign group has recently been established, and Sara is the group's key support so that they can campaign on issues like food justice or the humanitarian crisis in Syria.
'I also work in coalitions with international development and environmental organisations on developing the public engagement side of campaigns,' explains Sara. 'And this year our main focus has been on the ENOUGH FOOD FOR EVERYONE IF… campaign, where we're making people aware of the issue that there is enough food in the world for everyone, but not everyone has enough to eat.'
This campaign raises the issue that one in eight people still go to bed hungry every night. In 2013, Sara and other activists from Scotland joined the thousands at the G8 pre-summit rally in Belfast with the aim of putting pressure on the world leaders to address the broken food system.
'It was inspiring to see people caring enough that they would make this journey to show their support for people around the world they have never met, and that they care about having a better world,' says Sara, who first became interested in international development while on a volunteer project in Nepal.
'It was inspiring to see people caring enough that they would make this journey to show their support for people around the world they have never met.'
'It was a three-month volunteer project. And that's what really set me on the path of wanting to work in international development,' says Sara, who went on the placement after her second year at university. 'When I came back I chose politics modules on globalisation, international development and global ethics. I made that my focus.'
After university, Sara spent time working in advocacy roles with local charity The Advocacy Project. Like Joanna, Sara felt it was time to take a new direction and to do something to help people in the developing world. She signed up for VSO's youth development programme and went to The Gambia to work on a project for a small children's rights organisation. She then stayed on for an extra year to work on a teacher motivation research project, the results of which were used to campaign to the Gambian government on improving their policies towards teachers.
Sara has a breadth of experience in working in the community, working in developing countries and working with volunteers. With Oxfam Scotland, she has also visited South Sudan and spent time on secondment in Ghana.
'It was an exciting time as I went out to Ghana to work with the Oxfam team there when they were launching a health campaign,' says Sara. 'The campaign challenged a government health insurance policy. There were many blockages in the system and access to healthcare was a big problem for women in rural areas in particular.
'It was really interesting to be a part of the campaign and to see that they worked in a really quite similar way to how we do here, in terms of building people's skills up to talk to politicians, and that working at many different levels to create change is really important.'

Protecting children's health
Another graduate working in international development is David Clark. David is putting his law degree to good use in his role as a legal adviser with UNICEF. Based in New York, David works with UNICEF's country offices to provide legal support to governments in developing policies and legislation to protect children's health and nutrition rights. ‌‌
David began his legal career as a trainee lawyer with the Scottish Development Agency. Then after a brief stint as a legal assistant in private practice, David realised that this was not the right fit for him. He took a scholarship to study comparative law in Italy, which led to a job as a consultant to the Italian Ministry of Foreign Affairs. This in turn led to a job with the United Nations Interregional Crime Prevention and Criminal Justice Institute, based in Rome.
'As a youngster I thought being a lawyer seemed like a very glamorous and exciting career choice − probably from watching too many courtroom dramas,' laughs David. 'But I also had the feeling that becoming a lawyer could be a way to contribute to a more just and equitable society.'
Joanna, Sara and David are graduates with very different academic backgrounds, but they are linked by a common desire and dedication to make positive changes in the world. Do you work in international development? Tell us your story, email avenue@glasgow.ac.uk.
Research and partnerships
To support and further international development, the University brings together extensive research expertise through the Glasgow Centre for International Development (GCID). GCID's research covers themes such as food security, human wellbeing and animal health, the economy, the environment, learning and citizenship.
A key area of GCID's work is in developing a collaborative approach to research within the University as well as through partnerships with universities and institutes in low-income countries in the Global South.
One example of research under way is that by Professor of Energy Engineering Paul Younger (pictured). In collaboration with Cluff Geothermal, he is working on research which aims to introduce low-carbon forms of energy in Africa.
'Of the 360 million people in East Africa, only 15% are connected to the electricity grid,' says Professor Younger. 'So every megawatt of power that is added is changing people's lives.'
To find out more about GCID's research, see www.glasgow.ac.uk/gcid.
This article was first published in November 2013.
---