Glasgow Steams Ahead at Kelvingrove
Kelvingrove Art Gallery and Museum‌ ‌
15th, 16th June
Sat 13:30-16:30; Sun 12:00-15:00
All ages
Free
Drop-in

Glasgow Science Festival takes over the iconic Kelvingrove Art Gallery & Museum for a weekend of fun and exploration. Get hands on with the latest research in renewable energy, computers and virtual reality. Play with Scots language and learn how music affects the brain.
Check out the activities on offer: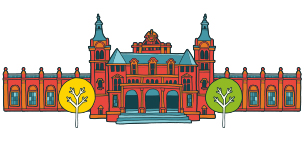 The Science and Art of Augmented Reality
Try out Augmented Reality (AR) experiences to explore inside the human body, see viruses up close or bring works of art to life – and chat with experts to learn more about the technology, design and artistry of Augmented Reality. Enter our immersive Virtual Reality anatomy laboratory, 'disassemble' a human body and explore the bones, muscles and organs inside; then bring it all back together with a simple click. See the human body as you've never seen it before!
‌
Prophetic Prosthetics: The Future of our Dis/Abilities
Monumental
Celebrate monumental women in STEM through this fun treasure hunt!