Glasgow Science Festival Imagines at Kelvingrove
Glasgow Science Festival Imagines at Kelvingrove
Kelvingrove Art Gallery and Museum‌ ‌
16th, 17th June
Sat 13:30-16:30; Sun 12:00-15:00
All ages
Free
Drop-in

Glasgow Science Festival takes over the Kelvingrove Museum for a weekend of fun and inspiration. From penguins to quantum mechanics, storytelling and sludge, there's a plethora of cool stuff to keep you occupied and spark the imagination.
Check out the activities on offer: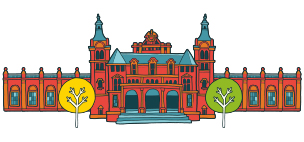 Laser Garden
Laser Garden presents 'Wings: a Celebration of Our Imagination'. With this piece of wearable laser sculpture, artist Johnathan Elders explores where science and art meet. Funded by the Institute of Physics.
Back to event  - Glasgow Science Festival Imagines at Kelvingrove