Schools
Over the course of three weeks a Shedload od Science toured 6 primary schools where we delivered a series of lunchtime science activities, each day with a different chemistry based theme. We based the activities in the playground (or gym hall when the Glasgow weather doing its thing), which meant it was the pupils choice to come and spend their lunchtimes engaging with chemistry. And they did, we had 1770 pupils take part in our activities over the three weeks!
The activities proved popular with over 94.5% of children questioned telling us they were 'very happy' or 'happy' with how they feel about chemistry. Over 92% said that they had learned something new from the activities.
We investigated bubbles, blowing giant bubbles spanning several meters above the pupils heads and even tried making square bubbles. We had fun with hydrophobic liquids, including making fizzing lava lamps. On the third day we focused on the chemistry of colour, mixing colourful paint pockets and spinning colours.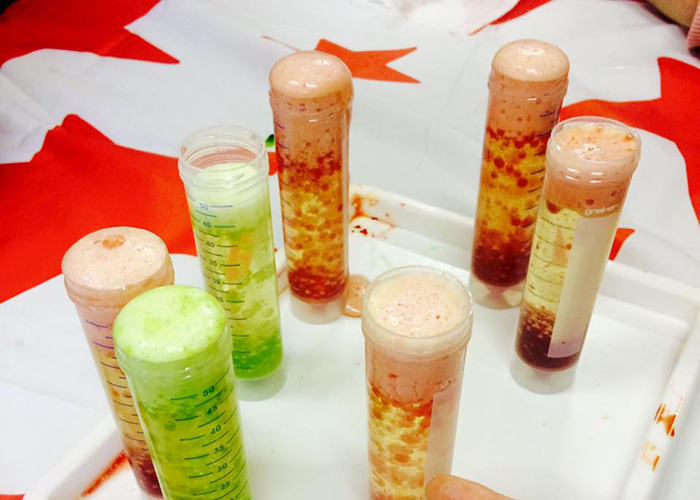 Fizzing lava lamps were just one of the chemistry experimants on offer in the school tour.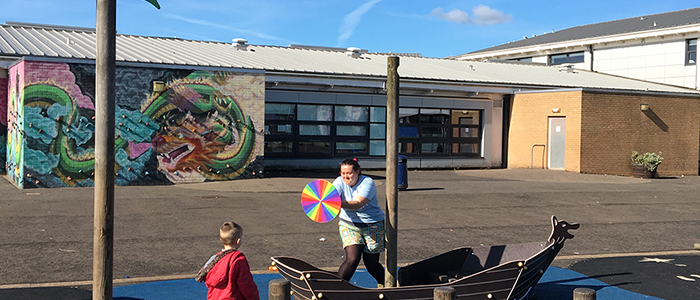 Bex gives a sneak preview of the colour wheel spinner to a keen pupil
A taster of the bubble blowing playground activities
Make a lava lamp
Follow the instructions in the video to make your own fizzing lava lamp!