Festivals and gala days
‌We brought our art-science activities to community gala days across North Glasgow and beyond bringing chemistry based fun to audiences that may not usually take part in science activities.‌
We also were part of two larger festivals, European researchers night: Explorathon and Glasgow Doors open day allowing us to experiment in unusual venues such as the tall ship and a Cowcaddens firestation!
Participants had the chance to try a wide range of activities including fizzy lemon volcanoes and deep space spray murals. They learned 'All About Owls', flouresent fruit flies and how to make their own mini fire extinguisher.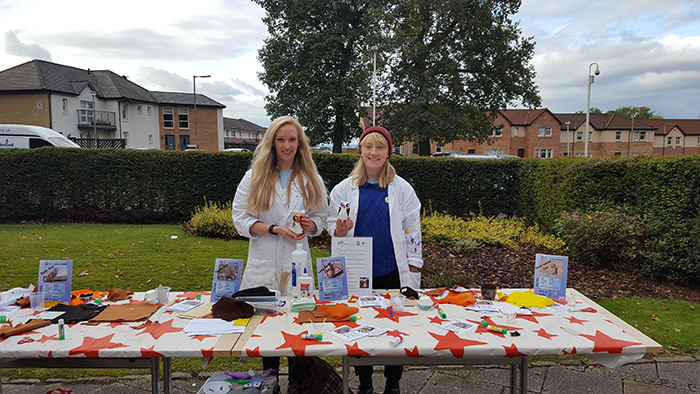 Our team ready to go at the All About Owls event at Castlemilk Stables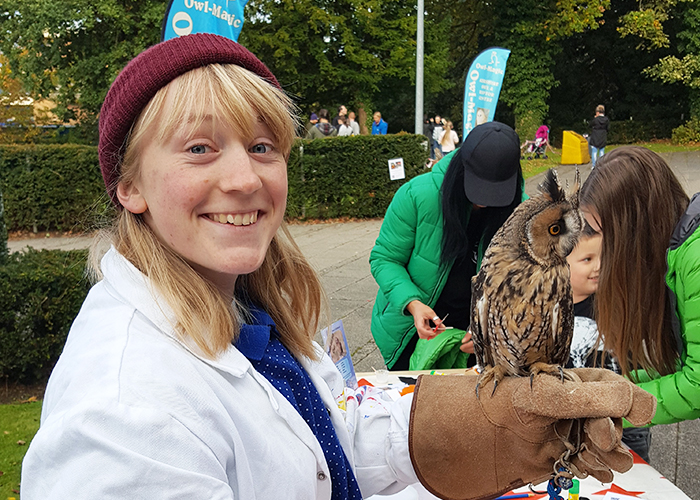 Lydia gets up close with one of the Owls at Castlemilk Stables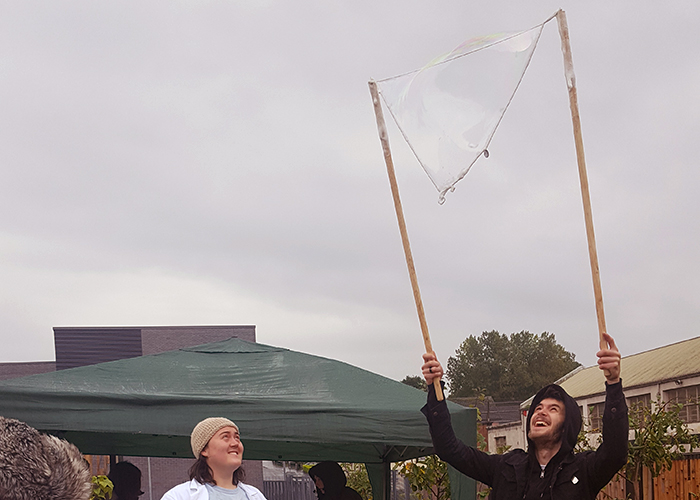 Trying the giant bubble blower at the Harvest festival - The Back Garden, Possilpark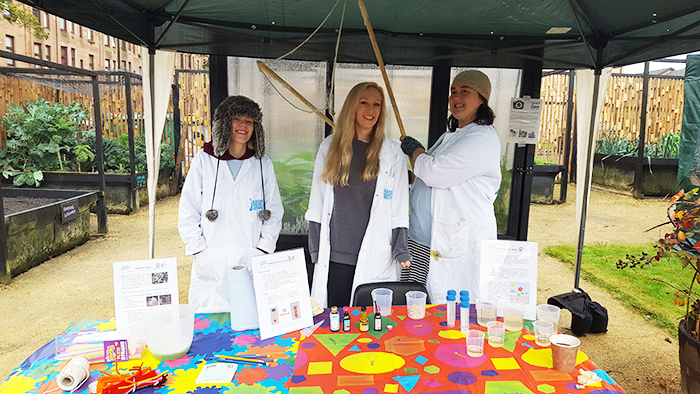 The Shed load team ready to experiment with lavalamps and square bubble makers at the harvest festival - The Back Garden, Possilpark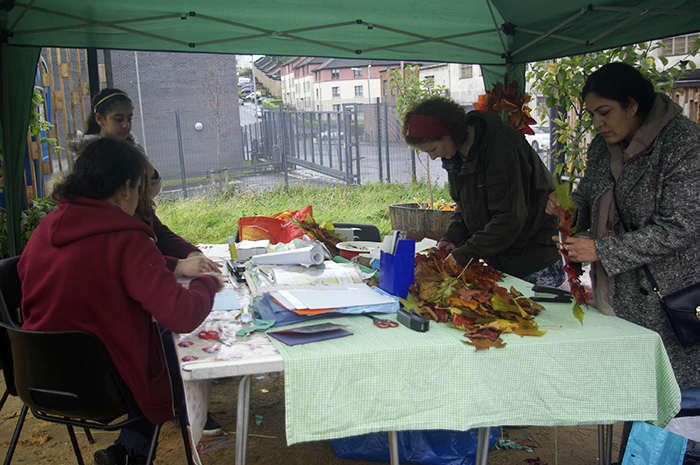 Autumnal art at one of the stalls at the Harvest Festival - The Back Garden, Possilpark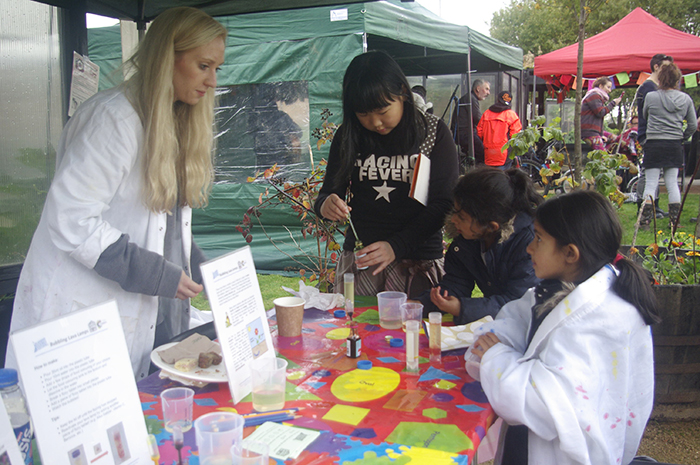 Making Lava Lamps at the Harvest Festival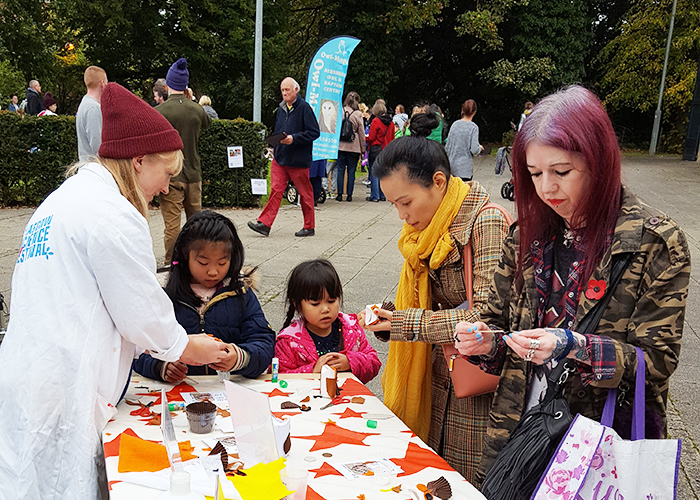 Owl crafts and card games at the All About Owls day at Castlemilk stables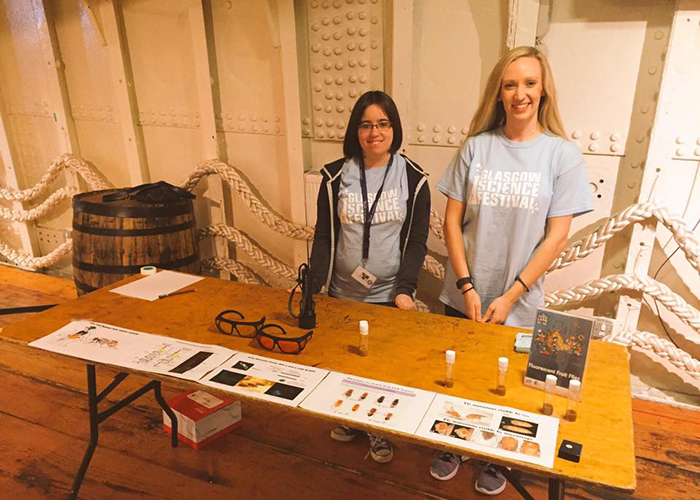 Flourescent fruit flies at the Tall Ship as part of doors open day
Lemon Volcano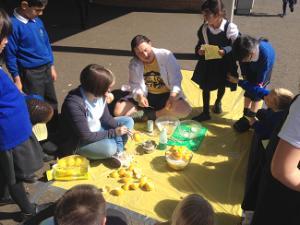 In this activity you can make a lemon volcano!
Lemon juice is very acidic because it contains citric acid which gives it that sour taste. Citric acid is found in lots of fruit and fizzy drinks, too much can be bad for your teeth.
When you mix an acid like citric acid with an alkali, there is a chemical reaction. Bicarbonate of soda is an alkali. When it's added to the lemon, it combines with citric acid and releases carbon dioxide, to make a lemon volcano!
You will need:
A lemon
Bicarbonate of soda
Chopping board
Knife (ask an adult to use this for you)
Spoon
Food colouring (optional)
Washing up liquid
Basin
How to:
Place the lemon on the chopping board. Ask an adult to cut a bit off both ends of the lemon so that it sits flat and upright on a surface.
Sit the lemon upright in the basin. Use the spoon to mash up in the inside of the lemon.
Pour a few drops of food colouring and washing up liquid into the lemon.
Add a spoonful of bicarbonate of soda to the lemon.
Use the spoon to mix it a little. Watch what happens!
Download the Lemon volcano instruction sheet for full instructions and pictures.
Bioluminescent fruit flies

Some animals such as crystal jellyfish contain a 'green fluorescent protein' (GFP) which allows it to produce green light. This is called bioluminescence.
The jellyfish can make the green fluorescent protein because of a gene in its genetic code.
This GFP gene can be put into other animals, like the fruit fly, to make them glow green too. The GFP gene can also be stuck onto different genes that we're interested in – the green glow acts as a marker and shows us where protein is being made. We took the flies to gala days and used UV lights to view the flies and see them glow. (right)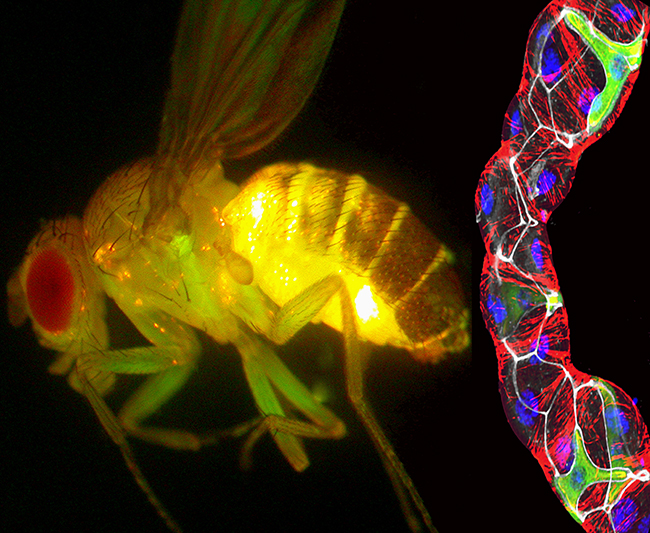 Fruit fly exhibiting gene-specific expression of nuclear green florescent protein. Image courtesy of Dr Anthony Dornan, Dow Davies Labs -Institute of Molecular, Cell & Systems Biology, University of Glasgow