The May and Billy MacMillan Charitable Fund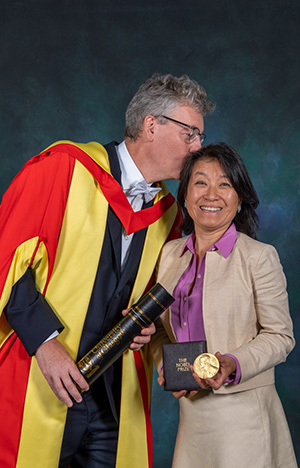 David and Jean with his Honorary Degree and Nobel Prize, 2022
Nobel Laureate David MacMillan sets up new fund to support students at UofG
In 2021, Prof Sir David MacMillan (BSc) won the Nobel Prize in Chemistry for his role in the development of asymmetric organocatalysis.
In 2022, MacMillan announced the launch of a new charitable fund, set up using the monies from the Prize. In 2023, MacMillan made the inaugural gift to his alma mater, the University of Glasgow.
Working closely with the University, MacMillan selected three scholarship funds to receive the gift from the May and Billy MacMillan Charitable Fund.
The Fund was established last year by MacMillan, the James S. McDonnell Distinguished University Professor of Chemistry at Princeton University, and his wife, Jean, in honor of his parents. The Nobel laureate wanted to create opportunities and resources for underprivileged university-bound students in Scotland.
"We decided to give the inaugural gift to Glasgow for a whole range of reasons," said MacMillan, who graduated from Glasgow in 1991 with a degree in chemistry. "First of all, I came from a working-class, underprivileged background, and Glasgow looked out for me. They gave me an amazing education and a springboard to the rest of my life. So, it seemed like the perfect match.
"But we also made this decision because Glasgow has a great program in place to help underprivileged kids get to university and stay there," he added. "I think it's so important to give back. This is something we're really excited about."
The gift will support three scholarship programs at Glasgow: Accommodation Scholarships, which will provide living and accommodation stipends for three individuals for the duration of their college education; Retention Scholarships, for students who need financial support in years two, three, and four of their undergraduate degree; and Access Scholarships, for mature students who go to college later in life and need a year of access courses as they prepare to pursue their degree.
"We are thrilled to be working in partnership with the May and Billy MacMillan Charitable Scholarship Fund," said Daniel Keenan, the Widening Participation and Lifelong Learning officer at Glasgow. "The generosity of the Fund's recent donation, coupled with David's understanding of our work in Widening Participation at the University of Glasgow, means that we will be able to provide individuals from some of our most disadvantaged communities with new opportunities to make the most of their talent and potential."
MacMillan grew up in Bellshill, Scotland. He was one of the first young men in his hometown to attend college, along with his older brother, Iain.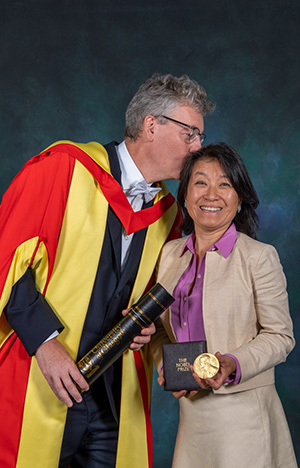 David and Jean with his Honorary Degree and Nobel Prize, 2022