Caldan Therapeutics wins investment award
Caldan Therapeutics wins investment award
Caldan Therapeutics, a spin-out company from the University of Glasgow and the University of Southern Denmark, has won a prestigious investment award.
The company, which discovers novel therapeutics for metabolic diseases including Type 2 Diabetes and other indications, was named as 'Early Stage/Risk Capital Deal of the Year' at The Scottish Business Insider 'Deals & Dealmakers Awards' 2016, which was held at the Hilton Hotel in Glasgow on the 7th September.
The award recognises the quality of investment capital, the level and complexity of the syndication of the investment, the scale of market opportunity for the company and potential return for investors, and the role of the management team and its advisors in realising the deal.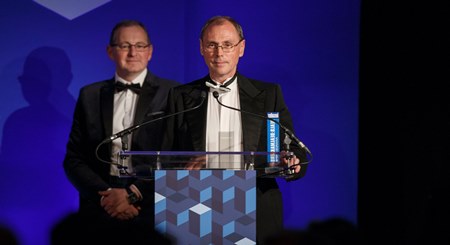 Caldan Therapeutics Ltd was started in 2015 by Professor Graeme Milligan, Gardiner Chair of Biochemistry at the University of Glasgow, and Professor Trond Ulven from the University of Southern Denmark as a result of their long term collaboration. Together, they have world-leading expertise in free fatty acid receptor pharmacology and medicinal chemistry, a substantial chemistry package generated over several years of academic research, and proprietary tools for characterising compounds which could provide a key competitive edge.
The company focuses on developing novel therapeutics targeting modulators of free fatty acid receptors, for metabolic disease including Type 2 Diabetes and other indications.
Free fatty acid receptors have only recently emerged as targets for Type 2 Diabetes as a result of their involvement in multiple aspects of the disease's pathophysiology.
There may also be potential to look at other indications including non-alcoholic steatohepatitis (NASH) and inflammatory diseases.
Receiving the award on behalf of Caldan Therapeutics, Professor Milligan said: "Investing in early stage companies is a complex and risky business and we are fortunate that in Scotland a range of individuals and funds are willing to do so.
"This initial funding has enabled rapid progress in our drug discovery programmes and we look forward to seeing further growth in the company."
The company raised £4.45 million in Series A funding through investments led by Epidarex Capital and the Scottish Investment Bank.