News Roundup Across the College
News Roundup Across the College
Issued: Wed, 29 Oct 2014 10:45:00 GMT
Expert Scientific Panel Report on Unconventional Hydrocarbons - published
Three members of our College, Professor Susan Waldron (GES), Professor Paul Younger (Engineering) and Professor Fin Stuart (SUERC), contributed to this report which is getting some media attention. The panel, set up by the Scottish Government in September 2013, was tasked to review existing scientific evidence on unconventional hydrocarbon development. Links to the report and news releases, (from the Scottish Government and the Panel), are below:
Expert Scientific Panel report
Scottish Government News Release
Expert Scientific Panel news release
School of Chemistry awarded Athena SWAN Bronze Award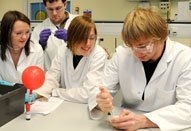 The School of Chemistry has been awarded the Athena Swann Bronze award. Thanks should go to members of the Athena Swann Committee for their hard work and dedication over the many months that it took to prepare the submission.
The Athena SWAN Charter recognises commitment to advancing women's careers in science, technology, engineering, maths and medicine (STEMM) employment in academia. The Charter was launched in June 2005. Any higher education institution or publicly-funded STEMM-focused research institute which is committed to the advancement and promotion of the careers of women in STEMM in higher education and research can apply for membership. More information can be found here
Athena SWAN Committee 2013: Professor Stephen Clark, Head of Chemistry; Dr Serena Corr, Lecturer in Physical Chemistry; Dr Stuart Caldwell, Chemistry Research Associate; Mrs Lynn Kearns, Head of Chemistry School Administration; Dr David Lennon, Chemistry Reader; Ms Susan McKeown, Athena SWAN Co-ordinator; Dr Joelle Prunet, Chemistry Senior Lecturer; Dr Linnea Soler, Chemistry University Teacher and Mr Simon Wilson, College of Science & Engineering HR Manager.
Excellent Service Award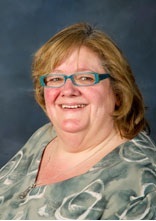 Mrs Kim Wilson, School of Chemistry received an Excellent Services Award for outstanding and sustained contributions, specifically in relation to Community engagement. She has led/run the School of Chemistry work experience programme providing a rewarding and engaging science experience for over 200 school pupils. She has developed the work experience programme to give students maximum enjoyment and the broadest 'taster' of Chemistry. The Excellence Service Award, which is new for 2014, recognises outstanding and sustained contributions that individuals and groups have made above and beyond the normal expectations of their role. The selection panel consisted of the Principal's Advisory Group, comprising all of the Vice-Principals together with the Secretary of Court, Deputy Secretary and Directors of Finance and HR.
Dr Serena Corr featured as part of "Illuminating Atoms" exhibition
Dr Serena Corr, School of Chemistry is featured as part of the "Illuminating Atoms" exhibition at the Albert Hall to celebrate the International Year of Crystallography. The details can be found here:
http://www.stfc.ac.uk/illuminating_atoms_portraits
http://www.royalalberthall.com/tickets/exhibitions/illuminating-atoms/default.aspx
Professor Paul Younger book launch
Professor Paul Younger FREng, School of Engineering, will be launching his new book All That Matters: Energy on Thursday 27 November 2014 5.30pm - 7.30pm in the John Smith's Bookshop, Fraser Building, 65 Hillhead Street. Refreshments will be available. All welcome.
Science at the Cinema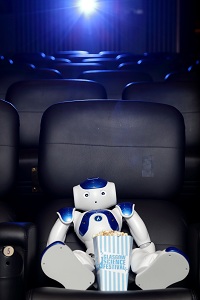 How did ET phone home? Are robots as smart as WALL-E?
This winter, Glasgow Science Festival has teamed up with researchers from the College of Science and Engineering to delve into the science behind some of our favourite films. Screenings at Glasgow Film Theatre's youth programme, 'Take 2' have featured live demonstrations and Q&As with scientists and engineers from across the College. Last month, cinema-goers met a real-life robot demonstrated by Dr Maurizio Filippone from the School of Computing Science, following a screening of the much-loved Pixar film 'WALL-E'.
Drs Murray Ireland, Kevin Worrall and Hossein Zare-Behtash from the School of Engineering and Dr Jacqui Romero from the School of Physics and Astronomy explored the real-life science of 'Planes 2: Fire and Rescue'.
Murray said: "The response by the audience was great, and they loved the 'guess the plane' challenge. I think it's important to engage with the public, particularly kids, so we can introduce them to science early on and nurture a new generation of scientists."
Hossein said "I was very impressed with the quality of the questions we had from kids so young. I think we're going to have some keen, interested, and enthusiastic engineers in the future!"
The programme will conclude with a screening of sci-fi classic 'ET' on Saturday 29th November, with astronomers from the School of Physics and Astronomy. Glasgow Science Festival will run from 4-14th June in 2015. If you enjoy public engagement and have an idea for an event, then you can make an application here. The deadline for proposals is 5th December.
Events in the School of Mathematics & Statistics
Drs Mayetri Gupta and Surajit Ray will be organising an international workshop in May next year titled "Solving big data challenges". This workshop is jointly funded by the: Engineering and Physical Sciences Research Council (EPSRC), U.K., and Indian Department of Science and Technology (DST) through the EPSRC-DST Indo-UK Initiative in applied mathematics.
Research in the News
A recently published research paper, by Dr Rob Westaway and Professor Paul Younger in our School of Engineering, is attracting significant press coverage. The paper "Quantification of potential macroseismic effects of the induced seismicity that might result from hydraulic fracturing for shale gas exploitation in the UK" can be downloaded from http://qjegh.lyellcollection.org/ at University of Glasgow. Newspaper interest includes The Times, Herald and Scotsman with interviews on BBC TV NW England and Russian Radio.
---
For more information please contact Secretary to Head of College, scieng-hoc-pa@glasgow.ac.uk.