Learning & Teaching Feature
Issued: Thu, 02 Aug 2018 13:43:00 BST
Nuffield Schools Project
Dr Andy Blue and Dr Kenny Wraight from the Particle Physics Experiment Group in the School of Physics & Astronomy supervised a Nuffield schools project undertaken by local Notre Dame High School student Manisha Waterson. The project involved writing code to produce sine waves to make animations appear on oscilloscopes. The project was a great success and, after winning a regional heat, went forward to the national competition Big Bang Fair at the NEC in Birmingham. Manisha was the national winner and was awarded the "University of Oxford Engineer Innovator" Prize. You can read more about Manisha's project and award here
Teaching Excellence Awards and Learning & Teaching Conference Success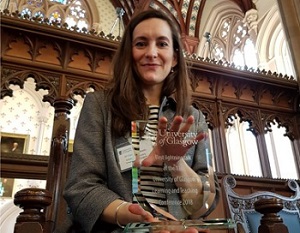 We are delighted to announce College Teaching Excellence Awards for 2017–18:
Early Career Award: Ciorsdaidh Watts, School of Chemistry
Team award: #PsyTeachR: Teaching Reproducible Data Analysis (Dale Barr, Lisa DeBruine, Phil McAleer, Heather Woods & Helena Paterson), School of Psychology.
Dr Ciorsdaidh Watts (pictured) also won the Best Lightning talk at the 11th University of Glasgow Learning and Teaching Conference for her work on revolutionising undergraduate teaching labs.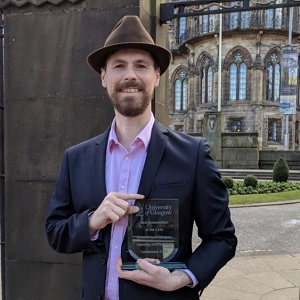 Dr Andrew Wilson (pictured), School of Mathematics & Statistics, was also successful at the Conference where he scooped the award for Best Presentation following his presentation on Embedding Play in Higher Education, he argued that we cannot not embrace playfulness in our educational toolkit!
Congratulations to all.
**credit to Architects Aecom/7N for the thumbnail photo**
---
In this edition: