Awards and Recognition
Awards and Recognition
Issued: Wed, 18 Jun 2014 15:14:00 BST
Professor Miles Padgett awarded FRS and Lord Kelvin Medal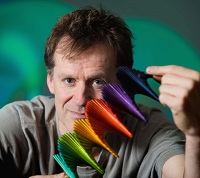 Professor Miles Padgett was elected a Fellow of the Royal Society, in May 2014, for his international leadership in the field of optics and in particular of orbital angular momentum. In March 2014 he was awarded the Lord Kelvin Medal from the Royal Society of Edinburgh for his contributions to the field of optics, his promotion of a global community of researchers in this field and his commitment to the public engagement of science.
Dr Michel Sevegnani selected to attend 2nd Heidelberg Laureate Forum
Dr Michele Sevegnani has been selected to attend the 2nd Heidelberg Laureate Forum, which will take place in September 2014. The forum brings together winners of the Abel Prize, Fields Medal (mathematics) as well as the Turing Award and Nevanlinna Prize (computer science), and young mathematicians and computer scientists from over 49 countries. His research lies on the boundaries between mathematics (logics, category theory, probability) and computer science (event-based systems, predictive modelling, runtime verification).
Four School of Engineering academics elected members of the Institute of Mechanical Engineers
Dr Matteo Ceriotti, Dr Andrew Mathieson, Dr Helen Mulvana and Dr Zhibin Yu, were elected members of the Institution of Mechanical Engineers achieving Chartered Engineer status through an IMechE mentoring programme completed in the School of Engineering last November.
Psychology at Glasgow is ranked 2nd in the UK‌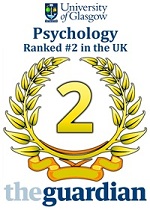 In the Guardian guide 2015: League Table Psychology at the University of Glasgow was ranked 2nd place, splitting Oxford from Cambridge at the top of the table. As for our Scottish comparators, Psychology at St. Andrews was 5th and Edinburgh 9th. Since there are more than 100 Psychology departments in the UK, this represents an exceptional achievement. We have achieved this result through dedicated teamwork from all categories of staff across both the School of Psychology and the Institute of Neuroscience and Psychology.
Research grants continue to grow
Selected highlights include:
£342k from ESPRC to Professor M Hendry to carry our research into, "computational inferences in systems biology";
£239k from European Commission to Dr J Toney from the to research Natural responses to past North Atlantic oscillations... Analogues for future environmental changes"
£144k from Leverhulme Trust to Professor S Franke-Arnold to research "Quantum memory and processing of orbital angular momentum information in atomic gases".
£316k from ESPRC to Dr Steven Magennis to fund a project aimed at accessing the information on key biological processes which could lead to potential drug targets, new design strategies for synthetic biology and the development of the next generation of programmable DNA nanoscale machines.
Teaching Excellence Awards - College of Science and Engineering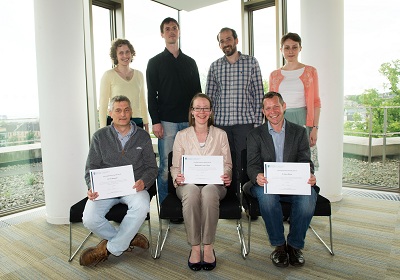 The excellence of our teaching and our philosophy of providing students with the best learning experience is highlighted with two of our academics, (Dr Jason Bohan and Dr Tim Dempster), and the Level 2 Mathematics team winning College Teaching Excellence Awards. The awards are to recognise and celebrate members of staff whose contribution to teaching is of a particularly high standard. Tim Dempster was subsequently nominated to the University stage of the scheme and awarded a University Teaching Excellence Award. The College Awards were presented at the College Council on 11th June.
Dr Tim Dempster, School of Geographical & Earth Sciences, received the award on the basis of his truly outstanding teaching record in terms of direct delivery, innovation and clear and effective commitment to the student experience. In particular his key role in field teaching as well as his superb contribution throughout the Earth Science degree including his role as Head of Earth Science was highlighted. A special mention was made of the Rock around the University project. Dr Dempster was responsible for the conception and installation of Rock around the University which was facilitated by a grant from the Learning & Teaching Development Fund. This is a highly innovative, sustainable teaching resource that enables the campus itself to be used as the learning environment.
Dr Jason Bohan, School of Psychology, received the award on the basis of the innovative teaching practices he has employed to engage and enhance the student learning experience. The drive and dedication be brings to the provision of learning and teaching was highlighted as a role model for teaching staff. Currently, his projects include assessing the impact of blended learning on student engagement in Level 1 psychology students. This year he presented the findings of a number of different projects at the 7th Teaching and Learning conference covering teaching research methods and statistics to small groups or at a large-scale; using moodle to assess student engagement; and, using Camtasia as a way of ensuring academic quality in small group teaching.
Mathematics Level 2 Team, The team have developed innovative approaches to the design and delivery of assessment and feedback for the core Level 2 Mathematics courses. These innovations – which make use of the latest technology – have revolutionized how mathematics is taught in Level 2, and in particular how formative assessment and, critically, feedback is given to students. The volume of marked work has increased by a factor of over 15, and turn-around time shortened. This has had significant impact; engagement with the courses has increased and exam performance improved. All members of the team have been involved in the project: courses have been reordered and redesigned, working practices changed and ideas trialed, assessed, and implemented.
Names:
Dr Tara Brendle (Head of Level 2)

Dr Christina Cobbold (2A course Head & Deputy Head of Level 2, 2011-13)

Dr Anne Thomas (2B course Head & Deputy Head of Level 2, 2013-14)

Dr Steve Roper (2C course head)

Dr Liam Watson (2D course head)

Dr Stuart White (2E course head)

Dr Misha Feigin (2F course head)

Dr Andrew Wilson

Dr Peter Stewart

Mr Liam Dickson

The IT and General Office Support Team
---
For more information please contact Secretary to Head of College, scieng-hoc-pa@glasgow.ac.uk.