New stroke rehabilitation system proven to work in impaired stroke patients
A stroke rehabilitation system, developed by MicroTransponder Inc and studied by a team at the University of Glasgow, has been shown to significantly improve arm impairment and function in people with long-term arm weakness after ischaemic stroke.
Long-term loss of arm function after ischaemic stroke is common, and the results of the study – published today in The Lancet – showed two to three times greater improvement with Vagus Nerve Stimulation (VNS) when it was combined with intense physical therapy, compared to intense physical therapy alone.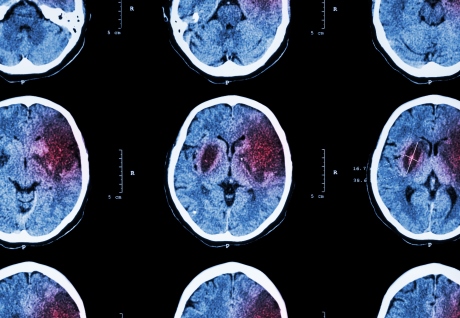 Approximately 80% of people with acute stroke have arm weakness, and as many as 50%-60% still have persistent problems six months later. There are currently few effective treatments to enhance arm recovery after stroke, and intense physical therapy is currently the best treatment option.
In the study – which looked at 108 people in the United States and the United Kingdom with moderate to severe arm problems – trial participants were randomised to intense physical therapy paired with active VNS or intense physical therapy paired with sham VNS (Control group).
VNS involves implant surgery, a bit like a cardiac pacemaker. Once implanted, the device stimulates the vagus nerve on the left side of the neck during intensive task-specific rehabilitation. The vagus nerve connects with areas of the brain that cause release of important neuromodulators or chemicals which, when combined with physical therapy, helps the brain 're-learn' movements.
After 6 weeks of out-patient therapy and a further ninety days of home based therapy, 47% of the people in the VNS group showed a clinically meaningful response versus 24% in the control group. People who received VNS also showed improvement over the control group in quality of life and activity measures.
Jesse Dawson, Professor of Stroke Medicine, at the University of Glasgow and principal investigator of the trial, said: "This is the first study to find clinically- and statistically-significant effects of a neuromodulation therapy for people with arm and hand weakness after chronic stroke.
"We saw improvement for the VNS group in both impairment and functional measures compared to Controls. In particular, the clinically meaningful response rate doubled with VNS for both impairment and functional outcomes. Importantly, the VNS doesn't work alone - it adds to the effect of intensive rehabilitation"
Dr. Teresa Kimberley, PhD, PT, Professor and Director of the Brain Recovery Lab at MGH Institute of Health Professions, a senior investigator on the project through both the pilot and pivotal studies, added: "The results of this clinical study suggest that the addition of VNS enhances the effect of best practice stroke rehabilitation
"We are looking forward to potentially establishing the therapy as part a new standard of care for stroke rehabilitation. "
Efforts to obtain marketing authorizations from regulatory authorities in both the U.S. and the EU are currently underway
The paper, 'Vagus Nerve Stimulation Paired with Rehabilitation for Upper Limb Motor Function After Ischaemic Stroke (VNS-REHAB): A Randomised, Blinded, Pivotal, Device Trial' is published in The Lancet. The study was funded by MicroTransponder Inc.
---
First published: 22 April 2021