Past and Upcoming NERD events
YOUR EVENT?
If you have ideas for events that you would like us to organise, or want to collaborate with us, please contact us on this email address.
TBD - CV WORKSHOP
25 JANUARY - PARENTAL LEAVE
If you have ever wondered how taking parental leave works, may affect your research career or how to juggle life after returning from a career break this session will hopefully answer some of those questions!
Join us Wednesday 25 January 13:00 on Zoom - https://uofglasgow.zoom.us/j/86033408003?pwd=RGEvWDVtL0ovZW1rTEp5T21BVDNaQT09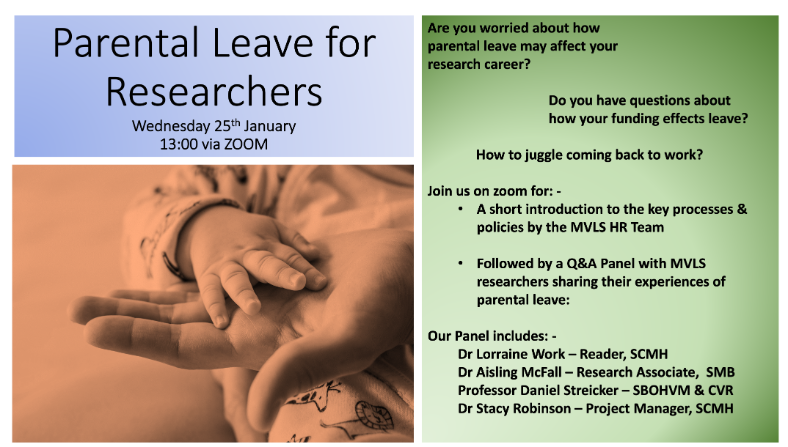 17 JANUARY - INTERNATIONAL MENTORING DAY
Check out our PACMAN scheme to be matched to a mentor who might you help you land your next dream job! Fill in this form to sign up.
8 DECEMBER - CHRISTMAS LAB OLYMPICS
Get ready for some lab Olympics on the 8th December from 6pm in the Medical School Atrium!
Food & drink will be provided, but please register to attend for catering:
https://www.eventbrite.co.uk/e/nerd-christmas-party-lab-olympics-2022-tickets-450420890007
16 NOVEMBER 2022 - FELLOWSHIPS
We will talk about the difficult process of applying for Fellowships from a postdoctoral career stage.
We hope to have an interesting discussion exploring our experiences in Fellowships application, the process itself but also the possibilities Fellowships can offer or not for the pursuit of our scientific careers.
To talk about it, we are excited to have four brilliant panelists lined up:
Megan Macleod

Senior Lecturer (Immunology & Infection)

Catherine Winchester

Senior Research Adviser, Grants & Research Integrity (CRUK Beatson Institute)

David Bryant

Principal Investigator (Institute of Cancer Sciences/CRUK Beatson Institute)

Will Fuller

Professor of Molecular Physiology, Cardiovascular & Metabolic Health (UofG)
The event will be hybrid; People are free to attend in person at the ARC, room 237C or via Zoom.
The discussion will be accompanied by interactive elements via Mentimeter to promote discussion and to allow the audience to ask questions anonymously.
Snacks will be provided!
Please register here to attend in person or on zoom
29 SEPTEMBER 2022 - PACMAN 3.0
Come chat to those who have left academia and moved into areas such as Public Health, Public Engagement, Policy, or move to companies like Merck, Novagene or Antibody Analytics! (Please see agenda for more information).
Also chat to Glasgow-based Recruitment company about how best to sell yourself, writing your CV, cover letter, or ask them what companies are currently recruiting!
10:00-16:00 Thursday 29 September – PACMAN 3.0 at the Glasgow Grosvenor Hotel
16 SEPTEMBER 2022 - IMPOSTER SYNDROME
Ever feel like you are out your depth? That you know LITERALLY NOTHING about your area? Well, we all feel like that… most of the time… come listen to our panel discuss Imposter Syndrome and their advice on how to cope with it or how to take advantage of it!
13:00-14:00 16 September
16 MARCH 2022 - PACMAN 2.0
We are hosting a PACMAN Networking Event where you get the opportunity to meet with former academics in a variety of careers. This event will take place on 16th March at 12.30pm at the Grosvenor Hotel – places are limited, so please register or email us to find out more.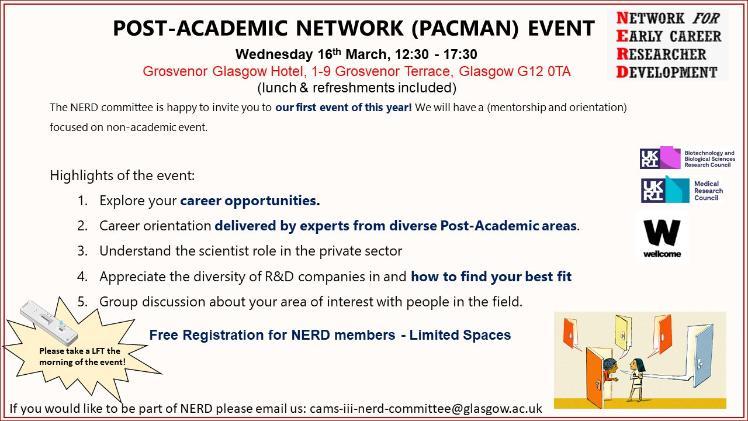 Past and Upcoming related events
Researcher Career Lunches
Online workshops
Email Katrina Gardner for signing up. These are on zoom, face to face to follow.
Job Seeking Strategies Wednesday 18th January 2pm – 3.30pm
Exploring how to find visible and hidden opportunities in the labour market, including advertised vacancies and more direct approaches to employers. This will help you plan appropriate strategies to find opportunities in your chosen careers and sectors.
CVs and Cover Letters Wednesday 25th January 2pm – 4pm
In this workshop we will discuss how you can market yourself effectively through CVs and Cover Letters. We will consider the differences between impactful CVs for academic roles and for roles in other professional areas. Participants can gain feedback on their own CV.
Performing Well at Job Interviews Wednesday 1st February 2pm – 4pm
This interactive workshop is to help you prepare for job interviews in academia and in other professional sectors. We will consider how preparation can help you keep those interview nerves under control and make you aware of your strengths as well as your weaknesses. This session will help you to identify what recruiters are looking for and prepare you to tackle those awkward questions.